5 Popular Nigerian Actresses Who Never Remarried After The Death Of Their Husband (Photos)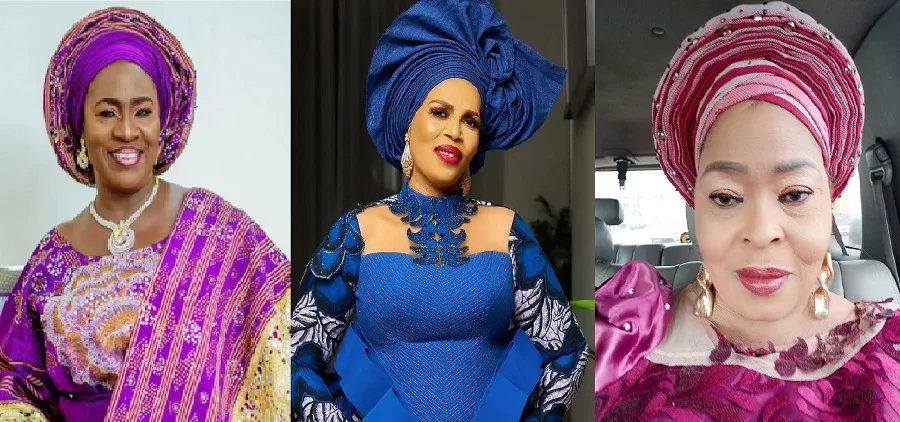 Marriage is one of the most sacred things in this world, an exciting and long journey but sometimes marriage could be short either to misunderstanding between the partners which could lead to divorce or death of one partner.
A marriage that dissolves due to the death of another partner is a sad occurrence as the one left behind became mostly unhappy and frequently miss their partners, it even becomes harder when kids are involved as the burden of two people suddenly become a burden of just one person.
We have lots of women that remarried after the painful death of their husbands while some prefer to remain single all their lives and focus on the kids. Yes, we have strong women especially in Nigeria who never remarried after the death of their husbands and took proper care of their kids.
In the yoruba movie industry, we have lots of actresses who lost their loving husbands and didn't remarry as they have remained single for years.
These loving actresses remained single after losing their husband to the cold hands of death. See below;
1. Idowu Phillips
Idowu Phillips popularly known as Iya Rainbow lost her husband 35 years ago. She said her husband padlock her heart and went away with the key.
In an interview with punch, she retorted, "Over my dead body would I get married again. My husband closed my heart with a padlock and he went away with the key.
"I don't trust the men of these days. There was one that said he wanted to marry me but he ran away after he saw all my kids. I have forgotten how to want a man. With five kids to cater for, I had no thoughts of that. In those days, I could go to four different locations in a day, to tell you how hard I was working to make money to take care of my children."
Recalling how her late husband died, she said, "I can never forget the day my husband died in 1984. I felt the world was going to end on that day. He was my alpha and omega. I used to be a nurse but he was the one that made me to become an actress. As a matter of fact, during his burial, I told people to put all our children with him in the grave that I didn't want them again. The shock was just too much for me to bear. Imagine one becoming a widow at the age of 42."
2. Toyin Adegbola
Toyin Adegbola popularly known as 'Asewo To Re Mecca' lost her husband in 2000 and didn't remarry as she focuses on her children and nurtures them.
But one question people won't stop asking is whether Toyin Adegbola will ever remarry. In a chat with Yorubamoviegist.com recently, she was asked the same question and her response would interest you.
"You know at the initial stage I felt there is no man I will marry and would not want a child or two from me. And that I was sure couldn't do because I love my children so much and the only thing I can do to make their late father happy is give them the proper care a mother could give her children on earth. That I have been able to achieve, as they are now grown up and they all have Masters degree in their academic pursuits. So, I think my fear is over and I can now remarry if a serious suitor comes my way. Maybe someone that just needs a life partner or something. You know am above 50 now", she stated.
3. Rachel Oniga
The beautiful Rachel Oniga left her husband even before his death and never remarry as she rather focuses on her children.
In a chat with The Entertainer, Rachael whose dream as a kid was to be a singer and dancer said, "I started acting in 1993 after I got separated from my husband; he's late now. I was a full time housewife. I believed so much in myself, and when I got over the shock of the separation and all that, I made up my mind that I was going to make a statement without a man. I wanted to prove that a hard working woman could make an impact and with God's grace, I have come a long way.
On how she was able to handle the separation, she said "The truth is that when you are focused and you know where you are going to, you are likely to succeed. I made up my mind then that I wasn't going to remarry. I was determined to make it and make all men including my late husband know that with God by her side, a woman can make it in life without a man's support."
Admitting how hurt she was after her husband left, she said, "Yes. During our years of courtship and marriage, I never suspected that we would just break up like that or anything could ever come between us. Back then, he told me everything. I could tell you where he was at every moment; I trusted him so much.
4. Toyin Afolayan
One of the popular Yoruba actresses in Nigeria. She lost her husband in her early years, she revealed how her children prevented her from getting married as she doesn't think any man could take her with kids.
Talking about why she is yet to remarry after the death of her husband in a recent interview, the 61-year-old mum said she didn't think about giving marriage a second shot because she was concerned it might affect her children's welfare.
"I didn't remarry because of my kids. I don't think there will be too many men who will be interested in marrying you with three kids.
The new husband might not like to have the kids live with us and there would be some problems that will happen as a result of them living with us
and I can't compare my kids with anything in this world and I decided to stay with them and forget the idea of marrying another man.
I am happy I was able to take care of them with the help of God,"
5. Regina Chukwu
The beautiful mother of two kids lost her husband 17 years ago and has remained single as she also focuses on catering for her children.
In an interview with DUPE AYINLA-OLASUNKANMI of  The Nation, Regina tells why she is yet to remarry
She said,
Actually, it is because of them (her children)  that I decided not to remarry then. Like I said earlier, I won't call myself a single parent, because I am Igbo; the fact that you have lost your husband does not mean that you are still not married to that family.
So as it is traditionally I am still married to my husband family; I am still their wife and if they want to do any family function, I am considered and called upon. I still belong to the community wives meeting. When my husband passed away, I was called and asked if I wanted to remarry.
 The condition was for me to leave their children and go ahead. But I looked at my kids and they were still very young and I decided to stay. My children have been asking if I won't remarry; they want a baby sister or brother. But I don't know what God has in plan for me. I am open to whatever God is says will happen to me.
If I decide to remarry now, it means whoever I want to get married to will pay my bride price and my parents will then go back to my late husband's family to return the bride price they paid on me. It is tradition telling them this lady is no longer your wife. But when it is not done, I still remain their wife. I still paid my Mother-in-law a visit last y