40 Nollywood Stars Who Thrilled Us In The Past, Nothing Lasts: (Photos)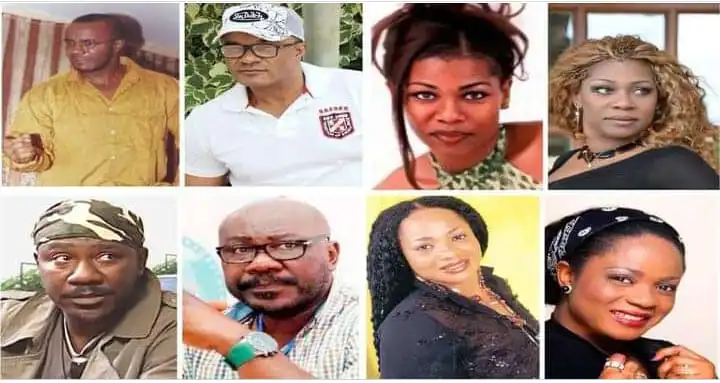 Over the years, Nollywood has grown to become one of the biggest in Africa. From the old generation of Lilian Bach and Emeka Ike to the new generation of Destiny Etiko and Flash boy, Nollywood seems to be getting better and growing bigger.
Our Nollywood actors and actresses are are now welcomed with open arms in any part of the world.
Well, the Nollywood we are enjoying today did not rise from the ground. Some people especially the early starters, paid huge prices to pave the way for today's generation. Interestingly while some of these early actors and actresses have continued to thrill us, others have sadly faded away from our screens.
dovebunn takes a look at 40 Nollywood stars who thrilled us in the past. To make the post more interesting, I will be mentioning what some of these stars will forever be remembered for.
1. Ann Njemanze
Ann Njemanze became a household name after a brilliant role in Domitila' and 'Hit And Run'. She was one of the finest actresss in the late 1990s. Ann Njemanze will forever be remembered for her impeccable beauty.
2. Thelma O'khaz
Just like the Destiny Etiko, Thelma O'khaz is one actresss who was known for being wild in movies. Do you still remember her? Thelma will always be remembered as one the 'baddest' actresss in her generation
3. Robert Peters
If you can remember the blockbuster, 'State of Emergency', you will know Robert Peters. I still think 'State of Emergency' is the best action movie ever in Nollywood.
Robert Peters who was quite famous for his roles in action movies back then is now into movie production. He owns and operate Whitestone Pictures LLC, a film production studio and equipment provider based in Lawrenceville, Georgia. Robert Peters will always be remembered as the fearless guy.
4. Hilda Dokubo
Hilda Dakubo answered the call of politics when she was appointed to serve in the cabinet of former Governor Peter Odili in Rivers State. Hilda is one actresss who who will always be remembered for her ability to cry a river.
5. Andy Chukwu
Just like Robert Peters, Andy Chukwu is now into movie production.Andy will always be remembered as the gentleman who always marry a nagging wife.
6. Kenneth Chukwu
7. Maureen Solomon
8. Chidi Ihezie
9. Eucharia-Anunobi
10. Sola Fosudo
11. Maryann Apollo
12. Keppy Ekpeyong Bassey
13. Uche Iwuji
Uche Iwuji is one actresss who will will rememeberd for her ability to seduce any man in movies. She is a gifted actresss.
14. Uche Mac-Auley
15. Barbara Odoh
16. Oby Edozie
17. Grace Amah
Grace Amah was the good girl who always turn bad. Do you miss her?
18. Bob Manuel udokwu

19.Victoria Inyama
20. Fred Amata
21. Sandra Achums
22. Lilian Bach
23. Chiege Alisigwe
24. Nkiru Sylvanus
Queen of crying.
25. Ernest Obi
The perfect gentleman
26. Emeka Ike
The lover boy.
27. Chidi Mokeme
28. Emma Ehumadu aka Labista
Oga kpatakpata of shooting and action movies
29. Hanks Anuku
Legendary Nollywood bad boy
30. Larry Koldsweat
31. Regina aiska
32 . Saint Obi

33. Tony Umez
34. Sam Dede
Action movies guru
35. Caroline Danjuma
36. Steph Nora Okeke 
37. Francis Duru
Romantic actor
38. Florence Onuma
We still call them Nollywood stars but with each passing day, it appears their stars are dimming because we no longer seem them on our screens. Do you miss any of these Nollywood stars?