15 Nigerian Stars Who Died Before The Age Of 40 – See Photos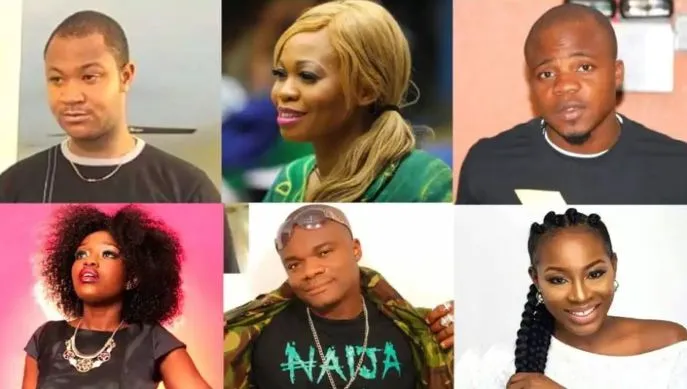 Beloved celebrities who went too soon. Death is never an easy one to digest. It is very hard to accept, very hard to believe, and very hard to let go of.
When we met our favorite celebrities through which ever means we meet them for the first time, maybe TV, our phone, or wherever, we develop a connection to them. To the characters they play, the music they make, the art they give to the world. We grow to follow them and know a lot about them.
So when life takes them away especially at such young ages, we are left devastated wondering all that their lives and careers could have been.
Today, I'm counting down 15 Nigerian Celebrities who tragically died before the age of 40.
1. Bisi Komolafe
Fast-rising Nollywood actress, Bisi Komolafe, died on December 31, 2012 at the University Teaching Hospital, Ibadan as a result of pregnancy-related complications. The beautiful actress was only 27 at the time of her unfortunate demise.
She was later buried on January 4, 2013 in Ibadan.
2. Clems Onyeka
Nollywood actor Clems Onyeka was shot and killed in October 14, 2014 when he got caught in a crossfire between the police and armed robbers in Asaba, Delta State.
The 37-year-old actor was shot along Summit Express, Asaba, Delta State while the police and armed robbers who were attempting to hijack a bullion van engaged in a fiery gunfight.
Clems Onyeka died on the spot. He was returning from the set of a movie.
3. Muna Obiekwe
Beloved and renowned Nollywood actor, Muna Obiekwe, was a household name in Nigeria until he tragically died on Sunday, January 18, 2015 after a long battle with kidney disease.
The amazing actor was only 36 years old when he passed away.
4. Okwy Chukwujekwu
27 year old up and coming actor, Okwy Chukwujekwu, popularly known as 'Main Boss Man' suddenly slumped during the shooting of a movie on Tuesday, September 5th, 2017.
The autopsy result revealed that an asthmatic attack was the cause of his death. The actor was buried October 5th 2017 at his hometown Otolo Nnewi, Anambra state.
5. Goldie
Nigerian singer and Big Brother Africa star Susan Oluwabimpe "Goldie" Filani Harvey had a fast-rising career and had established herself as one of the major female artistes in Nigeria before her unfortunate death on 14 February 2013.
Goldie died after returning home to Nigeria from the 2013 Grammy Awards in Los Angeles, California, USA. She complained of a headache and was rushed to hospital where she was later pronounced dead.
According to the autopsy conducted by the Department of Pathology and Forensic Medicine of the Lagos State University Teaching Hospital, Goldie died of 'hypertensive heart disease,' which triggered an "intracerebellar hemorrhage."
She was buried at the Vaults and Gardens, Ikoyi, Lagos on the 25th of February, 2013. She died at the young age of 31.
6. Zara Gretti
Popular Nigerian singer, Zara Gretti died on March 28, 2014 after a battle with Multiple Sclerosis. Born Margret Oluwatoyin Ejiro Joseph, the beautiful singer died at the young age of 28.
7. Tosyn Bucknor
Nigerian media personality Oluwatosin Tosyn Bucknor died on November 19, 2018 due to complications from sickle cell.
The beloved OAP was found dead by her husband, Aurelien Boyer, when he arrived home from work on 19 November 2018.
Tosyn was born with sickle cell anaemia and died at the young age of 37 years.
8. DaGrin
DaGrin was a Nigerian rapper from Ogun State. He died at the age of 25 on April 22nd, 2010 after he was involved in a ghastly motor accident which happened in the early hours of April 14, 2010. HIs car collided with a stationary trailer in front of Alakara Police Station in Mushin, Lagos. He survived a serious head injury as a result of the crash, but eight days after the accident after being admitted in the hospital and being operated on over, the rapper passed away.
9. Nelson Gold
Nelson Gold was a budding Nollywood actor with a promising future ahead of him.
According to reports, the fast-rising actor and graduate of the University of Nigeria, Nsukka, slumped at a movie location in Enugu and was rushed to the hospital where he remained in a coma until he passed on 15th June 2018.
He died only ten days after celebrating his birthday.
10. Kefee
Top Nigerian gospel singer, Kefee Obareki died of lung failure in a Los Angeles hospital on Thursday, June 12, 2014 after being in a coma for 15 days.
The beloved singer died at the age of 34 and was buried amidst tears on Friday July 11, 2014 in her hometown of Okpara Inland, Ethiope East Local Government Area of Delta State, Nigeria.
11. MC Loph
MC Loph's career was on the up and up. His songs were quickly turning into fan favorites across the country. But on September 14, 2011, after being involved in a car accident on Benin-Ore expressway, MC Loph died. He was only 33 at the time of his death.
12. Olamide David
Olamide David was a Nigerian male child actor best known for playing the lead role in a movie called "Cobweb". He died at the age of 14 on January 18, 2016 after he was mistakenly kicked in the stomach by another player while playing football. He fell to the ground and complained of pains. They rushed him to the hospital where he died a few hours later.
13. Fada U-Turn
One of Nigeria's most popular 90s musicians Olufemi Mayomi, a.k.a Fada U-Turn, tragically died on Sunday, November 17, 2013 due to a kidney related disease. The singer was only 36 years old as at the time of his death.
14. Ireti
Adebimpe Adekola popularly known as 'Ireti' was a popular 90s actress who was a leading woman in the Yoruba sector of the Nigerian movie industry.
The actress tragically died on Friday, September 27, 2002 after a brief illness due to some complications suspected to be from typhoid fever.
She was in her early 30s.
15. Alizee
Nigerian singer, Zainab Nielsen popularly known as Alizee was murdered on April 5, 2018 by her Danish husband, Peter Nielsen, in their residence at Bellasta Towers, Banana Island, Ikoyi. She was murdered along with their three-year-old daughter, Petra.
According to reports, Peter hit his wife's head severally on the wall causing her to die, before proceeded to poison his daughter. He then went on to drag his wife and daughter's lifeless bodies to the kitchen close to the gas to create the illusion that the two women suffocated to death as a result of a gas leakage.
The husband, 53 year old Peter Nielsen, pleaded not guilty to the charges brought against him and was remanded in Ikoyi Prisons on the orders of a Yaba Chief Magistrates' Court.
Zainab was only 37 years old when she died. Her daughter was only 3.