4 Female Celebrities Who Are Very Close To Their Mothers (Photos)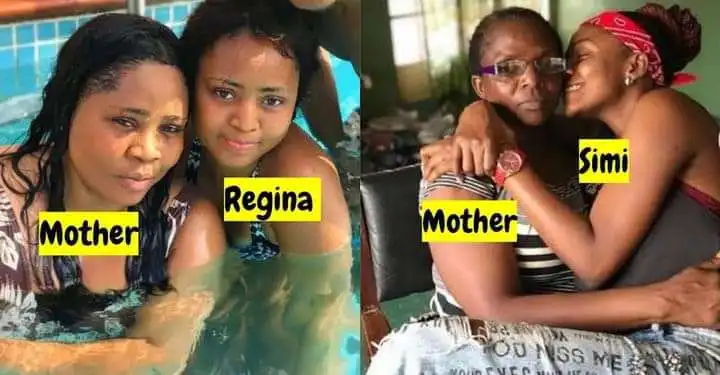 Most celebrities appreciate their parents for supporting their careers and most times, they reward them with cash, houses, cars, etc., for being there for them.
.
.
Apart from rewarding their parents, some of these celebrities have maintained a healthy relationship with their parents, they are mostly seen with their parents, attending parties together, and spending a lovely moment with each other.
However, I will be sharing with you 4 female celebrities who have maintained a close relationship with their mothers.
#1. Nicki Minaj
Nicki Minaj is a famous American rapper who has promoted rap songs around the world. Some of her hit songs include "Starship," "Anaconda," "Fly," etc. The beautiful female rapper is one of the artists who have a strong bond with their mothers.
She has shared lovely pictures of herself and her mother having a nice time and attending events together. Her mother, Carol Maraj has been supportive, she is always available for her daughter and has never failed in providing the love and care she needs. Below are beautiful pictures of Nicki Minaj and her beautiful mother.
#2. Regina Daniels
Regina Daniels is one of the famous actresses in Nollywood. The Nigerian actress has maintained a healthy relationship with her mother. She has given an account of how her mother helped her in reaching her dreams. The 20-years-old actress is the daughter of a famous movie producer and actress, Rita Daniels.
Regina once gifted her mother with a house and has never failed in spending quality time with her. I have gathered some pictures of herself and her mother having nice moment.
#3. Simi
Simisola Popular Nigerian R&B singer and wife of a famous Nigerian singer, Adekunle Gold. The multi-talented singer is one of the celebrities that love their mothers so much.
Mrs. Jedidiah Akinsola is the proud mother of Simi. She is in her sixties. Simi is known for sharing lovely pictures of her mother on her Instagram page and other social media sites. Below are lovely pictures of them spending a good time together.
#4. Beyonce
Beyonce is an award-winning singer and businesswoman. The famous music star has a beautiful mother who supports her career as a musician. Below are lovely pictures of herself and her mother, Tina Knowles.
Which of these celebrities has a striking resemblance to her mother? Share your thoughts in the comment section.