3 Super Rich Nigerian Women Who Still Take Their Time To Cook For Their Husbands (Photos)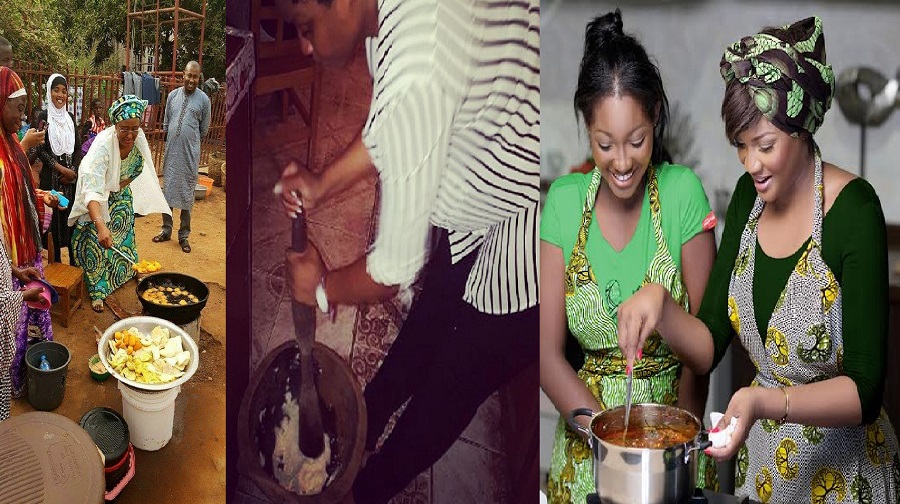 About a month ago or thereabout, Pastor E. A. Adeboye, the general overseer of the Redeemed Christian Church of God (RCCG), said in part, during a sermon, that men should marry only women who are able to cook and pray.
The statement generated a lot of controversy around gender and gender roles, especially as regards who should cook in the average Nigerian home.
The question of who cooks, is obviously very important to the average Nigerian. Here are three women who are super rich and influential and who have publicly made a statement out of the fact that they still cook for their husbands, they include:
1. Folorunsho Alakija
Folorunsho Alakija is a super rich Nigerian businesswoman. She is infact the second richest African woman after Isabel Dos Santos and also the third richest woman of African descent in the entire world.
On the matter of cooking, she said in an interview :
"My husband is my best friend, biggest ad¬viser and supporter. We've known each other for 40 years and have been married for 37 years now and with four boys. Even though we work in the same office, I always ensure that we kiss twice in a day, morning and night.
I still wash his undies until six years ago that he insisted I should stop. I also prepare his special vegetable dish, do his manicure and pedicure regularly."
She also added:
"It gives me joy whenever his friends praise my vegetable dish based on what my husband tells them."
2. Aisha Buhari
Aisha Muhammadu Buhari is the wife of Muhammadu Buhari, the President of Nigeria. She was born on the 17th of February, 1971. She is a cosmetologist, beauty therapist and author of the book: "Essentals of Beauty Therapy: A Complete Guide for Beauty Specialists."
In a recent interview with Vanguard, she said about cooking:
"I'm going to leave you soon. I want to go back home to cook for my husband because my children are here playing with you. Nobody is at home, only my husband. So, I want to go back home to be with him and also cook dinner for him."
3. Omotola Jalade Ekehinde
Omotola Jalade Ekeinde is a Nigerian actress, singer, philanthropist and former model.  She was born on 7, February 1978. Since her Nollywood film debut in 1995, the leading actress has appeared in 300 films, selling millions of video copies.
She trended on social media, when she said her husband was in charge of grocery shopping, but later explained that she did the cooking, while he did the buying, because she was popular. She shared this picture: