3 Nigerian Celebrities Who Met Their Spouse On Social Media (Photos)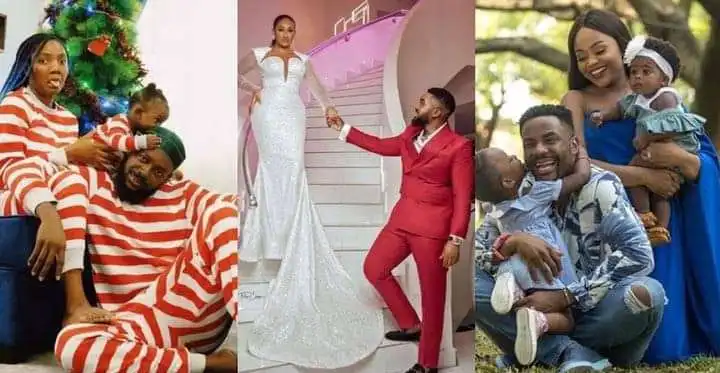 With the introduction of internet and social media, looking for a partner can be very easy since we now have a lot of matchmaking websites and social media platforms where you can easily announce that you need a partner.
So also, some of our favourite celebrities have found love on social media and are living happily with their partners till date.
In this article, we will be taking a look at 3 of these celebrities who met their wives on social media.
1. Ebuka Obi Uchendu and Cynthia Obianodo
Ebuka Obi Uchendu, in a report published by PM NEWS NIGERIA, revealed that he met his wife, Cynthia Obianodo on Twitter.
According to him, he said;
"I met her on Twitter. We followed each other, exchanged messages a few times, and then kept it moving.
"The connection wasn't instant, but over time I think I realised that, beyond how much of a happy person she is, our values aligned so strongly that an attraction started to form.
From the day we started talking seriously, I knew literally two months later that I wanted to marry her."
2. Adekunle Gold and Simi
Simi, in a report published by VANGUARD, said she met Adekunle Gold on Facebook.
She said she never knew that Adekunle Gold was a musician like herself during their first meeting, but only knew him as 'King of Photoshop'.
Following this, they went on to become friends, dated and eventually got married.
In her words, she said;
"He was chasing me all over facebook. When I was still doing gospel music he used to listen to my songs. He sent me a message on Facebook and that was how we met. I didn't know him at the time. I didn't respond either.
3. Williams Uchemba and Brunella Oscar
Brunella, in a report published by GUARDIAN, revealed that she met Nollywood actor, Willams Uchemba on Facebook.
According to her, she sent him a message after she stumbled on a video of his and watched it. She added that while watching the video, she heard a voice saying, "This is my husband".
She said she got a reply from him on the afternoon of November 23, 2016, and he asked her where she's from.
After she told him, she asked where he's from and he replied: "I am from that state your mother doesn't want you to marry from."
Things got interesting from there as he gave her his number and asked that she sent him a Whatsapp message.
They spoke for hours that night on video call and this soon became their norm, marking the start of their relationship.
Now, for the married couples, where did you meet your wives, and if you are still single, where do you wish to meet your wife?
Drop your comments in the box below and don't forget to click on the follow button to get more content from us.