5 Times Nigerian Celebrities Went Too Far on Stage (Photos)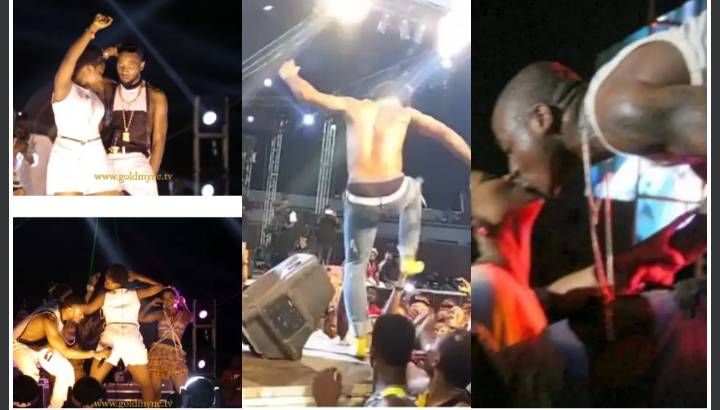 Who doesn't love a live performance? For many of us, we dream of us singing and shouting the lyrics back at our favorite musicians while they perform all of our favorite songs on the stage.
For some lucky people, they even get to be picked out by their favorite celebrity for a one on one or intimate moment on stage. And then sometimes, these intimate moments happen and you go 'WOAH', did that really just happen?
There is so much adrenaline that goes into performing and being on the stage and for today's list, we'll be counting down 5 times this adrenaline has made things go "too far" on the stage. Here are 5 Times Nigerian Celebrities Went TOO FAR on Stage.
1. Davido
Mega superstar Nigerian performer Davido made the day of a lucky fan who came to his show. The lucky woman made her way to the front of the stage and lucky for her, the singer was in a kissing mood. So, right there in front of the whole crowd, Davido planted one on her and the picture lives on forever as proof of the moment that the lucky fan can show to all her friends and colleagues for a lifetime. Reacting to the picture online, some people said that the gesture was 'unnecessary', 'na another person girlfriend way him kiss like this', and some people thought it was too far. I think it's a sweet moment, what do you think?
2. Niniola
Nigerian singer Niniola Apata known for her infectious Afro-house music is one who always puts on energetic and engaging live performances. During her Human Radio concert, one adoring male fan was completely infatuated with the singer as she performed on stage. Niniola caught sight of the fan and made his dream come true by bringing him on stage. The boy literally ran mad on the stage – it's such a sight to watch.
3. Burna Boy
For this performance, things went wild in another type of way. While Burna Boy was performing at a packed concert in Uganda, there was a shocking moment when all of a sudden he violently kicks a man in the crowd on the head. It wasn't pretty.
After people bashed him for his actions and going too far, Burna Boy released a statement saying:
I am sorry about how it looks but this person continuously tried to rob me on stage. It was like the 10th attempt to do it after telling him several times to stop. This wasn't a fan. Apologies for how it looks but it's not the case at all. I appreciate all my fans
4. D'Banj
Would this list be complete if the koko master himself isn't on it? D'Banj's live shows have been known over the years to get very exciting There is no greater example than this moment when D'Banj sticks a microphone into his crotch as a representation of his penis and then proceeds to grind on the fan and get jiggy with her on stage. People definitely thought it was way too much. But then again, it's a D'Banj show. He is the koko master abi!
5. Tiwa Savage
Tiwa Savage during one of her shows pulled a fan up on stage to give him an intimate moment on stage. The thing though was that it happened not too long after she got married and then the dress she was wearing during the performance was quite revealing. Suffice to say, people thought she went too far.