5 Nigerian Celebrities Who Became Parents By Adoption (Photos)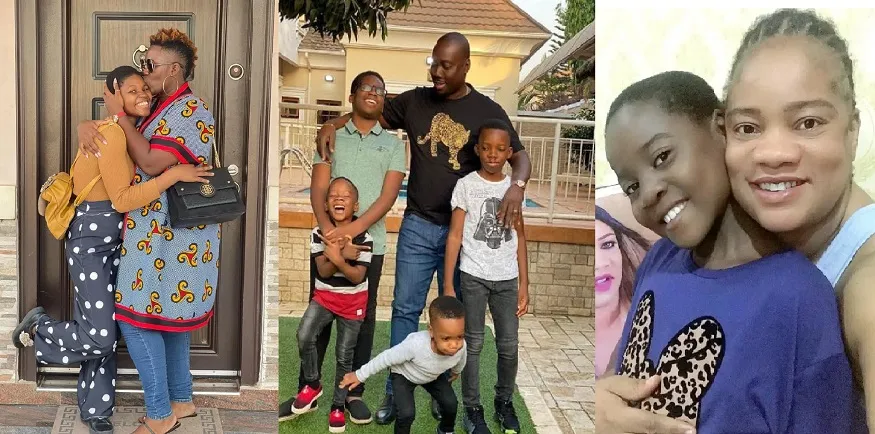 Children come in different ways. Some people become parents by birth, some people become parents by adoption. Either way, a child is a blessing and it is a blessing that a lot of people seek for.
Even today adoption, while I believe it is one of the most selfless and beautiful gifts a parent can give to a child, is still looked down upon especially here in Nigeria. Many people want biological children of their own and adoption is usually seen as a last resort of sorts.
That shouldn't be and I love to see that very slowly but oh so surely, the conversation is beginning to shift. One group of such people helping to shift this conversation is of course our Nigerian celebrities.
Here are 5 Nigerian Celebrities Who Have Become Parents by Adoption.
1. Obi Cubana
Nigerian businessman and celebrity Obi Cubana is the first man on our list. Obi has 5 children, all sons, and one day on his Instagram, he decided to open up a little bit more about his kids. He shared the below picture to Instagram writing:
King of boys!!! I have 4 amazing biological sons and a super amazing adopted 5th son! I love women, but God chose to give me all males!! Training 5 boys (soon to be men) ain't beans….so u see why I don't rest? Amazing boys with their different interesting ambitions!!
2. Susan Peters
Four years after her marriage to husband, Koen Croon, Nollywood actress Susan Peters welcomed a bouncing baby boy into her life via adoption. The beautiful actress took to social media to share the wonderful news writing:
Isn't he lovely? So cute. My adopted son wishing you all a wonderful Christmas. Enjoy the season ❤️ star boy what cute names should we call him
3. Opeyemi Aiyeola
Nigerian actress Opeyemi Aiyeola is the next woman on our list. The beautiful actress took to social media earlier this year to announce that in addition to her 2 boys, she has now adopted a daughter. Opeyemi wrote:
Pls don't call me mum SnD call me mum SDnB… blessed mum of 3 champs. My princess is finally here n off to school. Lord pls bless my champs n continue to grant me the grace to be world's best mum. My daughter is finer than urz @olasexcy dad SDnB thanks for ur support. We finally have a daughter to call ours
4. Williams Uchemba
Nigerian actor Williams Uchemba made headlines in 2020 when he announced via social media that he had adopted a young man who he met in a carpentry workshop and planned to transform the boy's life and imbibe him with as much knowledge as possible. Williams wrote online:
So today I decided to adopt Demola not only to sponsor him through school but to mentor him with the knowledge and other information that has made me who I am today, till he becomes the man God destined him to be. Say hello to my new son 😊
5. Real Warri Pikin
Nigerian comedian Anita Asuoha popularly known as Real Warri Pikin is the final woman on our list. The actress and comedienne took to social media to celebrate her adopted daughter who turned 16 saying:
I can't keeep calm. My daughter from another mother scores 16 years today. Stella Fedode…now Asuoha. God bless the day my mom brought you into my home in 2017 I love youuuuuu soooo much. Na once we adopt
Adoption is a wonderful thing and should never be looked down upon, rather encouraged. It's so good to see these celebrities being open about their adopted children. So many people try to hide it, I'm glad they didn't. Let me know what you think about this story by leaving a comment on my Facebook post.