5 Crazy Expensive Things Burna Boy Has Done (Photos)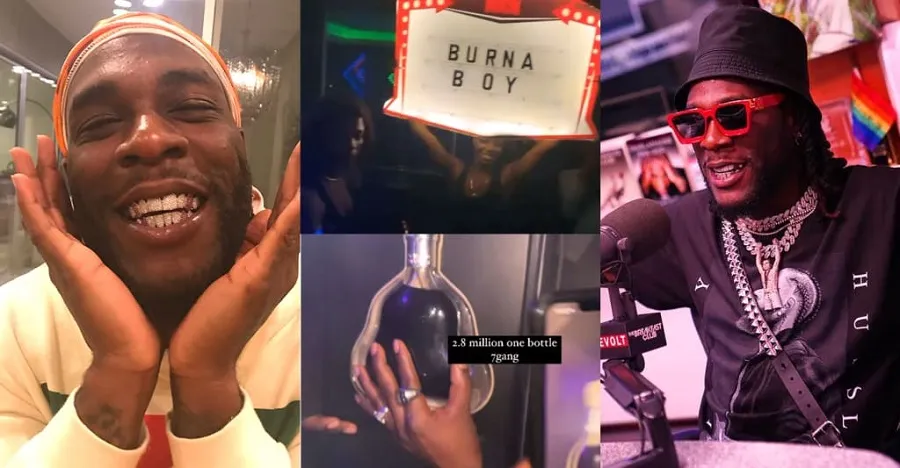 Nigeria's own African Giant, Burna Boy is a renowned singer, songwriter, and performer who has risen up to the ranks to become one of the biggest names out of the country. Burna Boy is wealthy. He knows it, we know it, and Burna Boy loves to flaunt it.
Just like I have done with singers Davido and Tiwa Savage in the past, today we'll be counting down 5 Crazy Expensive Things Burna Boy Has Done. Are you ready to find out what they are? Then let's go!
1. He Bought a $346,000 Rolls Royce Dawn and N100 Million Ferrari Back to Back
In 2019, Burna Boy splashed $346,000 (about N125 Million at the time) on a Rolls Royce Dawn car. The video was uploaded to social media where the singer was seen in the car along with the caption which read "New fking whip alert…". What is even wilder? The purchase of the Rolls Royce happened just a few days after the singer purchased a brand new Ferrari that was reportedly worth over N100 Million. Talk about being a big spender!
2. He Gave OAP Half a Million Naira Simply For Time Spent
Last year, news went round and it quickly became a headline story when media personality N6 revealed that just for spending time with the singer in a nightclub, he walked away with N500,000. He took to social media to show off the video where he was counting the dollars he received from Burna with the caption, "Half a million just to chill with my old friend." Biko when is the next hangout happening? Me too I can come.
3. He Spent N100 Million on Wrist Watch and Bought Diamond Earrings for Aide
Earlier this year, Burna Boy made yet another big purchase. The singer who has been very open about his love for Richard Mille wristwatches bought a wristwatch that was reportedly about N100,000,000. Around the same time, one of Burna's aides who told him he had just one ear pierced received two diamond earrings.
4. He Bought Very Expensive Diamond Grills
One item that you often find on these "crazy expensive" lists are grills because they are such an excess and serve no purpose other than flaunt wealth. That's why so many rich people get them because it is such a blatant symbol of excess wealth. In 2019, Burna showed off his diamond encrusted grill set reportedly worth a lot of money with the Instagram caption, "Mouth feels like a freezer ❄️🌷"
5. He Spent N2.8 Million for One Drink in a Club
Last year, Burna Boy along with his crew members after enjoying a meal together decided to hit up the nightclub where the singer splashed a whooping N2.8 Million on one bottle of drink!
Burna Boy is certainly a man with A LOT of money. Compiling this list, my mind is blown by how much money he's spent on just five items alone. What do you think of Burna Boy's purchases? Which item did you like best? Least? And what do you think about his spending overall? Let me know your thoughts by leaving a comment on my Jide Okonjo Facebook post.
That's All.