4 Popular Nollywood Actors Who Bagged Postgraduate Degrees From Unilag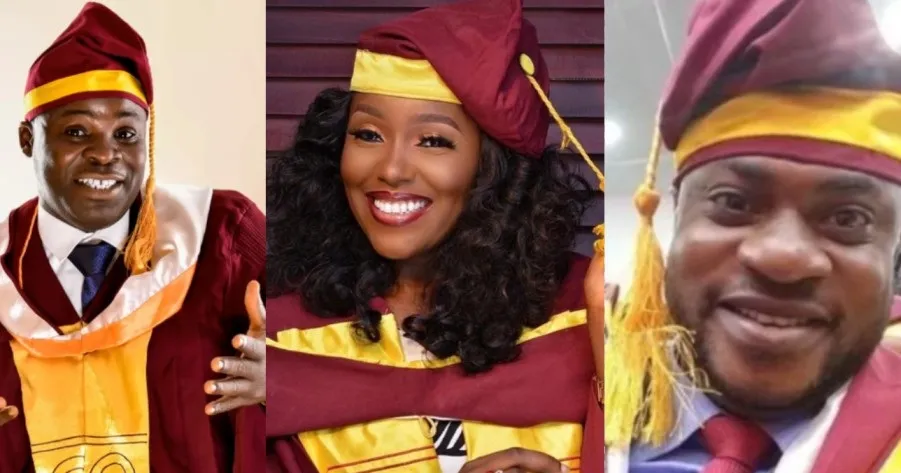 Nollywood Yoruba actors over the years are often thought to be in the industry due to their illiteracy. But that is becoming a thing of the past these days. We get to see some notable faces in the Yoruba arm of the industry migrating to the English arm of Nollywood and that is owed to the fact that most of them leveled up by going back to school or furthering their studies after fame.
This article is streamlined to Yoruba actors who bagged their Master's and Doctorate Degree at the University of Lagos. Have at it below:
Muyideen Oladapo aka Lala
Yoruba actor Muyideen Oladapo, popularly known as Lala, bagged a master's degree from the University of Lagos (UNILAG) recently.
Lala shared photos from the convocation ceremony on his Instagram page on Thursday.
The Omo University actor stated that the opportunity of attaining his new educational qualification was a dream come true, as he appreciated God for his attainment.
"I am sincerely grateful to the Almighty for this rare privilege. I have always had a burning passion for attaining a greater height in education from my tender age and I thank God I achieved the dream despite fame and other engagements," he said.
The movie star added that he would not relent in attaining the highest level of education, noting that he had a lot of distractions and it took concerted efforts to attain another degree.
He said, "This is a stepping stone for me to greater achievements because I am not relenting because I want to attain the highest level of education. I am grateful to God for the success of my second-degree education. It took me concerted effort in achieving this because there were lots of distractions, but I bless Allah that it eventually became a success."
Odunlade Adekola
Despite being a successful actor and having bagged major endorsement deals, Odunlade still had his priorities straight and finished what took his 5 years to achieve. In a recent post, Adekola shared an adorable photo of himself as he graduated from the prestigious University of Lagos.
The proud actor bagged a degree in business administration and has once stated that education is very important in anything done in life.
In his post, shared on Instagram, he captioned his graduation photo: "Glory be to God."
Abiola Adebayo
Nollywood actress, Abiola Adebayo also bagged a master's degree from the prestigious University of Lagos, UNILAG. The actress who graduated July 2021 made a touchy Instagram post on how far she has come in life.
Abiola Adebayo while sharing pictures from her convocation ceremony noted that she was once a street hawker, a secondary school dropout but she has finally fulfilled her dream.
Sharing the picture, she wrote:
CONVOCATION AT LAST!!! A street hawker A secondary school dropout. Then, a graduate and now a proud masters degree holder… Combining my masters program with work was one of the most difficult thing that has ever happened to me but in all, I have victory 
Things didn't happen for some of us at the "expected time" (at the time the world expect it to be) but we did it anyway. (At God's time, the appointed time)
If things happen for you on time and smoothly oh! I thank God for you and I tap into your grace  I pray for greater grace for myself and anyone in my shoes.
It wasn't easy at all but God has been too good to me.
If you need to know about GRACE, please study me.
It didn't happen on time but I did it anyway 
I CAME, I SAW, I CONQUERED!
From Mushin to glory 
Helen Paul aka Tatafo

Nigerian popular stand-up comedienne, media personality  and actress Helen Paul has been awarded a Ph.D by the University of Lagos and she has invited everyone for her convocation set to hold on the 4th of April.
The comic actor who is popular for her funny videos appreciates her husband, supervisor and everyone who has supported her through this journey.
Read her message:
Can't wait to wear my beautiful gown on Thursday.
Special thanks to the University of Lagos, for finding me worthy of this great position as the first Nigerian stand – up comedian to have a Ph.D (Please argue with the gods) #helenpaul #drhelenpaul
MIGHTY Thank You to God almighty for using my mentor and teacher as my supervisor (Prof. Osita Ezewanebe), mama tough no be small, days of crying, fasting, waking up at midnight to pray and even swearing, then asking myself questions like Helen Paul Who send you?
To my husband, Papa thank you for your encouragement, your words are sweet ( do it jor, babe face that fear, I can't wait to see a doctor as my wife every morning). You are all invited to the University of Lagos as my convocation is on the 4th of April. (Positive minds only) @officialbunmidavies thank you for all the free food, my roommate is also grateful and now we are missing our rooms. (Back to the wife and mummy duties fulltime) POST DOCTORATE NEXTTT!!!!!