4 Nollywood Actors And The Younger Stars Who Act Their Exact Roles In Movies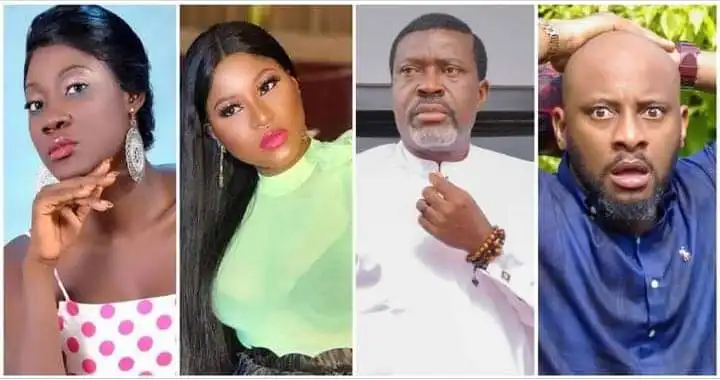 It is difficult to discuss the success of the Nigerian film industry without talking about the stars who have won the hearts of many over the years. Some of these actors have carved a niche for themselves in a way that they have become synonymous with certain roles.
But in the past years, new generation of stars have emerged who tend to be acting like some of these older actors. And film producers these days seem to be casting these younger stars in the roles we knew these iconic actors for.
This article seeks to look at four iconic Nollywood actors and the younger stars that act their kind of roles in films.
1. Kanayo O. Kanayo.
As Nollywood evolved over the years and ritual-related films became a common storyline in the industry, one man who was seen often in many of such films is Kanayo. He was so good in ritual films that many Nollywood producers and directors were casting him in such roles, and he indeed made a name for himself in that regard.
But in the past years, the younger actor who seems to be stepping into the shoes of Kanayo is Yul Edochie.
Yul Edochie has been cast as a ritualist in many films in recent years, and he has been quite excellent in those films. He seems to be the toast of producers in ritual films in modern day films.
2. Mercy Johnson.
Mercy Johnson is undoubtedly one of Nollywood's sweethearts, and her versatility in romantic roles had made her a force to reckon with more than a decade ago. But after her marriage to Prince Okojie in 2011, Mercy stopped taking up romantic roles, and the actress who seems to be acting like her now is the Enugu-born actress Destiny Etiko.
Destiny Etiko reminds us of Mercy Johnson before she got married. It is not surprising that Destiny regards Mercy as her role model, and Mercy even calls her "daughter". And good enough, Destiny Etiko is blessed with curves the way Mercy is.
3. Chiwetalu Agu.
Chiwetalu Agu has done impressively well for himself as an actor, and has gained popularity in comic and epic films. The way he garnishes his words with funny slangs has distinguished him from other actors.
The younger actor who acts like Chiwetalu Agu is Elvis Chibuikem.
The way Elvis talks and carries himself in movies makes many believe that he is trying to step into the shoes of Chiwetalu, but he stated during an interview sometime ago that he is not trying to copy Chiwetalu Agu or anybody.
4. Nkem Owoh.
Since he shot to prominence several years ago, Nkem Owoh has remained a strong force to be reckoned with in Nollywood. Despite the acute competition in the industry, his position in Nollywood has remained unchallenged.
But over time, we have seen a younger actor who seems to be acting like him in films, and his name is Muonagor Collins.
The case of Nkem Owoh and Muonagor is even more spectacular, because both men share a striking resemblance. When Collins emerged on the mainstream of Nollywood a few years ago, many of us even thought that he was Nkem Owoh's brother, only to realize that they are not related. Collins is often stereotyped as a mischief maker in films, which often reminds us of Nkem Owoh. And he even talks and acts like the legendary actor.