4 Female Celebrities Who Vowed To Stick To Their Partner When They Cheat And Their Reasons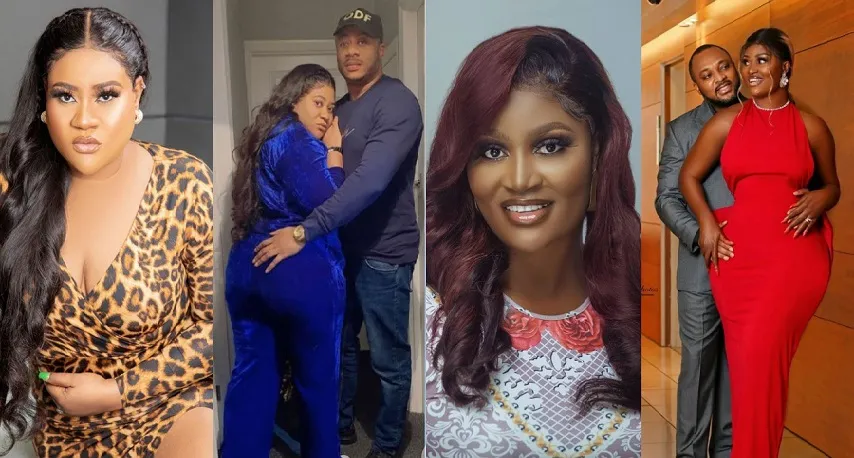 There are these female celebrities on social media who have disclosed that on no account will they leave their husbands because he cheated on them with another woman.
They have given different reasons why they would rather stick to him than leave him because he cheated on them.
1) Nkechi Blessing Sunday
In 2021, the popular actress, Nkechi Blessing Sunday, revealed that she would never leave her partner because he cheated on her. She made this revelation following one cheating trend one time ago, she said she would rather stick to him.
Nkechi Blessing added that those relationship experts who tell people to leave their partner for cheating are the ones who endure things in their relationship. She also said that when one leaves their partner for cheating, those who advise you to do so would rather replace you or give them who to replace you.
2) Chizzy Stephanie Alichi
Some days ago, actress Chizzy Alichi disclosed in "Sun" interview that she won't leave her husband even if he cheated on her, she made it known that she had this orientation of all me are polygamous in nature and all men cheat while growing up, although they are men who doesn't cheat and her husband is one of them, she also asked what is the possibility that the next man after you leave your husband for cheating wont cheat too? Chizzy said that her husband is afraid to lose her because she is a full package.
3) Omawumi
Singer Omawumi has also disclosed that she would stick to her partner even if he cheated on her. She revealed that she can't leave her husband because of an error, that they are partners, and their relationship is just like a partnership, so what he doesn't want her to do to him, he shouldn't do the same to her, Omawumi said.
4) Rosy Meurer
Rosy Meurer, wife of Olakunle Churchill, has revealed that on no account would she leave her marriage for a side chick because she is the boss. She added that even if her husband cheats on her, she would forgive him if he is remorseful.
She also added that she believed Churchill would never cheat on her because she trusts him, and even if he goes about, he will still come back to her.