13 Nigerian Celebrities You Probably Don't Know Are Biracial (Photos)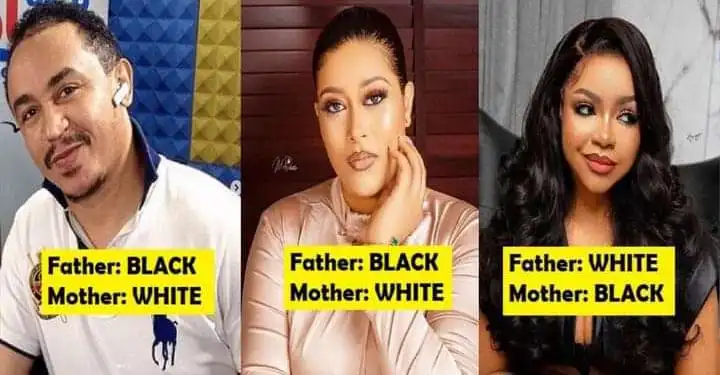 Get ready to be surprised.
Biracial – A person whose parents or ancestors are from different racial backgrounds.
In Nigeria today, for most people when asked the question "where are your parents from?" the expected answer is always some place in Nigeria. Very rare is it that the answer to this question is two different countries and even rarer is it that the answer is two different continents.
For today's list, I'm counting down 13 celebrities whose answers fall into the latter category – 13 Nigerian Celebrities Who You Didn't Know Are Biracial.
Are you ready to find out who they are? Then let's go!
1. Lilian Bach
Nollywood actress Lilian Bach was born in Lagos Island to a Yoruba mother and a Polish father making her a Polish-Nigerian woman.
2. Caroline Danjuma
Beautiful Nollywood darling Caroline Danjuma was born to a Scottish father and a Nigerian mother making her a Scottish-Nigerian woman.
3. Ramsey Nouah
Veteran and heavily celebrated Nigerian actor Ramsey Nouah was born in Edo State to an Israeli father and a Yoruba mother making the very talented actor an Israeli-Nigerian man.
4. Nneka Egbuna
Renowned Nigerian singer, songwriter, and actress Nneka Egbuna popularly known simply as Nneka was born to a Nigerian father and a German mother.
5. T-Boss
Big Brother Naija reality star Tokunbo Idowu popularly known as T-Boss is another biracial Nigerian celebrity. The controversial reality star was born to a Nigerian father and a Romanian mother.
6. Eku Edewor
Nigerian actress, model, socialite, and TV presenter Eku Edewor was born in London along with a twin sister named Kessiana. Eku's mother Juliana Edewor is a Nigerian interior designer from Delta State while her father Hugh Thorley is a British man. Eku is a British-Nigerian woman.
7. Ashley Madekwe
Hollywood actress Ashley Madekwe popular roles on American TV shows Revenge, Salem, and Tell Me a Story was born in South London, England to a Nigerian father and an English mother.
8. Shan George
Popular Nigerian actress Shan George was born in Ediba, a town in Abi Local Government Area, Cross Rivers State to a Nigerian mother and British father. Shan George is a British-Nigerian woman.
9. Carmen Ejogo
Hollywood actress Carmen Ejogo popular for starring in big American movies like Selma, The Purge: Anarchy, and Fantastic Beasts and Where To Find Them was born in Kensington, London and is the daughter of a Scottish mother Elizabeth Douglas and a Nigerian father Charles Ejogo.
10. Daddy Freeze
Controversial and renowned Nigerian OAP Ifedayo Olarinde popularly known as Daddy Freeze was born in Cluj-Napoca, Romania to a Nigerian father and a Romanian mother.
11. Ibinabo Fiberesima
Nigerian actress and ex beauty queen Ibinabo Fiberesima was born to a Nigerian father and an Irish mother.
12. Adunni Ade
Talented Nollywood star Adunni Ade was born in Queens, New York in America to a German-American mother and a Yoruba father.
13. Nengi Hampson
Big Brother Naija star Nengi Hampson in an interview with Pulse Nigeria after months of speculation confirmed that she is in fact mixed. Her father is British and her mother is Nigerian making Nengi a British-Nigerian woman.