13 Most Stylish Nigerian Female Singers Ranked (Photos)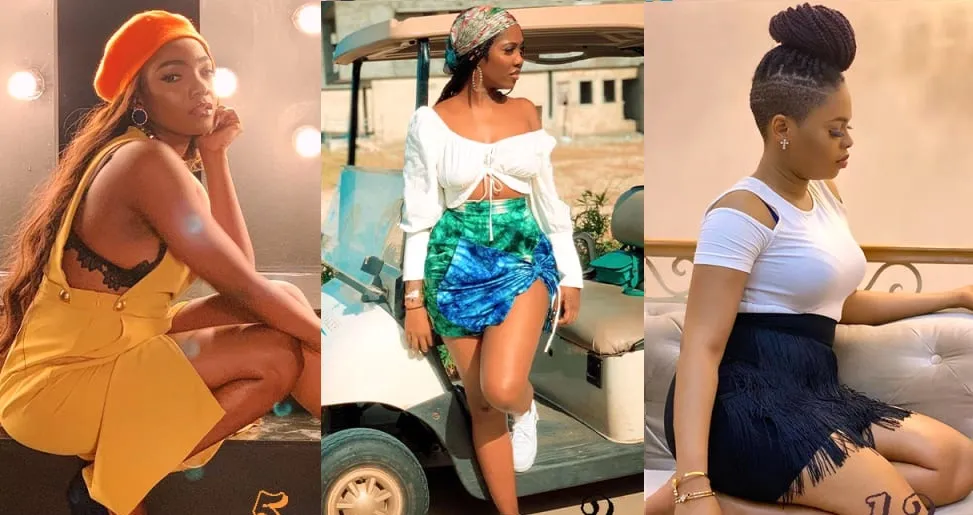 These women are not only talented singers, they also have killer fashion sense.
To make things more interesting, we're going to be RANKING today's list. While all of these women are fashionable, who claims the number one spot, and where does everyone place.
I'd love to hear what your own thoughts are on the list and the ranking. Do you agree? Do you disagree? Let's find out!
13. Niniola
Nigerian Afro-house Human Radio, Niniola Apata responsible for giving us such hits as the massively infectious and very popular Maradona to Sicker, Bana, Magun, and more is one of the names on our list today. This singer's bold and eclectic fashion choices and the way she always chooses to model each new one almost everyday on her Instagram keeps us entertained and in awe of not only her music, but also her looks.
12. Chidinma
Chidinma is one artiste that has always been in and out of music. At the beginning of her career, she was very much active in releasing songs but these days, she doesn't release as frequently, but whenever she does, the songs are fire. The beautiful singer has always been hailed as one of the prettiest girls in music and while her looks are no doubt stunning, they are also heavily complemented by the outfits she chooses to wear. Chidinma is one beautiful woman that knows what it means to be stylish.
11. Lola Rae
Another singer who has been missing in action is Lola Rae. I mean, we don't blame her, she now has a daughter. Still, we miss her. She blessed us with such hits as Watch Your Ting Go, Fi Mi Le, and Biko. The singer is not only gorgeous, she's also very fashionable.
10. Eva
Nigerian rapper, Eva Alordiah, gave us Deaf that year and that song till today has solidified her as one of the best female MCs to come out of Africa. The singer has since gone on to release other successful music and has branched out into other ventures since then.
While we don't see her as much in the music industry, she's still very much active on social media and she always takes time out of her day to bless us with very impressive looks and outfits.
9. Waje
Nigerian crooner, Waje Iruobe is a singer that has been around for quite some time. The singer is responsible for blessing us with hits such as I Wish, Left for Good, and So Inspired. While an undoubtedly gifted singer, she's also a fashion killer capable of making any outfit look good on her.
8. Niyola
Nigerian singer Niyola has been M.I.A from the music for a little bit now but she is responsible for giving us hits such as Toh Bad, Love to Love You, and more. The beautiful singer is also a heavyweight in the style department, always ready to deliver bold and interesting looks.
7. Yemi Alade
Yemi Alade aka Mama Africa is one artiste who enjoys wearing African prints and celebrating African culture not only through her music but also through her fashion. At any given moment, you can catch Yemi wearing some type of African wear from one of the many cultures and countries all around the continent. And then sometimes she just dresses casually and wears whatever is comfortable. At any given moment, Yemi is wearing whatever she wants and she always looks good in it.
6. Omawumi
Nigerian music legend, Omawumi, has been around since winning West African Idol. The singer has been responsible for giving us a slew of hits including If You Ask Me, Megbele, Today na Today, In The Music, and more. The singer's style jumps from traditional looks to contemporary looks and everything in between. One thing is sure though, whatever Omawumi is putting on, she'll always look good.
5. Simi
Nigerian sweetheart, Simi who has been responsible for blessing us with such jams as Smile for Me, Joromi, Jamb Question, Tiff, and more is a singer who was early on bashed for her lack of fashion sense but has since then turned around and started giving us beautiful looks back to back.
I mean, check her out.
4. Seyi Shay
Another woman who isn't' afraid to show a little skin is none other than eclectic Nigerian singer, Seyi Shay. Seyi is responsible for hits such as Murda, Ragga Ragga, No Lele, Right Now, and Yolo Yolo. The singer takes a lot of fashion risks and very few times do they not land. We love to see what she has hiding under her sleeve and she never disappoints.
3. Tems
New entrant into the music business, Tems made a huge splash with her 2019 mega hit, Try Me. The young singer has other songs under her belt that have been gathering equally as good reviews. While little is known about the singer, we do know that she has a point of view in terms of how she chooses to sound and the aesthetic she chooses to portray. And we love the aesthetic.
2. Mo Cheddah
Although Mo Cheddah isn't actively releasing music as much as she used to in the past, she can never be discounted because during her run in the music industry, she blessed us with hit after hit. From songs like Ko Ma Roll to Destinambari, Mo Cheddah was at the top of her game. Now she has gone full time into fashion and makeup and that choice seems to be paying off for her.
1. Tiwa Savage
Undoubtedly Africa's number one bad girl! Tiwa Savage has been responsible for soooo many hits in her extensive career. From the debut Kele Kele to hits like Eminado, All Over, Bad, Ma Lo, and more, Tiwa is always an interesting one to watch, and that interesting-ness isn't limited to just the music. It also comes out in her bold and daring fashion choices that leaves us sometimes shocked, sometimes in awe, and sometimes speechless.