4 Famous Nigerian Billionaires Who Are Married To Younger Women (See Photos)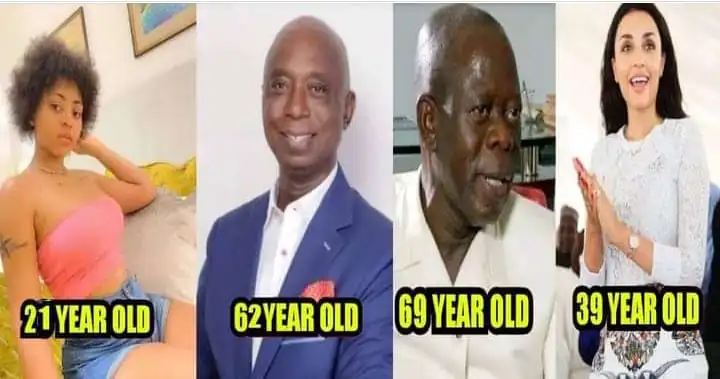 Some of the popular billionaires in Nigeria chose to tied a knot with younger ladies which have proven that age is just a number in marriage. While there are a lot of men out there who got married to ladies at the same age with them, these 4 billionaires below chose spouses who are younger than them with 30 or more years.
1. Razak Akaani Okoya
Chief Razak Okoya is a billionaire industrialist, founder of Eleganza group of companies and the Aare of Lagos. Chief got married to his lovely wife, Folashade, at the age of 59 while his wife was 21 year old. Razak is now 81-year-old and Folashade is 44; that's 38 years differences in their ages.
 2. Chief Michael Ikuku
Another famous billionaire in the list is Michael Ikuku. He is 65 year old while his wife, Faith is 33. They have been together over some years and they are apparently having good time with each other.
 3. Prince Ned Nwoko
61-year-old Ned Nwoko who is married to a popular 20 year old Nollywood actress, Regina Daniels, is a well known Nigerian billionaire who tied the knot in 2019. He became more popular after his marriage with Regina went viral on social media. They are both blessed with a cute kid and they are obviously living a happily life since their wedding day.
 4. Adamu Oshomole
The former Governor of Edo state, Adamu Oshomole is one of the men who have proven that age is just a number when it comes to the matter of love after he tied a knot with his wife, Fortes in 2015. Lara Fortes from Cape Verde is currently at the age of 39 while Oshomole is at 69.
What is your thought about this?