3 Nollywood Actresses Reveal Horrifying Personal Experience With Nigeria #SARS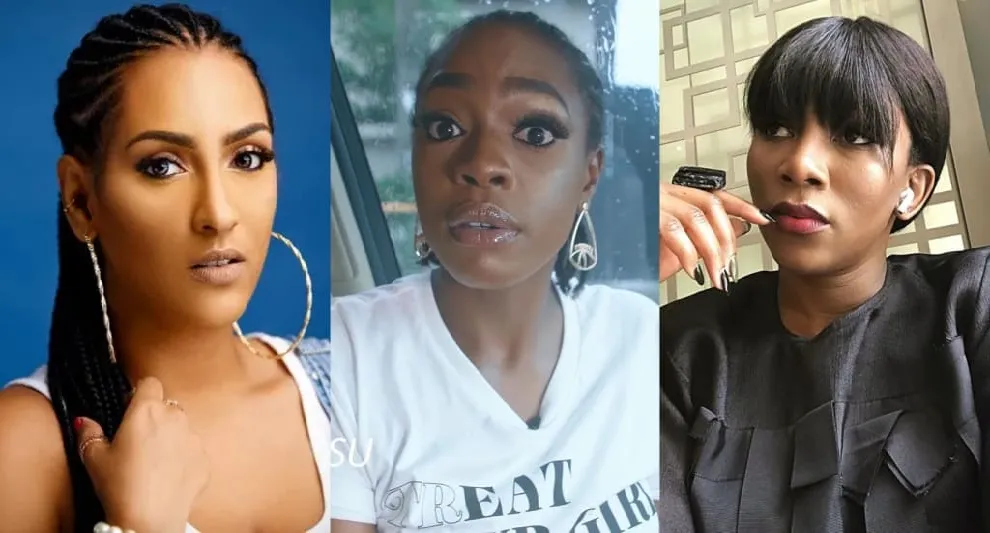 In a bid to add some personal stories to give an idea of the situation, three Nollywood actresses have shared how this SARS mess has affected them personally.
Genevieve Nnaji
Star actress Genevieve Nnaji took to Instagram to write an open letter to President Buhari regarding the issue of SARS. In the letter, she wrote about how SARS has affected her first-hand after seeing how they treated her 13-year-old niece. Genevieve wrote:
An Open Letter to President Muhammadu Buhari
My niece was harassed by SARS for carrying a laptop. Her own laptop. She was slapped across the face for simply asking why her laptop was being seized. At only 13, she had to deal with police brutality. Complaints were made and nothing was done. No one is spared and we are all affected.
Mr. President, this is the current state of your country. The stability of a nation is largely dependent on leadership. And every head of house has one chance to build their legacy.
Sir, you've had two. What our country is today is a reflection of your leadership. Your legacy.
I'm getting weary and tired of being optimistic about change but even then I can't complain. I am one of the privileged few but that doesn't mean that I get to give up now.
So I will speak.
Mr President, it's time to lead. I remain saddened by the fact that my country is only an incubator for greatness and not a habitat. The world is clearly moving on. With or without us. What will your legacy be when it's all said and done? I aspire for mine to leave a mark and not a scar.
I urge you to speak to us because we are not mind readers. Your house is not in order and way far from stable. The people aren't being empowered, neither are they being protected. Industries such as Entertainment and Technology that are currently boosting our economy and empowering the youth are being frustrated. All under your regime.
WE ARE NOT ALL CRIMINALS and shouldn't be treated as such. If there is an increase in crime, it's as a result of the increase in poverty. We honestly do not know the difference between the criminals and the law enforcers anymore. While there are clearly good people in the force, the bad ones are overshadowing them. The lack of value for human life in our count is disheartening and heartbreaking.
We would have less crime if we had more job opportunities. Criminals would be fewer and easier to catch. The police needs to be our friend and not our enemy. We need law enforcement to work with us and not against us. Contrary to what you may believe Mr. President, we are not lazy. We are under- utilized.
Leaders will come and go, but we the people will remain. We will survive. We always have. But we won't forget. Right now, your administration is standing in the way of our survival. If the country is unwilling to be great, the least you can do is let us be great by ourselves.
Mr. President, you are the Commander-in- Chief. I plead with you to command your troops to stand down.
Sincerely, Genevieve Nnaji
#EndSARS #EndPoliceBrutality
Beverly Osu
In a 2019 video that has been brought back into discourse, Big Brother contestant and Nollywood actress, Beverly Osu expressed her anger over officers harassing people and not wearing their appropriate uniforms. She said in the video:
If you know you're going to be doing night duty, please wear your uniform. Indicate that you're an officer. Dress like an officer. Because nowadays we don't know the difference between police and armed robbers. How can an officer be wearing jump-up trouser and bathroom slippers and holding gun? Smelling of alcohol?
I was in an UBER the other day, and my UBER guy saw these guys and started running because he thought that they were armed robbers. There was no indication – there was no police van parked near anywhere. There was no checkpoint sign. There was nothing of that sort and you say you're protecting us. You're not protecting us.
Juliet Ibrahim
Nollywood actress, Juliet Ibrahim is the latest actress to lend her voice to the #EndSars protest and she did so by sharing a personal story. Juliet wrote in a series of tweets:
I have personally been stopped by #Sars officers in lekki after watching a movie at the IMAX cinema around 10 pm last year. We were in an Uber car and without any reasons given; we were asked by 2 drunk SARS Officers to step out of the car so they can search our bags!
We demanded to know why because this is not done and he insisted on searching even after my Assistant had shown him his international Ghanaian passport. They didn't have an answer as to why they decided to stop my sister, myself and my assistant that night!
After we opened our bags for them, went back and forth insisting it was Wrong in all ramification to search our handbags when we hadn't committed any offense; a 3rd officer showed up and recognized me and started hailing me that he watches my movies.
He then asked the guys to let me be and asked "anything for the boys?" Which I told him NO I had no money!!! We were allowed to leave but here's the terrifying shock! WHAT IF, we were harassed further or molested by these drunk officers? WHAT IF!!!
Are we going to sit back and watch more innocent people killed, harassed and attacked by #SARS before we start speaking up?! It happened to ME TOO and it can happen to your Fathers, Mothers, Uncles, brothers and sisters and Foreigners visiting Nigeria!!#ENDSARSNOW #MrGovernor