Who Is Richer Between Obi Cubana And Cubana Chief Priest – Net Worth, Cars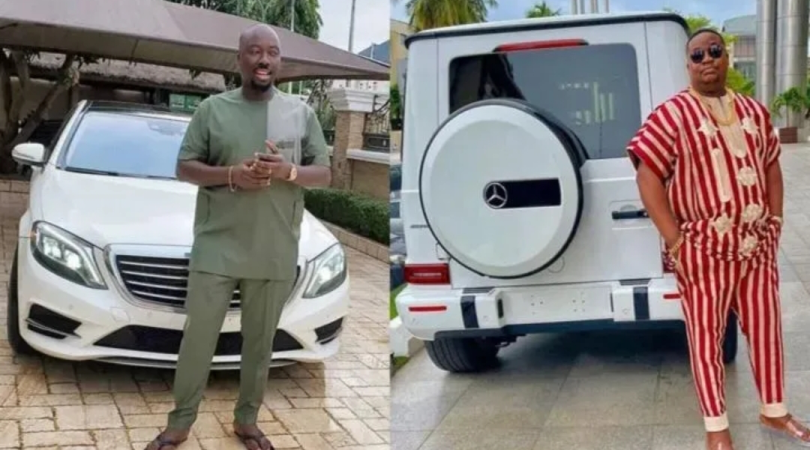 Obi Cubana and Cubana Chief priest have become hot topics of discussion on the social media scene, particularly about who's richer. These two are a force to reckon with in the Entertainment industry. They are business magnates of influence and affluence. If you are considering who's richer amongst them, read along as we take a look at the net worth, cars, houses, and other important details of Obi Cubana and Cubana Chief Priest.
Obi Cubana Profile
Obi Iyiegbu popularly known as Obi Cubana is a Nigerian Based businessman, entertainer, entrepreneur, philanthropist, and a show killer, he is the chairman and the owner of the popular Cabana groups, Obi Cubana was born 12th April 1975, and he is currently 45 Years Old as of this year 2020. Obi Iyiegbu best known as OBI CUBANA is from Oba, a community in Demili-South Local Government Area in Anambra State, Nigeria.
Obi Cubana Net Worth
Obi Cubana fondly calls himself 'God's Favorite son'. Obi Cubana, real name Obi Iyiegbu, is a well-known Nigerian entrepreneur, CEO of the Cubana Group, and a show promoter. Though he isn't listed amongst the top richest man in Nigeria, Obi Cubana has made tremendous wealth in millions as a successful serial businessman. He sits as the Chairman and owner of various businesses, particularly in real estate. He owns a collection of Nigeria's most opulent and extravagant hotels.
With such an array of thriving businesses coupled with numerous awards under his belt, Obi Cubans have gathered for himself a mind-blowing net worth of $96 million.
Cubana Chief Priest Profile
Cubana Chief Priest was born on 2nd April 1981, in Umuhu Okabia, in Orsu Local Government Area of Imo state. He was the General Manager of Cubana Group before he resigned in 2020. He launched his own Club in December 2020 at Owerri called Club Xhrine. The event was graced by Omo Baba Olowo himself, that is Davido. It's the biggest show ever held in Owerri, this brought his clubhouse to public awareness.
Cubana Chief Priest Net Worth
He made a lot of wealth during his time as a General Manager at Cubana Groups. Cubana Chief Priest is a successful Imo-born show promoter, businessman, and proud owner of Club Xhrine in Owerri. His successful career and brand endorsements have boosted his net worth to a whooping $17.08 million.
Obi Cubana Cars
Obi CUBANA has tried to maintain a low profile despite his staggering wealth that can afford all the luxuries of life. However, he's a lover of good, exotic cars. Check them out:
Lexus LX
Obi Cubana has two of these cars- one for himself, the other for his wife. This family-sized SUV is mostly used by the couple during vacations. The starting price of this car is ₦36.6 million.
Mercedes Benz 4matic S40
The starting price of the 4MATIC S40 is ₦38 million. This all-wheel-drive vehicle is Obi Cuban's favorite because it's simple to ride. He's often seen riding this car.
Range Rover
The Range Rover is a classic car that boasts good Performance coupled with luxury. This vehicle costing over ₦38 million is often seen with Obi Cubana's wife. But once in a while, Obi Cubana too cruises around with it.
Rolls Royce Phantom
Owning a Rolls Royce Phantom gives you a taste of royalty. The exterior and interior of the vehicle are made from high quality materials. It costs over ₦176 million. A silky 563-hp twin-turbo V-12 coupled with an eight-speed automatic and rear-wheel drive delivers massive power to the Phantom.
Cuban Chief Priest Cars
Being a multimillionaire, Cuban Chief Priest can comfortably afford any car he desires. Here are the ones adorning his garage;
2021 Toyota Land Cruiser
The Land Cruiser promises a smooth driving experience as well as optimal handling. A 5.7-litre V-8 engine with an eight-speed automatic transmission drives the Land Cruiser. This combination produces 381 horsepower and 401 pound-feet of torque
It cost the show promoter, Cuban High Priest more than 33 million NGN to bring this home.
Range Rover Autobiography
One can hardly be a millionaire and not own a Range Rover. The Range Rover offers good characteristics that make it inviting to buy. It has a spacious interior, powerful engines, and outstanding off-road mobility amongst other features.
Ferrari
This sexy, speed-god Ferrari is graciously owned by the Chief Prices himself; and it cost him over 104 million NGN to own this beau.
Geely X7
Cuban High Priest got the Chinese model Geely X7 brand new for over ₦13 million.
Obi Cubana Houses
Obi Cubana has a millionaire worth mansion which he recently completed. The interior decor of this mansion is mouth-watering and almost beyond the normal standards of a palace. This bespoke mansion has a private cinema, also an underground wine cellar, a private pool, and several other amenities in the mansion.
Cuban Chief Priest Houses
Cubana Chief Priest has a deep love for real estate. He has a lot of properties worth millions in several parts of Nigeria. Cubana Chief Priest has properties in Imo State Capital, Owerri, Lagos SMD, and several other cities.
Obi Cubana Family
In 2008, Obi Cubana got married to his beautiful wife, Ebele Iyiegbu who is a Lawyer by profession, and their union is blessed with four sons. She refers to herself as a "mother of boys." His wife is the founder and director of the KIEK foundation; a non-governmental organization committed to enhancing the wellbeing of our society's less fortunate children through educational opportunities, healthcare, food, and child-centred governance.
Cuban Chief Priest Family
Cubana Chief Priest is happily married with two children. Angel Gold Okechukwu, the owner of @ DeAngels – De Angels Bar & Grill, is Cubana Chief Priest's wife.
CONCLUSION
It's hard to tell exactly who is richer, as all the properties and wealth of both Cubana Chief Priest and Obi Cubana are not publicly declared. But from what we have, Obi Cubana seems richer.
What do you think?
The post The Richest Between Obi Cubana And Cubana Chief Priest – Net Worth, Cars appeared first on Latest car news, car blog news in Nigeria, car import duties in Nigeria, latest car release.