Who Is Richer Between Messi and Ronaldo 2023 – Net Worth, Cars, Salary, And Houses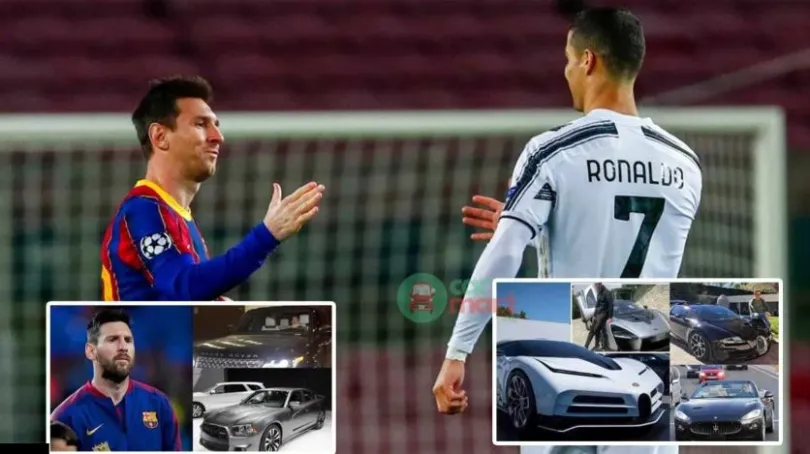 In the world of sports and football, Lionel Messi and Christiano Ronaldo remain superstars and icons. These two are widely celebrated by their fans for their outstanding performances on the pitch. They lead luxurious and expensive lifestyles, well, they get heavy paychecks yearly. Fans are often concerned about who is richer between Messi and Ronaldo, that's what you are just about to find out. Let's unravel who is richer between Messi and Ronaldo as we compare their salaries, net worth, cars, houses, and family.
Ronaldo Vs Messi's Net Worth
According to reports, Barcelona captain Lionel Messi and Juventus superstar Cristiano Ronaldo have a staggering net worth of $400m and $500m respectively. According to CelebrityNetWorth, Ronaldo reportedly earns more than $60 million per year on his base salary at Juventus. Besides these, Ronaldo has earned more than $40m a year from endorsements from top brands. He is on a lifetime contract of $1 billion with sportswear company, Nike. Ronaldo also earns cool cash from selling his own self-branded products like clothes and perfume.
34-year-old Argentine superstar, Lionel Messi is currently on a base salary of $80m, making him the highest-paid player in the world. The six-time Ballon d'Or winner has a lifetime endorsement deal with Adidas and also benefited from hefty paydays through his partnership with Konami for the Pro Evolution Soccer series.
Who Is Messi?
Born to Jorge and Celia Maria Messi Cuccittini, Lionel Andrés Messi Cuccittini is an Argentine professional footballer who plays as a forward for Spanish club Barcelona and the Argentina national team. As a child, Lionel Messi was diagnosed with growth hormone deficiency. This deficiency ended up affecting his height, as his height isn't beyond 1.7m. When he was 12 years old, he joined the Barcelona youth team. He was lucky enough to have Barcelona pay his medical bills.
At the age of 17, he made a stunning appearance of his football skills in a football competition against RCD Espanyol. In 2007, he was nominated for the coveted FIFA World Player of the Year Award and Ballon d'Or. Messi has won the UEFA Champions League three times, Copa del Rey twice, and FIFA Club World Cup twice. As a player, Messi was named the FIFA World Player of the Year in 2009, received the Bravo Award, Golden Boy Award, and Marca Legend Award, as well as the 2014 FIFA World Cup Golden Ball award for Best Player.
Who Is Ronaldo?
Cristiano Ronaldo, in full Cristiano Ronaldo dos Santos Aveiro, was born February 5, 1985, in Funchal, Madeira, Portugal. The name Ronaldo was added to Cristiano's name in honour of his father's favourite movie actor, Ronald Reagan, who was U.S. president at the time of Cristiano's birth. Cristiano Ronaldo, or commonly known as CR7, currently plays forward for Juventus Italian FC and simultaneously the caption of Portugal's national football team.
A tall player at 6 feet 1 inch (1.85 metres), Ronaldo constantly awes his fans and opponents on the pitch with amazing drilling skills. The famous striker is a recipient of the Ballon d'Or title five times – the highest number to be won by a footballer from Europe.
Being a prolific goalscorer, Ronaldo is listed among the greatest players of all time with countless trophies and awards, such as:
5 Ballon d'Or awards
4 European Golden Shoes
5 Premier League titles
5 UEFA Champions League titles
UEFA European Championship
Ronaldo's Car Vs Messi's Car
With such staggering wealth, these celebrities can easily lead luxury lifestyles and ride the best cars in the world.
Ronaldo's fleet of expensive cars include:
The Real Juventus F.C superstar is a huge petrolhead at heart. He has a passion for not just any car, but fast, fancy, and luxurious cars and he just loves to flaunt his car collections to his fans.
Ronaldo's Bugatti Centodieci
The Juventus superstar, currently on lockdown in his native Madeira, is believed to have ordered the luxury Bugatti Centodieci, report Bild.
Ronaldo's Bugatti Veyron
Simply because a Bugatti Veyron won't fulfill Ronaldo's love of fast cars, in the same year he bought that motor he splashed on a Lamborghini Aventador. Made in 2011, it's the most celebrated model by the Italian car designer – and owned by footballers all over the world, not scored of the outlandish price. Ronaldo celebrated his purchase on Instagram in 2016, with an outlandish picture with the caption: "Bom dia (good morning)".
Ronaldo's Bugatti Chiron
The 35-year-old loves posting images of his cars to social media, He made this Bugatti Chiron public on his Instagram page
Ronaldo's Maserati GranCabrio
Maserati's first-ever four-seater convertible may not have the most appealing of designs but it is arguably one of the best sounding V8 engine sports cars. The car is no slouch either; with that Ferrari-derived V8 powerplant capable of over 400hp. It is easy to see why C. Ronaldo would enjoy the occasional cruise in one – with the top down.
Ronaldo's Rolls-Royce Cullinan
Last year Ronaldo added a Cullinan to his collection, having previously owned a Rolls Royce Phantom worth around 184 million naira. Showing his loyalty to his new employers, CR7 even personalised the interior with black and white leather. Standing at five metres long, the Cullinan boasts a V12 engine and a horsepower of 571. It is the only SUV Rolls Royce has ever produced.
Ronaldo's Lamborghini Aventador
I probably guess because a Bugatti Veyron won't fulfill Ronaldo's love of fast cars, in the same year he bought that car he splashed on a Lamborghini Aventador. Made in 2011, it's the most celebrated model by the Italian car designer – and owned by footballers all over the world, not scored of the outlandish price. Ronaldo on Instagram celebrated the purchase of this Lamborghini Aventador. in 2016, with an outlandish picture with the caption: "Bom dia (good morning)".
Ronaldo's Mercedes Benz S65 AMG Coupe
Cristiano Ronaldo is very careful about projecting an image of power and control whether he is on or off the field and this hulking beast fits right into that profile. The coupe packs the trademark S-Class luxury in a two-seater body and dishes out top-notch performance from its 6.0-liter twin-turbo V12 engine.
Ronaldo's McLaren Senna
A car made as a dedication to the legendary Brazilian racing driver Ayrton Senna, it would've set Ronaldo back around £1million – with only 500 models ever made.
Lionel Messi also has a good list of supercars in his fleet too:
Lionel Messi Cars
With such a fat paycheck, Lionel Messi can very well have the most luxurious of cars. And of course, he does! The fleet of cars belonging to the footballer is evidence of the huge amount greasing his account.
Ferrari 335 S Scaglietti Spider
Messi purchased his red Ferrari 335 S Spider Scaglietti for a mind-blowing amount of $30 million! The car is powered by a 4.0L naturally aspirated V12 engine paired with a 4-speed manual transmission and weighs 880 kg only.
Ferrari F430 Spider
Another classic Ferrari owned by the footballer! This supercar is powered by a 4.3L Ferrari F136 E V8 engine and generates a horsepower of 503hp.
Maserati Granturismo MC Stradale
Messi appears to be a fan of Gran Turismo cars because he owns a couple of them, and MC Stradale is one of them. His black  Maserati Gran Turismo MC Stradale comprises a 4.7-liter V8 engine which Lionel Messi brought home for $242,100..
Mini Cooper S Cabriolet
The amazing car offers agility and comfort perfectly blended. This car is perhaps the car with the smallest price tag in his fleet. It cost Messi $19,733 or ₦7m. This charismatic two-door vehicle comes with a six-speed transmission as option.
Pagani Zonda
Pagani Zonda which cost Lionel Messi about $2 million to bring home Is one of the fastest cars in the world and one of the most expensive cars. Pagani Zonda Tricolore comprises a 7.3L V12 engine mated to a 6-speed automatic transmission.
Audi R8 V10
Lionel Messi shows his love for German-made automobiles with a collection of Audi cars-  the Audi R8 being one of them. It's the perfect family car- comfortable, spacious, and safe. Lionel Messi often rides with his wife and children in it.
Messi owns the following Audi cars:
Audi RS6: costs around $108,000.
Audi A7: costs around $69,200.
Audi Q7: costs around $54,590.
LEXUS RX
Lionel Messi shows his flow for hybrid cars with the purchase of the Lexus RX. Messi chose the Lexus RX 450h equipped with a 3.5L V6 engine to produce 267 PS. The hybrid car can operate on pure electric mode courtesy of its 2 motors in both front and rear axles. He purchased the car at the cost of $46,800
Cadillac Escalade
Lionel Messi's white Cadillac is spacious enough to convey about eight passengers at a time. The Cadillac Escalade produces some 420 hp as well as 460 ft-lb of premium torque from a v8, 6.2L engine. The price is ₦35m or $96,000.
Mercedes SLS AMG
Mercedes SLS AMG represents a sporty and exotic car that Lionel Messi considers cool to have in his fleet of cars. This car which costs $642,490, comprises a 6.2-liter DOHC V8 engine which gives a beast performance.
Range Rover Cars
His car collection wouldn't be complete without a Range Rover car. Lionel Messi shows his fantastic choice in cars with a collection of his ranger rover cars. He has:
Range Rover Vogue: costs around $200,000.
Range Rover Sport: costs around $69,500
2012 Dodge Charger SRT8
This car though expensive isn't so expensive for a wealthy footballer like Lionel Messi. This car has 6.1 L Hemi engine which produces25 hp. The brakes are also enormously improved. The price tag is about ₦151 million.
Messi House Vs Ronaldo House
Messi's Mansion In Bellamar
The wealthy footballer, Lionel Messi, lives with his family in a luxurious mansion in Bellamar, a suburb of Castelldefels, Barcelona, Spain. The mansion has a mini-football pitch, a swimming pool, a mini-garden, a playground, and an outdoor dining area.
He bought this mansion for around ₦740 million in 2009 and has put up to ₦2.5 billion to renovate it.
Ronaldo's Alderley Edge Mansion
Ronaldo lived in this house when he was playing for Manchester United. The house is now up for sale at the price of ₦1.5 billion.
Ronaldo's Madrid Mansion
This architectural masterpiece containing seven bedrooms, eight bathrooms, and two swimming pools costs ₦2.6 billion. Besides this, the famous Portuguese striker also has other houses in New York and Portugal.
Messi's Wife Vs Ronaldo's Wife
Messi is a family man. He is married to the famous model Antonella Roccuzzo, and they have three sons. They got married on 30 June 2017 at a luxury hotel named Hotel City Center in Rosario.
Ronaldo isn't married yet. The superstar seems to be enjoying being a bachelor. He has had various affairs in his lifetime.
Highest-Paid Players in The World
| | | |
| --- | --- | --- |
| Lionel Messi | Barcelona | $126m |
| Cristiano Ronaldo | Juventus | $117m |
| Neymar | PSG | $96m |
| Kylian Mbappe | PSG | $42m |
| Mohamed Salah | Liverpool | $37m |
| Paul Pogba | Man United | $34m |
| Antoine Griezmann | Barcelona | $33m |
| Gareth Bale | Real Madrid | $29m |
| Robert Lewandowski | Bayern | $28m |
| David de Gea | Man United | $27m |
Highest-Paid Players 2020
CONCLUSION.
Messi and Ronaldo have given the diligence to rise to the top stars they are today. These two are not relenting yet in their football adventures. We anticipate more feats from them.
The post Messi VS Ronaldo Net Worth, Who Is Richer?: Cars, Salary, And Houses appeared first on Latest car news, car blog news in Nigeria, car import duties in Nigeria, latest car release.