Top List Of Wealthiest English Film Actors In Nollywood & Their Net Worth (See Here)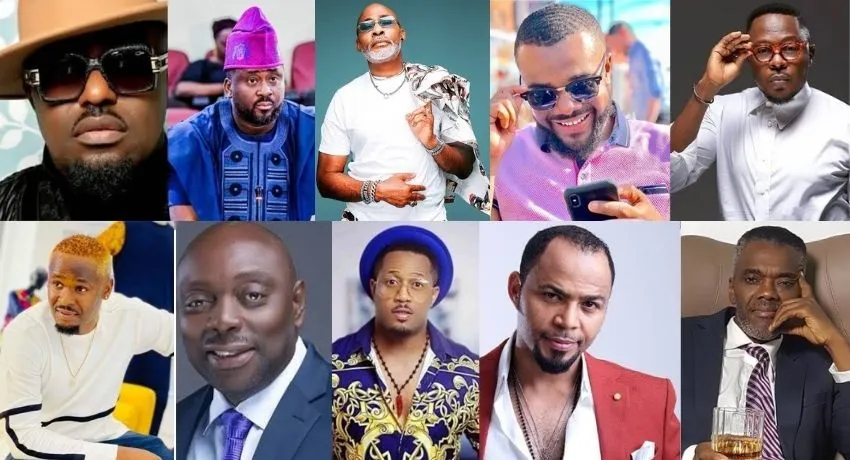 Nollywood is currently the 2nd biggest film industry globally in terms of film output; Read on about the richest English film actors in Nigeria this year.
10. Femi Jacobs N290million – N415million ($700,000 – $1million)
Femi Jacobs was born Oluwafemisola Jacobs on May 8 in Osun State. He is a popular Nigerian actor, speaker and singer who came into prominence for playing Makinde Esho in the film The Meeting. For his role in The Meeting, he received a nomination for Best Actor in a Leading Role at the 9th Africa Movie Academy Awards. He also won the award for Best Actor in a Comedy at the 2015 Africa Magic Viewers Choice Awards (AMVCA).
Femi attended Fakunle Comprehensive high school, Osogbo in Osun State of Nigeria and went on to study mass communication at Lagos State University. He is popular for his role in movies like
The Meeting (2012)

Choices (2006)

Tunnel

Paired

Dreamwalker (2012)

Journey to Self (2013)

Render to Caesar (2014)

Heaven's Hell (2015)

The Black Sihouette (2015)

The Guest (2015)

The Visit (2015)

Iquo's Journal (2015)

Taxi Driver: Oko Ashewo (2015)

Just Married (2015)

Heart of a Sister (2015)

This Thing Called Marriage (2016)

All Shades of Wrong (2018)

Unbroken(2018)

Heaven's Hell(2019)

The Reunion(2019)

Don't Get Mad Get Even(2019)

Looking For Baami(2019)

Stepping Into Maggie's Shoes(2020)

Eagle Wings(2021)

La Femme Anjola(2021)

Living With Baami (2021)
Acting is the primary source of his earnings but asides that, he has also made money from the sales of his book, Rise.
Femi has proven himself not only as a talented actor but also as a producer as he was the associate producer for the film La Femme Anjola. He also earns as a singer. He is said to be worth about $700,000 – $1million
9. Williams Uchemba N290million – N415million ($700,000 – $1million)
Williams Uchemba is an entrepreneur, movie producer and comedian gained more popularity amongst fans from his well-played role in Merry Men and Sugar Rush. The veteran actor is a devoted Christian and is quick to show off his religious views on social media and in his actions.
Net worth: The remarkable Williams Uchemba has a net worth estimated at N290million – N415million ($700,000 – $1million)
Recently Williams Uchemba narrated how God blessed him with two luxurious SUVs- a Mercedes Benz and a Range Rover. According to him, he received the two SUVs about a month after he decided to use the money he had been saving up to support a church project and use the rest to buy a car for someone who needs it urgently.
Uchemba's main income is from movies roles, comedy skits and endorsements deals.
8. Wale Ojo N2.6 billion ($4.5 million)
Wale Ojo is a British Nigerian actor, producer and director who started as a child actor on television. He subsequently continued acting roles in the UK and Nigeria. At the age of 8, he worked with Akin Lewis, who played a barber on the NTA Ibadan 1980s television series Why Worry. Although he was born in Nigeria, at age 12, he moved with his family to England, where he also attended university. He rose to prominence after appearing in the 1995 short film The Hard Case.
Ojo was born on September 9, 1968. He is best known for his work in Johnny English Reborn (2011), The Guard (2011), Phone Swap(2012), Big Man (2012), Half of a Yellow Son (2013), When Love Happens (2014), Fifty (2015), The CEO (2016), Alter Ego (2017), Lara and the Beat (2018), New Money (2018), Coming from Insanity (2019), Don't Get Mad, Get Even (2019), Kasanova (2019), This Lady Called Life (2020) amongst others.
Asides acting, Ojo founded New Nigeria Cinema, whose aim is to improve the quality of Nigerian films. New Nigeria Cinema hosted a film viewing and lectures at the British Film Institute in London in 2010.
Wale Ojo is also the founder of the Virgo Foundation – a charitable organisation founded that promotes African culture, traditions and heritage. The organisation is thoroughly committed to defeating the collective amnesia which surrounds ancient Africa.
Although he amassed his wealth from his primary career as a film actor, he has other side businesses.
He is said to be worth about N2.6 billion ($4.5 million)
7. Mike Ezuruonye N1.2 billion ($3 million)
The good looking Mike Ezuruonye is our list of richest Nigerian actors in 2022. Mike used to be quite popular back in the day, and he started in almost all the latest movies back then. He has starred in various award-winning movies including Calabash part 1 & 2 in 2014 and The Duplex in 2015 etc.
He has also won multiple awards including Best Actor in a Supporting Role and Best Actor in a Leading Role in 2008 and 2009, respectively, at the Africa Movie and Academy Awards. Aside from acting, Mike Ezunronye is also a banker.
Net worth: The talented and veteran Mike Ezunronye has a net worth estimated at $3 million (approx. 1.2 billion NGN).
His car collection includes:
Mercedes Benz 4matic

Range Rover
6. Ramsey Nouah N1.8 billion ($4.5 million)
Ramsey Nouah is one of the popular faces you must have come across in Nigerian movies. His creativity, talent, and various romantic roles have him famous and loved by his fans. He is often called 'Lover Boy' by fans. He began acting in 1993 and has acted in hundreds of movies.
Net worth: Ramsey Nouah has a robust net worth estimated at $4.5 million (approx. 1.8 billion NGN)
Ramsey Noah's car collection include:
Aston Martin DBS Superleggera.

Range Rover

1959 Cadillac Coupe De Ville

Rolls Royce
Asides acting, he models and has landed many endorsements deals worth millions of Naira like:
5. Segun Arinze N1.9 billion ($4.7 million)
Once known as 'Nollywood Bad Boy', Segun Arinze is one of the most talented Nollywood actors. He was the lead actor in a popular Nollywood movie titled Black Arrow, a nickname he also went by. He also also featured in the popular soap opera titled Ripples.  He is also a singer, producer, scriptwriter, and director. Segun Arinze has an estimated net worth of N1.9 billion ($4.7 million).
Segun Arinze has a luxurious car collection which include:
Toyota Highlander Prado.

Range Rover

Mercedes-Benz G-Wagon
Asides his roles in the movie industry, Segun Arinze also performs voice over for revision and radio commercials.
4. Zubby Michael N2 billion ($5 million)
Zubby Michael is not a foreign name in the Nigerian entertainment industry in recent years. If you are a fan of Nollywood home videos, then you should be able to easily place a name to his face because of his distinctive and permanent birthmark on his face.
He is a Nigerian actor and movie producer who was the most searched Nollywood Actor in 2021 on google trends, making him the most popular and famous actor. His net worth is estimated at $5 million.
He drives expensive cars like
Mercedes-Benz 4matic.

Range Rover Sport.

Mercedes-Benz G-Wagon
3. Desmond Elliot N2.9 billion ($7 million)
Desmond Elliot is a top-rated actor in Nigeria and of course one of the richest too. He has featured in over 200 movies and also won various awards too. He is not only an actor, Desmond Elliot is a movie director and a politician as well.
He contested in the general elections in 2015 and won the vote to represent the Surulere Constituency in the Lagos State House of Assembly. He has made so much money from acting and politics that his net worth currently stands at about $7 million (2.9 billion NGN) Desmond Elliot loves good cars, and he has the money to finance it. His car collection include:
Range Rover

Ford Explorer

Vintage Mercedes-Benz

Nissan Versa
2. Richard Mofe-Damijo N4.1 billion ($10 million)
The handsome Richard Mofe Damijo is a talented Nigerian actor that has featured in various blockbuster movies. Born on 6 July 1961 in Delta State, RMD studied at the University of Benin where he had his first degree in Theater Arts. He began acting in 1986 and has since starred in many first-class movies.
Richard Mofe-Damijo has won various awards including the Best Actor award in 2015 at the maiden edition of the African Movie Academy Awards etc. He was the former commissioner for Culture and Tourism in Delta State.
The Nollywood sweetheart has a net worth estimated at $10 million (approx. 4.1 billion NGN).
RMD's car collection are:
Mercedes Benz G-wagon

Toyota Landcruiser

Mercedes-Benz GLE 550

BMW series 4 coupe
1. Jim Iyke N8.3 billion ($20 million)
The immaculate Jim Iyke is arguably the richest actor in Nigeria with a whopping net worth of $20 million. His real name is James Ikechukwu Esomugha, but he is popularly known as Jim Iyke.
Jim Iyke is a charismatic actor with lots of swagger and talent. He started acting in 2001 and has starred in more than 150 movies. Iyke has many awards to his name. He is not only a veteran actor but a philanthropist and businessman.
Asides his massive earnings from acting, he:
runs a foundation with the aim of helping children with disabilities.
is a book author
runs a fashion label named Untamed Closet.
runs a table water bottling company called Burgeon Table water.
He has also clinched million Naira worth endorsements like:
Innoson Vehicle

Oceanic Bank

Adonko Bitters

Globacom – N50 million
In 2009, he got N20 million sign on fee from the marketer of his music album entitled: Who am I?
His net worth is estimated at $20 million (approx. 8.3 billion NGN) with these expensive car collections:
Range Rover

Mercedes Benz G-wagon

Mercedes Benz 4matic

Dodge Challenger

Plymouth Prowler Convertible

Camaro Convertible