Top 5 Most Notorious Criminals In Nigeria's History – See How They Were Arrested And K!lled (Photos)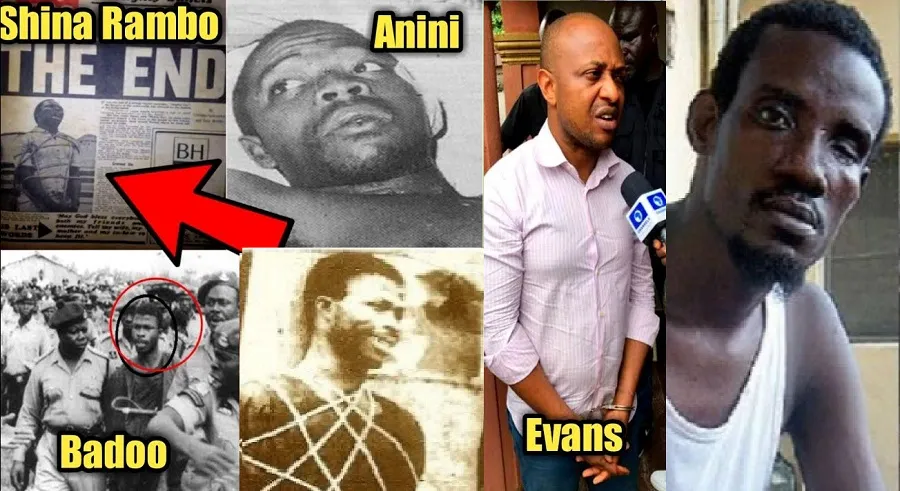 Nigeria as a nation has had its fair share of insecure times, when hoodlums, bandits and dreaded criminals threatened the lives of citizens.
Below are 5 of the most notorious criminals in Nigeria's history. We begin the count down from 5.
5. Baddo of Ikorodu/ Godogodo
The number 5 position is jointly shared by two notorious criminals who for too long terrorized Lagos state, Baddo and Godogo.  Baddo was infamous for molesting children and women, with r.o.b.b.ery as part of the crimes that made him dreaded within Ikorodu.
For too long, this notorious criminal terrorized residents of Ikorodu and there seemed to be nothing the police could do to keep him behind bars, for the police would always release the deadly miscreant some days after they apprehend him. This continued until sometime in June when the police released him after a brief stay in their custody.
The residents of Ikorodu reportedly mustered courage lynched Baddo and set him ablaze, they will have no more of his terror.
On his part, was a prominent armed r.o.b.b.er in the South-western part of Nigeria who eluded security operatives over the years, k.!.lling and miming many who he came in contact with.
Abiodun Egunjobi, alias Godogodo
Abiodun Egunjobi popularly known as Godogodo, rose from being a slum boy to being the leader of a gang that defied all reasons, struck with precision, k.i.l.led without mercy and terrorised Lagos residents and others within the south-west region.
The one-eyed assassin
Reports suggest that before his arrest on August 1, 2013, Godogodo, also known as the one-eyed assassin, gave the Lagos state police command so much headache for 14 years, so much so that on the day he was arrested, the command erupted in joy: at least its men would be safe from his g.u.n.s.
Originally from Ogun state, Egunjobi was on the wanted list of the police for over 10 years and the way he managed to evade the police still remains legendary. In fact, he was at a time, on the top of the most wanted list of the command with several police commissioners assigning the toughest of cops on his trail.
Godogodo allegedly went for operations with a bag containing 10 fully loaded AK 47 rifles with 30 rounds of ammunition each and as such, he was fully prepared in terms of weapons on his back.
It was gathered that Godogodo used to tell his gang members that he would never be arrested alive and had vowed to go down with as many policemen as possible on the day he is unable to escape arrest. '
his vow was later found to be real, as anti-r.o.b.bery detectives recovered several loaded AK47s, each with 60 rounds of live ammunition, from different parts of his residence, including the kitchen, bedroom, bathroom, sitting room on the day of his arrest.
He was so good at disguising his criminal activities that even his wife and family members never knew what he was into. He had six houses in different locations including Lagos, Ogun and Ondo States, and never stayed in a particular location for more than a month.
4. Derico Nwanmama
Okwudili Ndiwe also known as Derico Nwamama was dubbed the king of the underworld in the south-eastern region of Nigeria. According to reports, Derico was a street urchin who grew in a dreaded gang leader, one whose name sent tremor to the hearts of many within the eastern region. Traders and residents of Onitsha, the commercial capital of Anambra state were the ones who felt his scourge the most.
According to reports, Derico Nwamama had k,i.l.l.ed over 100 people including 25 police officers whose lives he mercilessly wasted. He was a master of countless bus r.o.b.b.e.ries and will not blink twice before pumping his hot lead bullets into the beating hearts of hapless victims.
There is a legend that after his successful raids, he would boast and declare himself invincible. Derico seemed to have placed a lot of faith and confidence in the charms prepared for him by the traditional witch doctors.
Prior to his being crowned king of thieves in Anambra, there was a Chiejina who was described as the deadliest armed r.o.b.b.er in the whole state. Derico's father too was from Aguleri and in no time, the paths of the two met and they became very good friends and colleagues in the armed r.o.b.b.ery business.
However, their friendship would not last for long as bloody arguments soon broke out between the two of them over the scope and nature of executing their operations. Both of them were at the peak of their strengths and they were equally feared all over the region.
The brutality of Derico soon proved too toxic for Chiejina, and during a violent argument over their mode of operation and leadership, Derico blasted Chiejina to an early grave with a volley of bullets. After the death of Chiejina, Derico became the undisputed emperor of terror in the land.
In May 2001, the Anambra state police command launched the Operation Derico which was aimed at capturing Derico and his gang members at all cost. Some of Derico's men were arrested in the police offensive, but Dericoa was still elusive as he kept operating with reckless abandon, r.o.b.b.ing, k.i.l.l.ing and k.i.d.n.a.p.ping innocent Nigerians.
Some arrested members of Derico's gang
With the police and other security forces unable to bring Derico Nwamama and his terror regime to a close, the onus fell on the Bakassi Boys, the militant wing of the Anambra Vigilante Services (AVS), a local vigilante group set up to curb crime and criminality in the Sout East.
The group also know as the Bakassi Boys, were at the forefront of the hunt and capture of Derico Nwamama. On Tuesday, July 3, 2001, the reportedly invisible Derico was nabbed on his way to Onitsha from Agbor, ostensibly on one of his missions.
Bakassi boys made a great show of Derico's arrest, parading round Onitsha with rapturous applause, and cheers of the many who for too long had been oppressed.
There were requests by the Nigerian police to have Derico handed into their custody, however, it all proved abortive, as the Bakassi boys served justice to the criminal in their jungle justice style.
Derico was beheaded in an open square, with the Bakassi boys rendering a performance like non had ever seen before within the eastern region where they operated.
3. Shina Rambo
Shina Rambo is one name that has refused to go away especially from the brains of those who witnessed the nightmare of this criminal.
With a name that reminds one of the movie "First Blood" starring Sylvester Stalone as John Rambo, Shina Rambo made a dreaded name for himself, launching attacks that made even the police force fear to battle him.
It is fabled that Shina Rambo will r.o.b a full highway with his gang, shooting sporadically like a soldier at war. There are stories that say he was k.i.l.l.ed in operation, however, some other accounts say he died like an ordinary man.
It is believed that the policemen who k.i.l.l.ed him did not even know that it was Shina Rambo. He was on his way to Lanrewaju Motors to buy a Pathfinder SUV when he was apprehended by the police on the Ojota New Garage Long Bridge, asserts Olusegun Kokumo Adaralese Raji known as Okuta, one of the armed r.o.b.b.e.r.s that terrorised the country for about 20 years.
Rambo was not the one driving when the police stopped him and his gang, they discovered a lot of money in a cartoon in the trunk of the Datsun car.
When they started questioning him on the possession of such huge an amount, an argument ensued and he attempted to disarm one of the policemen.
It was one of the policemen at the other side of the road who shot Rambo down. "They were able to get him because he was not with his charms. He was free of charms since he was not going for operation.
As this was going on, the driver of the vehicle had jumped inside the canal and made his escape. The police just dragged his body into their vehicle. They first carried his corpse around and later dumped him into the canal when it was dark, " Okuta narrated to National Mirror.
With several legends about Shina Rambo, there is a certain man of God who actually is Shina Rambo, having given his life to Christ.
Okuta however insists that the RCCG pastor parading himself around as Shina Rambo is a counterfeit, stressing that the police authorities were irked by their not knowing that Shina Rambo was the one k.i.l.l.ed.
2. Dr Oyenusi
On the 8th of September, 1971, 'Doctor' Ishola Oyenusi, a notorious Nigerian r.o.b.b.e.r was executed, his is name forever etched in the history of Nigeria as one of the most violent armed r.o.b.b.e.r.s, a criminal who unleashed boundless terror on many Nigerians.
By the early 1970s, just after the end of a bloody civil war, cold-hearted r.o.b.b.e.r Ishola Oyenusi who called himself Dr Oyenusi, terrorized all of Lagos, Nigeria's largest commercial centre.
Oyenusi was no ordinary bandit, he was wicked and had all the self-confidence in the world to go with it. His arrogance was also legendary. In 1970, he was arrested and handcuffed by a police officer. As the policeman was ordering him around, Oyenusi blasted him and thundered: "People like you don't talk to me like that when I am armed. I g.u.n. them down."
This r.o.b.b.e.r was so feared that when the famed movie director, Chief Eddie Ugbomah made a film titled The Rise and Fall of Dr Oyenusi in 1977, there was no one bold enough to come forward to act the role of the armed r.o.b.b.e.r because they feared his members would strike.
Ugbomah had no other option but to act the role himself with the feature film depicting the senseless violence of armed r.o.b.b.e.r.i.e.s and the absolutely atrocious manner by which lives of innocent Nigerians were snuffed out.
After shooting the movie, Ugbomah received a letter from thieves who invaded and looted his provision store, carting away all they could. In the letter, they promised to return his goods if he would only stop shooting the film in which he exposed the support received by the armed r.o.b.b.e.r.s from their 'godfathers' and even high-ranking officers in the Nigerian Armed Forces.
The stubborn Ugbomah called their bluff and went ahead with the 16mm-flick, he would later produce many other films such as Death of a Black President (1983), Esan (Nemesis), The Mask and Vengeance of the Cult in 1985.
Crowned emperor of r.o.b.b.e.r.s in the 1970s, Oyenusi was described as the 'first celebrated armed r.o.b.b.e.r in Nigeria'. He is regarded by some as the pioneer of conventional armed r.o.b.b.e.r.y in Nigeria.
Oyenusi was reportedly nabbed by the Nigerian police in March 1971, after he organized a r.o.b.b.e.r.y in which $28,000 (value as at that time) was stolen.
Although the first public execution of r.o.b.b.e.r.s had taken place in April 1971, that of Oyenusi and his criminal allies was a special case and the Lagos government reportedly took time to prepare the grounds at the Bar Beach. A combined team of police officers and soldiers struggled to contain the surging crowd of thousands of excited spectators.
At about 9.15 am, a team of Lagos city council workers came to the execution arena with empty mock coffins which they calmly laid behind the execution stand. Obviously, they were there to make fun of a man who had sent so much terror into their hearts.
About half an hour later, eight r.o.b.b.e.rs were led to the execution stand, though faced with death, Oyensui smiled all through the proceedings; he sure was expecting what he got.
1. Anini
Unarguably Nigeria's most dreaded criminal, Lawrence Nomanyagbon Anini was a Nigerian bandit who terrorised Benin city in the 1980s along with his sidekick Monday Osunbor.
Anini was dreadfully called 'The Law' or 'Ovbigbo'. He migrated to Benin at an early age, learned to drive and became a skilled taxi driver.
Reports suggest that he became known in Benin motor parks as a man who could control the varied competing interests among motor park touts and operators.
Anini is widely recognized as a driver and transporter for gangs, criminal godfathers and thieves. He created a gang which included, Monday Osunbor, Friday Ofege, Henry Ekponwan, Eweka and Alhaji zed zed or Zegezege who was never captured.
They started out as car hijackers, bus r.o.b.b.e.r.s and bank thieves. Gradually, he extended his criminal acts to other towns and cities far north and east of Benin.
It is echoed in some quarters that on one mission which eventually went south, Anini drove from Benin to Lagos with reverse.