Top 22 Nigerian Celebrities Who Died in 2021 That We've Forgotten So Fast (See Photos)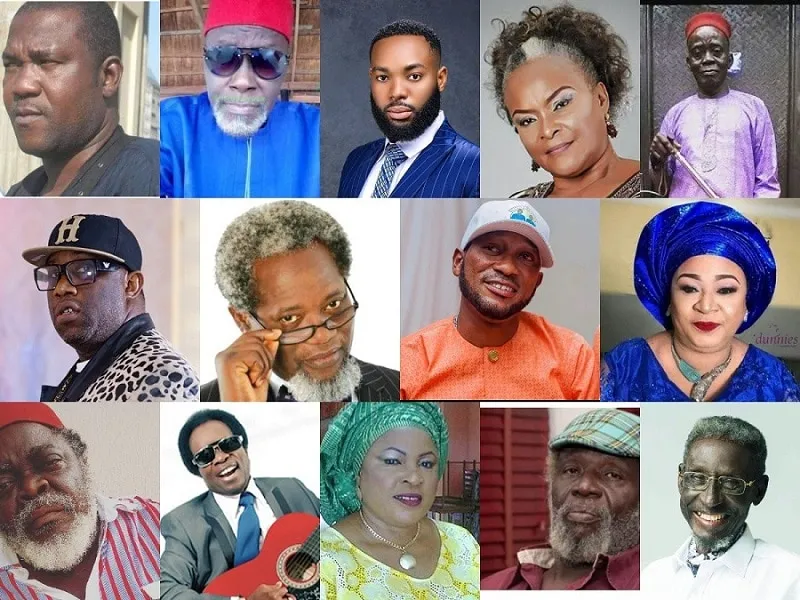 The year, like any other year, came with its highs and lows and celebs were not exempted from these.
In this publication, we bring you a list of some of the celebrities that died in 2021.
Here is the list of the top 23 celebrities who died in 2021:
1. Sam Obiago
Veteran actor Sam Obiago aka Daddy Sam died on Thursday, December 23.
2. Baba Suwe
Popular Nigerian comedian Babatunde Omidina aka Baba Suwe died at the age of 63 on November 22.
3. Folake Aremu (Orisabunmi)
Veteran Yoruba actress, Mrs. Folake Aremu popularly called Orisabunmi, died on January 5, 2021.
Her death, which threw the theatre industry into sadness, was confirmed by a family source.
4. Sadiq Daba
He was an actor and broadcaster. The 3rd of March was a sad day as Sadiq was announced dead at Ayinke general hospital, Ikeja.
5. Obama DMW
Obama DMW died on Tuesday, June 29, after he reportedly drove himself to a Lagos hospital to complain of breathing difficulty. "This is by far the hardest thing I've had to write," Davido wrote in an emotional tribute on his social media pages. He was 44.
6. Jim Lawson Maduike
Veteran actor, Jim Lawson Maduike died on January 9, 2021.
The Imo-born thespian gave up the ghost after complaining of severe body pains. He joined the film industry in 2004 where he starred in several films.
7. David Mela
David Mela was a fast-rising actor. He died from an undisclosed ailment on January 11, 2021.
The young actor was said to be passing through a hard time in his life as revealed by a post before his untimely death.
8. Bruno Iwuoha
Bruno Iwuoha was a Nigerian actor. He died at the age of 69 on the 10th of April.
9. Karibi Fubara
Nollywood actor, Karibi Fubara died on Wednesday 15 December 2021. His death was announced by his family. Fubara's death came exactly nineteen months after he survived a surgery on his kidney.
10. Abiodun Aleja
The determined fellow was a producer, actor and movie director. He died on the 21st of May.
11. Ada Jesus
Popular Nigerian comedian Ada Jesus whose real name was Mmesoma Mercy Obi died on April 21 afta she a long battle with kidney problem.
12. Dan Nkoloagu
Veteran actor Dan Nkoloagu died on January 22, 2021.
His son, Dan Nkoloagu Jnr, announced his death on his Facebook page.
He wrote: "IT WAS A BLACK FRIDAY FOR US YESTERDAY as my Dad left us without saying goodbye."
Nkoloagu, who died at 83, was popular for playing the role of a native doctor in many Igbo movies.
12. Sound Sultan
The famous Nigerian rapper, singer and songwriter who was notable for his R&B, Hip-Hop, reggae and afrobeat died at the age of 44 on the 11th of July.
He was well known for using his music to speak against poverty, corruption, bad governance and societal ills in Nigeria.
Before his death, it was reported he was somewhere in United States of America receiving Chemotherapy and diagnosed with Angioimmunoblastic T-cell Lymphoma in the throat.
He died as a result of his illness.
13. Fortunate
Celebrity Photographer, Fortunate Ateumunname, better known as Fortune, died on Tuesday, September 21. It was gathered that the photographer, 24, drowned at a photo-shoot location in Lagos. Davido shared a tribute to Fortune on Saturday, September 25, on his Instagram page.
14. Ernest Asuzu
Veteran actor Ernest Asuzu died on evening of Tuesday January 26, 2021
His wife, Jennifer Asuzu, who confirmed the sad incident to The Nation, said he fainted on Tuesday evening and never woke up.
15. Rachel Oniga
July 30th was a heartbreaking day as the veteran actress, Rachel Oniga died of a heart-related issue.
She was instrumental to the movie industry in Nigeria. She died at the age of 64.
16. Rich Oganiru
On the 10th of August, Rich Oganiru was announced dead as a result of a prolonged illness.
He was reportedly the first celebrity to die in August.
17. Victor Decker
Veteran actor, Victor Decker, was found dead in his apartment on Monday, February 15, 2021, by his neighbours at about 5 pm.
It was reported that Decker's neighbours broke down the door to his apartment before they found his lifeless decomposed body in his sitting room.
He was 72 but the cause remains unknown.
18. Stanley Okoro
It was shocking news as Stanley Okoro, a Nigerian actor died on the 11th of August. He was known for his comedies in Nigerian movie industry.
The content creator reportedly died of suspected food poisoning after his movie shoot in a hotel in Maryland, Enugu State, according to some sources.
However, the reason for his death is still made unknown. Stanley Okoro died at the age of 28.
19. Victor Olaotan
The famous actor is known in the Tinsel TV series, Victor Olaotan. Fans were stroked with shock as he was announced dead on the 26th of August.
According to reports, he has been ill for the past five years following a brain injury he sustained in a car accident in October 2016 at Apple junction, Festac, Lagos. He died at the age of 69.
20. Zainab Booth
Hausa actress Zainab Booth, who is the mother of popular actress, Maryam Booth, and her two siblings, died at the age of 61 in Kano. The Kannywood actress died on Thursday, July 2, in a hospital Kano. Maryam confirmed the news and posted it on her Instagram page.
21. Prince Ifeanyi Dike
Prince Ifeanyi Dike, an actor and the Board of Trustees Chairman, Actors Guild of Nigeria (AGN) died on the 27th of August, shortly after the demise of Victor Olaotan, the famous actor known in Tinsel TV series.
Dike was hospitalised for weeks as a result of Kidney related issue.
The chairman of Actors Guild of Nigeria announced that they have been financially battling with his medical issues before he passed away.
22. Sir Victor Uwaifo
The legendary singer, guitarist, musician and composer died on the 28th of August, 2021.
Sir Uwaifo, a professor of Arts at the University of Benin who was widely known for his genre in highlife, won the first god disc in Africa (Joromi), which was released in 1965.
He also won seven other gold disk in Guitar boy, Akwete music and Arabada.
At first, information had gone viral claiming that he died as a result of Covid-19 but the family debunked the news, stating he died as a result of Pneumonia. He passed away at the age of 80.