Top 10 Popular Nigerian Pastors Who Sadly Died In 2021 (Photos)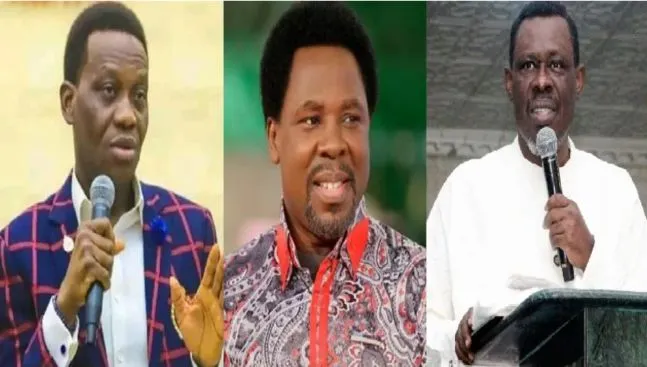 Death is an inevitable end as long as the earth remains. However, the most important thing is living a life of purpose and fulfilling the assignment and reason for one's existence.
Over the past few months, several misters of the Gospel across the country have been met with sudden demise.
Here, we highlight ten popular clergymen who we have lost in 2021.
Famous Nigerian Pastors Who Died In 2021
Danjuma Tafa-Balewa
Pastor Danjuma Tafa-Balewa was the Senior Pastor at RCCG Cornerstone Parish, Okota, Isolo, Lagos .
Danujma who had been on oxygen for more than two weeks eventually lost the battle to COVID-19 complications around 12am on Saturday, March 15th 2021.
Apostle John Paul Okwok was the general overseer of Ministry of Life International, also known as, City of Life Miracle Centre. He was also the President of John Okwok Global Ministry.
John Okwok
Apostle John Okwok birthed the City of Life Miracle Centre over 20 years ago on the 12th of August, 2001 in Lagos, Nigeria.
John Okwok, born on August 3, 1960, passed away on May 3, 2021 at age 60.
Archbishop Caleb Anny Maduoma
Archbishop Caleb Anny Maduoma was the Bishop of Ideato and archbishop of the Province of Owerri until his retirement in late 2020.
He was consecrated as Bishop of Ideato on 25 July 2004 at the Cathedral Church of the Advent, Abuja, having previously been Bishop of Okigwe South.
He became Archbishop of Owerri Province on 19 January 2013., until his death on the 30th of April 2021
Moses Grandeur
Bishop Moses Grandeur was the General Overseer of the Victory Family Assembly a.k.a VIFA.
The Delta State-born preacher was one of those who championed Pentecostal evangelism in Sapele in the 80's.
He passed on to glory on the 26 February. He is survived by a wife, Bishop (Mrs.) Angel Grandeur and five children and grandchildren.
Dare Adebayo
Oluwadamilare Temitayo Adeboye was the Pastor in Charge of the RCCG, City of David for Young Adults and Youths, Akurudum, Eket, Akwa Ibom State.
Dare is the third son of the General Overseer of the Redeemed Christian Church of God (RCCG), Pastor Enoch Adeboye.He  went to be with the Lord on May 4, 2021.
Dare Adeboye was said to have ministered the previous day and had returned home to sleep from which he passed on. He was aged 42.
Rev. Stephen Akinola
Rev. Stephen Akinola was the General Superintendent of Redemption Ministries, Worldwide, with its headquarter in Port Harcourt, Rivers .The 61-years old Akinola died on June 6, 2021.
Rev. Wilson Badejo
Rev. Wilson Badejo was the General Overseer of Foursquare Gospel Church. Badejo served the Foursquare Gospel Church in Nigeria between 1999 and 2009.
He died in the early hours of Saturday August 7, 2021 after a brief illness. He was 74years old.
Bishop Odemwingie Osaruese Okundaye
Bishop Odemwingie Osaruese Okundaye was a Pastor and Director of Administration, of Church of God Mission International.He died a  on Monday, 23 August.
Joseph Dominic Agboli
Apostle Joseph Dominic Agboli is the founder of The Victorious Army Ministries International, Acme Road, Ogba, Lagos.Agboli reportedly died on Wednesday, August 25th, 2021 at the age of 58 after a brief illness.
Prophet TB Joshua
Temitope Balogun Joshua was the charismatic leader and founder of Synagogue, Church of All Nations (SCOAN), a Christian megachurch that runs the Emmanuel TV television station from Lagos.He died on 5 June 2021 after one of his evening services, in Lagos, Nigeria, just one week prior to his 58th birthday. No cause of death was given.