Throwback Photos Of 10 Nollywood Veteran Actresses Who Love To Act As Queens (Photos)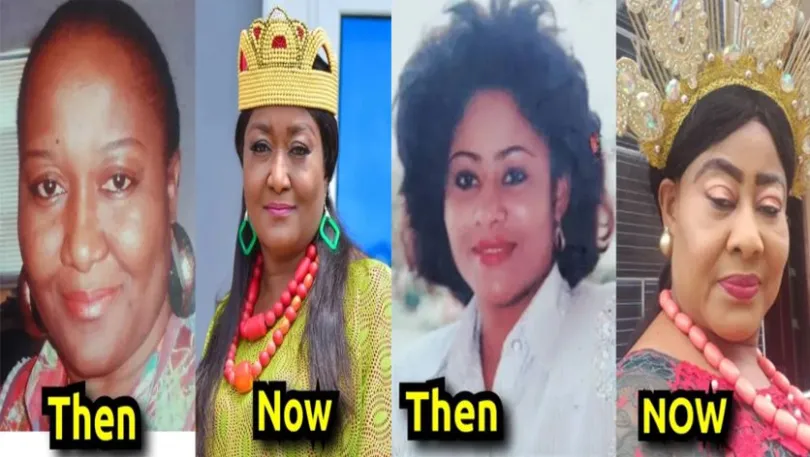 Nollywood has indeed shaped the destinies of so many actors and actresses as they try to build a good career in acting.
Today's article focuses on 10 popularly known Nollywood veteran actresses who are known for playing the roles of a queen in movies. Even though none of these women were actually born into a royal family, the movie industry has shaped their destinies to act more like a queen to perfection. These veteran actresses are really loved by many Nigerians because portraying the role of a queen in movies makes them look like honorables.
You might have seen these women in movies acting like queens and giving you all the entertainment, but would you recognize them while they were growing up? Well let's take a look at them below.
1. Uche Ebere Agu
This woman is known for playing the role of a quiet queen and gives good advice to the king. Uche Ebere Agu usually have the good of her kingdom at heart and act with so much wisdom to make sure her kingdom is safeguarded.
---
2. Chinyere Wilfred
When it comes to challenging any herbalist or wicked elder of the land, Chinyere Wilfred is a good actress at that. She is a no nonsense women who can't stand injustice, but have a kind heart and wants the best for her husband and the kingdom.
---
3. Princess Maureen Ihua
Princess Maureen Ihua is one beautiful queen who will usually try to destroy the relationship of her son who falls in love with a normal maiden or poor girl, instead of a beautiful princess. Although her plans doesn't usually work out for her because love is the ultimate, and it usually stands the test of time.
---
4. Winnie Nweje
Next on my list is Winnie Nweje. She is one queen who will go to any extent just to see her son on the throne. She doesn't care if he is the rightful heir, or if it's time for him to be on the throne.
---
5. Ebele Okaro
Ebele Okaro is a commonly seen face in Nollywood today. She is known to usually play the role of a wealthy King's wife. She is a strong and determined Queen who will always speak her mind, not minding what the elders would say.
---
6. Rita Edochie
The destiny of a great kingdom rests on the shoulders of this Queen usually having two stubborn children fighting to sit on the throne. Rita Edochie mostly plays the role of a wise queen, settling the dispute between her two sons, or crying and hoping that her sons would love each other someday.
---
7. Patience Ozokwor
Patience Ozokwor is known for playing the role of a no nonsense queen. No one dares step on her toes because she is brutal and good at getting back at people who offend her. She is sometimes a good queen and puts people on suspense whenever she acts.
---
8. Liz Benson
Actress Liz Benson is a queen who is confident in herself and holds her kingdom with an iron fist. Her role as a queen might make you think she is really from a royal family because she is indeed a force to be reckoned with if you plan to bring her down.
---
9. Ngozi Ezeh Evuka
Ngozi Ezeh is a queen who doesn't tolerate evil in her kingdom and plays her role of a queen perfectly well. She is a tough lady, upright, gives fair judgements and has a good sense of humor.
---
10. Ngozi Ezeonu
We wouldn't end the list if we don't mention one of Nigeria's best queen actress. Her role as queen still intrigues me because she is perfect at it.
Ngozi Ezeonu is usually a kind and soft hearted queen but can change to be like a lion when anyone plans to temper with her intelligence. She sometimes channels her cruelty to the lady her son falls in love with if she doesn't like the lady.
These women are truly the face of a true queen when talking about Nollywood movies.
The post Check out Before and After Photos Of These 10 Nollywood Veteran Actresses Who Love To Act As Queens. appeared first on Newsnownaija.