See Nollywood Legends Who Have Been Awarded With Statues of Themselves (Photos)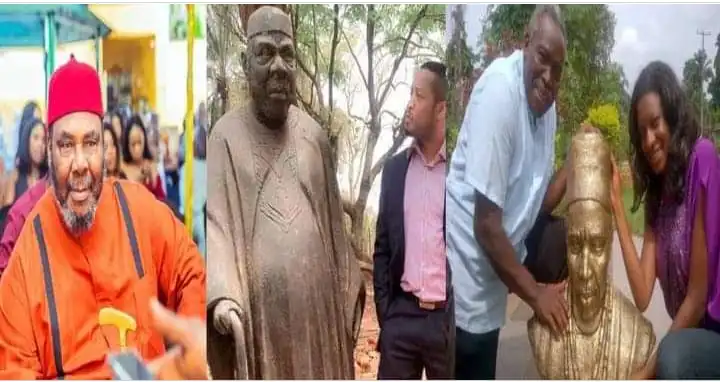 The Nollywood actors mentioned in this article are considered legends, and their remarkable careers and numerous honors speak for themselves. While one is quite active, the other has retired but is still fondly remembered by many people in Nigeria and around Africa.
1. Olu Jacob
Three things are certain to spring to mind when you hear the name, Olu Jacob. One, his deep voice, two, his morals as an actor and a father, and finally, his mastery of English. All of these qualities came into play during his long career as a Nollywood actor, which earned him a bronze statue of himself.
The actor, affectionately known as the "Grandfather of Nollywood," has achieved remarkable success in the movie industry much beyond the personal goals he set for himself. Olu Jacob, who has since retired from performing, will turn 79 on July 11, 2021.
2. Pete Edochie
Pete Edochie, like Olu Jacob, is a name that cannot be overlooked while discussing the success of Nigeria's film industry. The iconic actor, who has been relevant in the profession for as long as the industry has existed, has a wonderful statue of himself, which several younger stars have been spotted visiting.
Mike Ezuruonye with Pete Edochie Statue
Ebube Nwagbo with Pete Edochie Statue
Pete Edochie is loved not only for his excellent movies but also for being a nice person who is steeped in his Igbo culture. His sense of honor is unrivaled, and when he steps out, he is seen as the epitome of knowledge.
Pete Edochie turned 74 this year, but he has a successor in the form of his son, Yul Edochie, who is today one of Nollywood's most in-demand actors.
While some Nollywood stars will be forgotten as soon as they retire, there are others whose character and legacy will live on in the hearts of millions. Which other Nollywood star do you believe should be honored with a statue?