See How 13 Nigerian Artists In the 90's Changed Tremendously (Photos)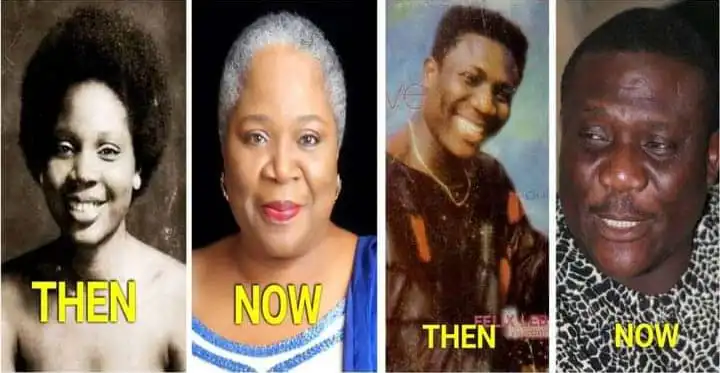 Once upon a lovely time in the 80's and early 90's, we rocked parties, fell in love, and went out on dates while listening to these musicians. We were full of joy and young back then.
That's why we get this good feeling inside whenever we listen to  "Walakolombo" by Alex Zitto "Ifeoma" by Felix Liberty, and "Dancing In The Sun" by Oneyeka Owenu
Onlyytori found out what the singers of our favorite songs from the 80s and 90s are looking like now.
1. Daddy Showkey
"Somebody call my name Showkey!" That line was usually the first line that got people dancing galala at any party in the 90's.
From the slums of Ajegunle, Daddy showkey became a super star. He was known all over Africa and beyond.
My favorite Daddy showkey song: Diana
2. Shina Peters
My favorite Shina Peters song: 'Ijo Shinna'
3. Mike Okri
My favourite Mike Okri Song: 'Time na money'
4. Felix Liberty
The lover boy still got the looks. My favourite Felix Liberty song: 'Ifeoma'
5. Blackky
My favourite Blackky song: 'Rosie'
6. Baba Fryo
My Favorite Song : 'Pose'
7. Tony Okoroji
8. Oritz Williki
9. Evi Edna
10. Alex Zitto
11. Chris Okotie
He was one of the hottest musicians in the 80's before he became a pastor. His melodious voice back then melted the hearts of women.
12. Oneyeka Owenu
Onyeka Owenu was the true definition of beauty, class and elegance.
13. Chris Mba
Unlike every legend here, Chris Mba is the only that was reported to have been seriously sick. In 2019, news broke out that veteran musican was down with heart disease. Since then nothing has been heard from him. We pray God restore his health.
These musicans here are living Legends. The likes of Tiwa Savage, Simi, Yemi Alade, Wizkid, Burna Boy, Davido, Naira Marley and every musicians making waves today found their footing based on the hardwork of this legends.
God bless our living legends and restore Chris Mba's health.