Richest Musicians in Africa 2022; Net Worth and Houses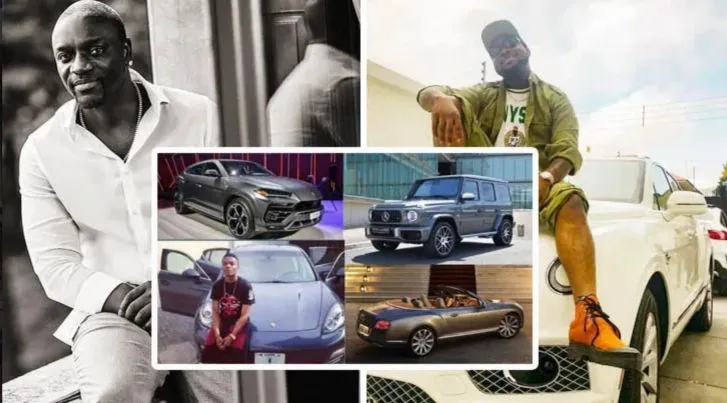 The Richest Musicians in Africa – The Music Industry in Africa has seen some Musicians grow from nothing to something in over a year and has helped some improve their financial statuses. From releasing hit singles to headlining concerts that have thousands of participants from all over Africa, the Music industry is constantly evolving.
From the early 2000s till the present, African Musicians have become a force to reckon with in the music scene internationally. From collaborating with local stars to even collaborating with international stars, African Musicians are not relenting and some are even competing with other Musicians on a global level. Africa has 54 countries existing in its continent, but it will interest you to know that the Entertainment industry in Africa, most especially the music industry is being dominated by some particular countries. This does not subtract from the fact that other countries are not putting in the work in the industry.
Today's article takes a look at the top 5 richest Musicians in Africa, and also their cars and net worth. If you are on a list for the top 10 Musicians in a continent, it means that you are living a life of opulence. This article no doubt shows that indeed opulence should be desired.
The top 10 richest Musicians on this list were not identified randomly but were listed by Forbes as the richest Musicians in Africa. Some Musicians featured on the list from Forbes are from Angola, Nigeria, South-Africa, Zimbabwe, and a few. This article will be focusing on the top 5 richest Musicians in Africa, their net worth, and the cars they own in 2020.
Akon – Net worth $80 million
First on the list is none other than Akon, an internationally recognized Musician, and Entrepreneur. Born Aliaume Damala Badara Akon Thiam on the 16th of April 1973, Akon grew up to become one of Africa's finest Musicians.
He has been nominated for the Grammies Award five times, and he has also produced and signed some of the biggest names in the music scene globally into his record label. Akon has a net worth of $80 million.
Akon Cars
and some of his luxury cars include:
A Ferrari 458 Italia
Porsche Panamera
A Mercedes-Benz SLR McLaren
Spyker C8 Aileron
Lamborghini Gallardo
Steve Hofmeyr – Net Worth $40 million
Steve Hofmeyr is currently the richest Musician in South Africa with a net worth of R273 million. He has been a Musician, an Actor, and a TV presenter, all in the entertainment industry in South Africa. Forbes 2020 dubbed him the richest Musician in South Africa.
Steve Hofmeyr cars
Some of his luxury cars are:
A Maserati
A Toyota Hilux
A black Chrysler C300
A 1962 Cadilac Deville Sedan
Wizkid – Net Worth $24 million
Born Ibrahim Ayodeji Balogun, also known as Wizkid, shot into the Nigerian music scene in 2009 after signing a record deal with Empire Mates Entertainment. He later left and formed his own record label called Starboy Entertainment in 2013. He has been recognized nationally and internationally and he is currently one of the hottest talents from Nigeria. He has a net worth of $20 million.
Wizkid new cars
Some of his luxury cars in his garage are:
Hyundai Sonata (N6 Million)
Mercedes Benz G63 AMG ₦60 Million
BMW X6 (N11 Million)
Porsche Panamera N13 Million (Was Crashed In An Accident)
Bentley Continental GT Speed Convertible: ₦45- ₦50 Million
Lamborghini Urus (Over ₦101 million)
Porsche Cayenne (₦18 million)
2012 Mercedes-Benz Kompressor (₦9M)
Also Check>> Wizkid Net Worth, House, Cars, And Biography In 2021
Bentley Continental GT speed convertible: The 2015 Bentley Continental GT speed convertible has a twin-turbo 4.0 Litre V8 engine that gives out 592 horsepower and 553 lb-ft of torque. It can from 0 to 60 mph in just 3.6 seconds. To become the owner of this car Wizkid spent up to N50 million after his Porsche Panamera was involved in a road crash.
Davido – Net Worth $21 million
David Adeleke, not only popular in Nigeria, but in Africa, and internationally is one of Nigeria's finest Musicians of the 20th century. He is known for living an affluent life showing his houses, cars, pieces of jewelry, shoes on his social media pages. He is currently the CEO of Davido Music Worldwide (DMW) that has a lot of talented promising acts signed under him. He has been nominated for a lot of national and international awards and has also won several to his name. According to Forbes, Davido has a net worth of $24 million.
Davido new cars
If you think you know any musician with the most expensive cars, take a look at some of his finest luxury cars:
2021 Rolls Royce Cullinan
Lamborghini Huracán
Bentley Bentayga 2018
Range Rover Sport 2017
Mercedes-Benz GLE class 450
Porsche 911 Carrera
Mercedes-Benz G-Wagon
Lamborghini Urus
Audi R8 Coupe
Also Check Davido Latest Car Collections In 2021 – Davido Car Gallery
Don Jazzy – Net Worth $18 Million
Michael Collins Ajereh better known as Don Jazzy is an all-around Entertainer in Nigeria working as a Musician, a Producer, a songwriter, and an Entrepreneur. He is the owner of Mavins Record which is home to many big names in the Nigerian music industry and was the owner of Mo'hits Records, one of Nigeria's biggest music labels. Although he dropped from 3rd place to 5th place in terms of net worth, Don Jazzy is still a force to reckon with and he likes to live a good life.
Don Jazzy Cars
He has a current net worth of $10 million. Some of his luxury cars are:
Range Rover Sport
Bentley Continental Flying spur
Cadillac Escalade
Porsche 911 Carrera
Burna Boy – Net Worth $17 million
Damini Ebunoluwa Ogulu, known professionally as Burna Boy, is a Nigerian singer, songwriter, rapper and dancer. He rose to prominence in 2012 after releasing "Like to Party", the lead single from his debut studio album L.I.F.E.
It's been a busy year for Burna Boy. The Nigerian sensation dropped Twice as Tall in August, but as he was perfecting the final touches on his latest album, Burna Boy who is one of the Richest Musicians In Nigeria currently has an estimated net worth of ₦7.3 Billion. Also Read Burna Boy Car Collections, Biography, Net Worth, House
BURNA BOY CARS
Burna Boy is no shy guy when it comes to flaunting his hard-earned money. He has a fleet of luxurious cars adorning his garage too. Check them out:
Bentley Continental GT
Range Rover Autobiography SUV
2013 Ferrari 458 Italia
Rolls-Royce Dawn Convertible
Mercedes Benz G-Wagon
Mercedes-Benz S-Class
View all Burna Boys Cars >> Burna Boy Net Worth, Cars, House And Updated Biography
Rude Boy – Net Worth $14 million
Rude Boy is the stage name of one of the duo who made up the famous P-square band. So, it is almost impossible to talk about him without mentioning P-square.
P-square came into existence in 2003 when Paul Okoye (Rude Boy) and his twin brother started doing music together publicly. Their name was all over the place because they caused a major transformation in the Nigeria Music Industry. Rude Boy combined both singing and dancing as his skills. People often referred to him as the one with dreadlocks whenever they wanted to differentiate him from his identical twin brother. Also read: Rude Boy (Of P-Square) Biography, Net Worth, Cars, And House 2021
Rude Boy Cars
His car Collections are not all clear to the general public, but beyond any doubt, we know that he has a:
Bentley Bentayga
Mercedes-Benz GLE43 AMG 4MATIC Coupe
Lamborghini Aventador Roadster
Lamborghini Huracan
BMW X6
Jeep Wrangler
Range Rover
2014 Benz C-Class Coupe
AKA – Net Worth $12 million
Kiernan Jarryd Forbes, also known as AKA is a South-African Rapper, who is known internationally and has received several international awards for his skills in rapping. The South-African Musician has a net worth of R155.6 million.
AKA Cars
Some of his cars include:
A BMW X6M
A BMW i8
A BMW X5
Rolls Royce
Also Read:
Top 11 Richest Musicians In Nigeria: Cars, Houses & Net Worth
Top 10 Richest South Africa Musicians and Their Cars
Top 10 most handsome guys in Nigeria and their cars
Tiwa Savage – Net Worth $12 million
Tiwatope Savage popularly known as Tiwa Savage or mummy Jam Jam is a Nigerian singer, songwriter, and actress, born on the 2nd of February 1980 in Isale Eko, she relocated to London when she was 11 years old for her secondary school education. She became backup vocals for American artists such as George Michael and Mary J. Blige. After participating in the UK edition of The X Factor and graduating from Berklee College of Music, Tiwa Savage signed a publishing deal with Sony/ATV Music Publishing in 2009, she saw how rapid the Nigerian music industry growing she was inspired then Tiwa Savage moved back to Nigeria and signed a record with Mavin Records in 2012. She made an appearance on the label's 2012 compilation album Solar Plexus.
Tiwa Savage Cars
Rolls Royce Phantom
Bentley Bentayga
Mercedes Benz V Class