Richest Men in Nigeria 2022 – Net worth and Expensive Houses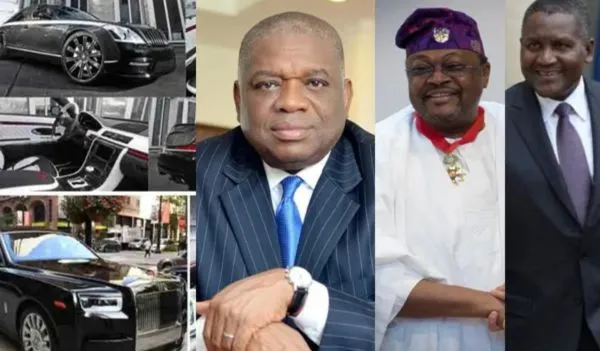 The saying 'all fingers are not equal' has never been more true. Even though many Nigerians are complaining of lack of money and the hike in the prices of things, some Nigerians are really untouched by this reality. Who are they? These ones are the richest men in Nigeria!
The richest men in Nigeria are people of class and calibre. They own multi-million dollar conglomerates and sit on the board of directors of various high-profile multinational companies both in Nigeria and abroad. Nigeria's richest men have net worth running into billions of dollars- dollars not naira. They have expensive cars and live in multi-million naira mansions. One look at the car collection of the richest men in Nigeria, and you will agree that- truly money can buy good things. In fact, beyond just the luxurious cars they ride, they also own private jets and yachts to ferry them to wherever they need to go.
Who is the Richest man in Nigeria?
| | |
| --- | --- |
| Aliko Dangote | $12.1 billion |
| Mike Adenuga | $7.9 billion |
| Femi Otedola | $5.9 billion |
| Arthur Eze | $5 Billion |
| Abdulsamad Rabiu | $3.7 billion |
| Cletus Ibeto | $3.5 billion |
| Orji Uzor Kalu | $3.2 billion |
| ABC Orjiakor | $1.2 billion |
| Jimoh Ibrahim | $1 billion |
| Tony Elumelu | $900 million |
Now, enough talk! Let's get down to business. I'm sure you are curious already- who are the richest men in Nigeria? Carmart.ng brings them to you in this article:
ALIKO DANGOTE
Number one on our list is none other than the richest man in Nigeria and Africa- Aliko Dangote. Aliko Dangote is a household name, almost every Nigerian knows the name and even uses his product. Aliko Dangote is the CEO of the Dangote Group which is involved in the manufacture of salt, cement, spaghetti, flour etc.
Aliko Dangote Net worth: His staggering net worth is $12.1 billion
Aliko Dangote Cars: His expensive garage has cars like:
Bugatti Veyron worth $2, 000,000
Maybach 57S Knight luxury
Bentley Mulsanne
MIKE ADENUGA
Mike Adenuga is the CEO of Globacom- Nigeria's second-largest telecommunication provider after MTN. Globacom also has a presence in Benin, Ivory Coast and Ghana. He owns stakes in the Equitorial Trust Bank and the oil exploration firm Conoil (formerly Consolidated Oil Company). He made his fortune in the oil business and telecommunications.
Mike Adenuga Net worth: Mike Adenuga has a mouth-watering net worth of $7.9 billion
Mike Adenuga Cars: His garage is adorned with exotic cars like
Bentley Continental GT,
Rolls Royce
Mercedes Benz AMG G63
Armoured Bentley Mulsanne
FEMI OTEDOLA
In most Nigerian hip hop songs, musicians tend to use Femi Otedola as a symbol of how wealthy they want to be. Indeed, Femi Otedola is a wealthy man considering his mouth-watering net worth of $5.9 billion. Born on the 4th of November 1962 in Ibadan, Femi Otedola is a well-known CEO, entrepreneur and philanthropist. He is the father of a famous Nigerian disc Jockey; DJ Cuppy.
Femi Otedola Net worth: He has a whooping net worth of $5.9 billion
Femi Otedola Cars: His expensive car list includes
A Mercedes-Benz AMG G63
A Mercedes Benz G-Wagon
A Mercedes SLR McLaren
A Rolls-Royce Phantom
BMW 6 series
Arthur Eze Net Worth
The third richest man in Nigeria is Arthur Eze with a net worth of $5 billion. He is the owner of Atlas Oranto Petroleum and he is also from a royal family in Anambra State, Nigeria.
His car collection is quite unknown, but he is the owner of a:
– A 2019 Rolls Royce: The abilities of the 2019 Rolls-Royce Phantom are evidently great. This vehicle flaunts quiet tires that are intended to decrease lodge clamour significantly. Also Read Arthur Eze: Biography, Net Worth & Cars
Abdulsamad Rabiu
Abdul Samad Rabiu is a Nigerian billionaire, entrepreneur and seasoned industrialist well known for his expertise in commodity trading. He is the founder and Chief Executive Officer of BUA Group, a Nigerian conglomerate with an interest in agriculture, infrastructure, manufacturing, logistics, and port operations.
Abdul Samad Rabiu Net worth: Abdulsamad Rabiu's net worth is estimated at a whopping  $3.7 billion
Abdul Samad Rabiu Cars: Check out his luxurious car collection consisting of:
Toyota Prado SUV
Range Rover Sport
Mercedes Benz G-Wagon
Mercedes Benz S-class
CLETUS IBETO
From an unprecedented beginning as a motor parts dealer, Cletus Ibeto is now one of the richest men in Nigeria. A billionaire, he is the owner of one of the largest conglomerates, The IBETO Group. Cletus Ibeto sits as chairman as well as the Founder of IBETO Group, and the company is involved in real estate, banking and finance, cement production, automotive coupling, Petrochemical etc.
Cletus Ibeto Net Worth: Cletus Ibeto has an estimated net worth of $3.5 billion
Cletus Ibeto EXPENSIVE CARS LIST:
Rolls Royce
Mercedes MayBeach S- Class
 Innoson IVM G40
ORJI UZOR KALU
Orji Uzor Kalu is a Nigerian businessman, entrepreneur and politician. He is the chairman and founder of SLOK Holding and the Daily Sun and New Telegraph newspapers in Nigeria. He also served as the Executive Governor of Abia state from 29 May 1999 to 29 May 2007.
Orji Uzor Kalu Net worth: Orji Uzor Kalu is indeed a stupendously wealthy man. His net worth is estimated at $3.2 billion
Orji Uzor Kalu Cars: His garage is graced with exotic cars like
Bentley Continental GT
Range Rover
ABC ORJIAKOR
ABC Orjiakor made his wealth from the oil and gas sector. He is the Chairman and co-founder of SEPLAT, an independent gas and oil company in Nigeria. He once worked as an Orthopedic and Trauma Surgeon at Lagos Teaching Hospital and National Orthopedic Hospital.
ABC ORJIAKOR Net worth: ABC Orjiakor is one of the richest men in Nigeria with a net worth estimated at $1.2 billion
ABC ORJIAKOR Car list: His garage is filled with exotic cars like:
Toyota Prado
Mercedes Benz
JIMOH IBRAHIM
Jimoh Ibrahim is another rich businessman to reckon with in Nigeria. He was born in a remote village in Ondo State on the 24th of February 1967 to a local fish seller mother and a bricklayer father. Jimoh Ibrahim is the CEO of Global Fleet Group. He is also the director at the prestigious Nicon group which has a number of subsidiaries. They include Nicon Academy, Nicon Airways, Nicon Energy, Nicon Hotels, Nicon Insurance, Nicon Investment, Nicon PFA, Nicon properties, Nicon Trustee, Nicon United Kingdom, and Nicon Sao Tome.
Jimoh Ibrahim NET WORTH: His net worth is valued at $1 billion
Jimoh Ibrahim EXPENSIVE CARS LIST:
TONY ELUMELU
Tony Elumelu is a well-respected man in Nigeria, particularly amongst the youths and business owners. He is the chairman of Heirs Holdings, the United Bank for Africa, Transcorp and founder of The Tony Elumelu Foundation. Tony Elumelu is an economist, philanthropist and entrepreneur.
Tony Elumelu Net worth: His net worth is estimated at $900 million
Tony Elumelu Cars: His garage contains luxurious cars like;
Range Rover
Mercedes Benz S-class
The post 2022 Richest Men in Nigeria – Net worth and List Expensive Cars appeared first on Latest car news, car blog news in Nigeria, car import duties in Nigeria, latest car release.