Richest Men In Africa 2022 – Forbes African billionaire List: Cars, Houses And Private Jets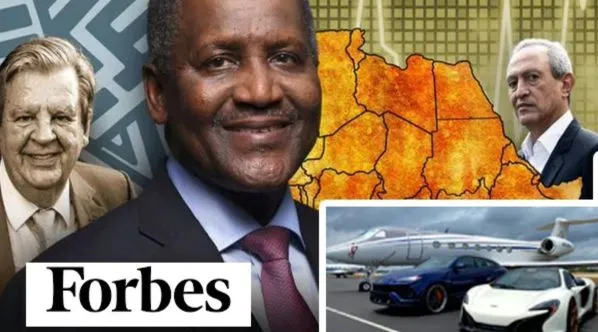 Contrary to many negative labels that have been tagged with Africa, the continent is still blessed with some of the brightest minds and savvy entrepreneurs the world has ever seen. These are men and women who, against the odds, have risen to be icons in their spheres, and built successful businesses.
These men have been rewarded for their labour, they now swim in great wealth and enjoy the finer things of life. These people have been recognized by Forbes as the richest men in Africa. In this article, Carmart.ng brings you more details about the richest men in Africa this 2022, their cars and private jets.
Richest Men In Africa 2022 – Forbes African billionaire List:
ALIKO DANGOTE
Topping the chart is Aliko Dangote. Aliko Dangote has for many years retained the number one spot as the richest man in Africa. He is a Nigerian by birth and grew up in the northern part of the country. Aliko Dangote is a household name, almost every Nigerian knows the name and even uses his product. Aliko Dangote is the CEO of the Dangote Group which is involved in the manufacture of salt, cement, spaghetti, flour etc.
Aliko Dangote has been awarded several accolades including; the "Grand Commander Of the Order of the Niger" (GCON) by former President Goodluck Jonathan in November 2011. Recently, Aliko Dangote expanded his long line of business into the automobile sector. He owns a major stake in the Dangote Peugeot Automobile Limited.
Net worth: His staggering net worth is $14.1 billion (8.03 trillion NGN).
Cars: His expensive garage has cars like:
Bugatti Veyron worth $2, 000,000
Maybach 57S Knight luxury
Bentley Mulsanne
Private Jets: Aliko Dangote bought a private aircraft named Bombardier's Global Express XRS from Montreal Canada. The jet was delivered to Murtala Muhammad International airport in Lagos on the celebration of Aliko's 53rd birthday. It's reported to cost $45 million, which translates to 16.3 billion naira.
JOHANN RUPERT
Johann Rupert is a South African businessman and billionaire. He is the chairman of the Swiss luxury goods firm Compagnie Financiere Richemont. The company is best known for the brands Cartier and Montblanc. He has numerous assets and business assets have increased his earnings such that he is listed amongst the richest men in Africa. Johann Rupert also owns a part of the Saracens English rugby team and Anthonij Rupert Wines
Net worth: His mouth-watering net worth is estimated at $11 billion (6.3 trillion NGN).
Cars: With such humongous net worth, Johann Rupert can have any car he desires. His garage contains great cars like:
Ferrari Lusso GT,
Porsche Cayenne,
and over 185 other vintage cars in his private museum.
Private jets: He is the proud owner of a Bombardier Global 6000.
NICKY OPPENHEIMER
Nicky Oppenheimer is another South African on our list of Africa's richest people this 2022. Nicky Oppenheimer made his wealth from diamonds. For many years, the Oppenheimer family occupied a controlling spot in the world's diamond trade. He was formerly the chairman of De Beers diamond mining company and of its subsidiary, the Diamond Trading Company, and former deputy chairman of Anglo American.
Net worth: With his numerous business endeavours and personal achievements, Nicky Oppenheimer has a net worth estimated at $8.7 billion (4.96 trillion NGN).
Cars: Africa's third-richest man, Nick Oppenheimer has an expensive garage with cars like:
Mercedes Benz McLaren.
BMW i3 EV (Electric Vehicle)
Private jets: Nicky Oppenheimer has a number of private jets he cruises in for business and pleasure trips both alone and with family and business associates. He started a private jet charter company called Fireblade Aviation, using some of the aircraft in his personal fleet which includes a Global 6500 and two Challenger 350. He flies internationally on the Global 6500.
NASSEF SAWIRIS
Nassef Sawiris is an Egyptian billionaire and the youngest Scion in the wealthiest family in Egypt- the Sawiris family. He owns and runs Orascom construction, the construction arm of the Sawiris family business. Nassef Onsi Sawiris was born in Egypt on 19th January 1961. His two brothers, Samih Sawiris, and Naguib Sawiris are also billionaires and handle certain segments of the Sawiris family business.
Nassef Sawiris is a dynamic, astute businessman. He has investments in various sectors. He has garnered a lot of wealth from various investment, business and executive roles at Orascom Construction Industries.
Net worth: Being the fourth richest man in Africa, Nasser Sawiris net worth is estimated at $8.6 billion (4.90 trillion NGN)
Cars: The wealthy African has various luxurious cars including:
Private jets: When duty calls, and Nassef Sawiris has to travel immediately, he need not worry as he has a private jet; the Gulfstream G650 aircraft. His Private jet provides every comfort needed in a home including a spacious bed, bathroom, jacuzzi, executive room etc.
ABDULSAMAD RABIU
It's fascinating to see two Nigerians on the top five list of Africa's richest men. Abdulsamad Rabiu is a savvy businessman and entrepreneur who managed to build his vibrant line of business across various Industries. He is the founder and CEO of the9 BUA  group, a Nigerian conglomerate with an interest in agriculture, infrastructure, manufacturing, logistics, and port operations.
Net worth: Abdulsamad Rabiu's net worth is estimated at a whopping  $3.7 billion (2.11 trillion NGN)
Private Jets: For the ease and comfort of travelling, the billionaire also owns a Gulfstream G550 private jet.
CONCLUSION
The richest men in Africa have mouth-watering net worth, cars and enjoy a luxurious lifestyle.
The post 2022 Richest Men In Africa – Forbes African billionaire List: Cars And Private Jets appeared first on Latest car news, car blog news in Nigeria, car import duties in Nigeria, latest car release.