Omotola And 4 Other Celebrity Mums In Their 40s That Still Maintain An Beautiful Body Shape (Photos)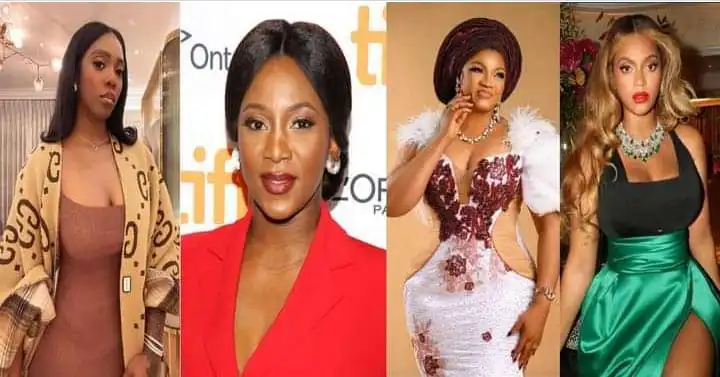 It's natural for ladies to gain weight as they grow older or after putting to birth. However, that's more like a tale when it comes to some of our favorite celebrities who against all odds have maintained an adorable figure as they grow older. Take a look at five celebrity mothers in their 40s who have maintained a nice body figure.
1. Omotola
Nollywood actress, Omotola Jalade Ekeinde is currently a mother of four. She started her acting career in 1995 and she's been active in the entertainment industry for over 25 years.
Her first daughter, Princess Ekeinde is currently 24 years old. Omotola would be 44 years old on the 7th of February 2022 and despite being a mother of four, she still maintains an admirable figure. Though she's added some weight when compared to her old pictures, she still has that adorable figure most ladies of her age would wish for.
2. Tiwa Savage
Tiwa Savage is one of the biggest faces in the Nigerian music industry. Her son, Jamil Balogun is currently six years old with over 190 thousand Instagram followers. Tiwa Savage would be turning 42 on the 5th of February 2022 and it's quite amazing that she still maintains an adorable figure. She looks slightly different from her older pictures as she's added some weight but she still looks admirable in all aspects.
3. Kim Kardashian
Kim Kardashian is a successful American businesswoman, socialite, and model. She's currently a mother of three kids and she would be turning 42 on the 21st of October 2022.
(Throwback photo of Kim Kardashian)
However, she looks no older than her throwback photos dated 10 years ago, some would even say that she's looking younger as she grows older.
4. Genevieve Nnaji
Nollywood actress, Genevieve Nnaji is a mother and also a grandmother, she started her career in 1987 and has been active in the entertainment industry for over 30 years. Her daughter, Chimebuka Nnaji welcomed her first child, a son in 2018.
Genevieve would be turning 43 on the 3rd of May 2022 and she's still maintaining the pleasant shape of a youngster without much noticeable difference from her old photos.
5. Beyonce
Award-winning musical artist, Beyonce would be turning 41 on the 4th of September 2022. The singer is currently a mother of three and she still has the gorgeous looks of her younger self. Some would say that she's growing more pretty as she grows older.