Obi Cubana, Jowi Zaza, E-Money: Who Is Richest With Luxury Cars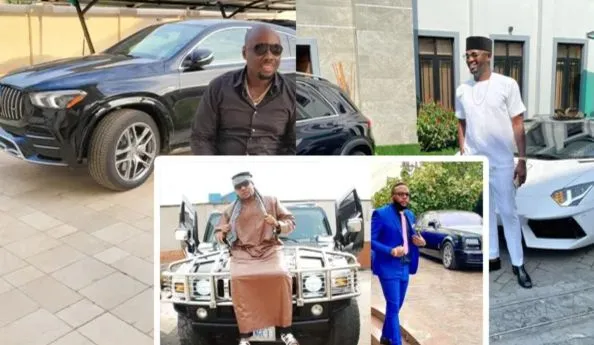 There is a popular saying that birds of the same feathers flock together. This saying applies to the rich. It is not uncommon to find the rich being in the company of the rich.
Obi Cubana, Jowi Zaza, E-Money are rich friends who like walking and doing things together. In fact, last year when Obi Cubana lavishly celebrated his mother's burial, Jowi Zaza and E-Money were amongst his wealthy friends who rained money on that day. Now, the big question a lot of people are curious to get answered is: who is the richest amongst them? That's why we have put this article together.
Read on as we analyze these three friends to know who is richest amongst them.
WHO IS OBI CUBANA
Obi Cubana fondly calls himself 'God's Favorite son'. Obi Cubana, real name Obi Iyiegbu, is a well-known Nigerian entrepreneur, CEO of the Cubana Group, and a show promoter. Obi Cubana was born on 12th April 1975, and he is currently 46 Years Old as of this year 2021. Obinna Iyiegbu best known as Obi Cubana is from Oba, a community in Idemili-South Local Government Area in Anambra State, Nigeria.
Obi Cubana has made tremendous wealth in millions as a successful serial businessman. He sits as the Chairman and owner of various businesses, particularly in real estate. He owns a collection of Nigeria's most opulent and extravagant hotels.
He is the CEO of Cubana Group. Cubana Group's businesses and establishment includes;
Ibiza Club,
 Pablo Club at Victoria Island in Lagos,
Rolex Hotels, Lagos
Opium Cabana, Owerri
Crave Cubana Club in Abuja,
Montana Club in GRA Ikeja Lagos
Gustavo Club, located in Enugu state.
Puzzo Eatery, Abuja
Liquor Empire – Abuja,
Caledonia Suite and Cubana Signature in Abuja
WHO IS JOWI ZAZA
Joseph Eze Okafor, Jnr, popularly called Jowi Zaza is one of the youngest billionaires in Nigeria. He is wealthy and sometimes people call him a Yahoo because he has so much money at a young age. We can say Jowi Zaza is a true son of his father, Chief Joseph Eze Okafor, who is a wealthy oil and gas business magnate. Jowi Zaza has also followed his father's path by becoming the Chief Executive Officer of his father's business, Jezco Oil and Lubricants.
He began his secondary school education at Sacred Heart Seminary Nsude in Enugu state, before proceeding to Madonna University Okija, and did his post-graduate studies at The Coventry University London, United Kingdom, and later attended Kelce College of Business.
WHO IS E-MONEY
Emeka Okonkwo, popularly known as E-Money was born in Ajegunle, Lagos State on the 18th of February 1981. The young billionaire lives an extravagant life. This is no surprise because some quarters also call him Arab Money. He is the CEO of Five Star Group and Emy Cargo Limited.
He established Emy Cargo in 2007. This company is one of the best freight forwarding and shipping services companies in Africa. The company also sells both new and used American cars. E-money is KCee's brother. This guy's got some wealth and is not afraid to spend it.
OBI CUBANA NET WORTH
With such an array of thriving businesses coupled with numerous awards under his belt, Obi Cubana has gathered for himself a mind-blowing net worth of $96 million.
JOWI ZAZA NET WORTH
Oil and Gas business is one of the fastest means to make wealth. Jowi Zaza who sits as the CEO of Jezco Oil and Lubricants has over the years accumulated a total net worth of $80 million.
E-MONEY NET WORTH
CEO of Five Star Group and Emy Cargo Limited, E-money has a mouth-watering net worth $55 million.
OBI CUBANA CARS
Check out the car collection of billionaire Obi Cuban below. His car collection is worth almost a billion naira!
2022 Mercedes Benz Maybach S580 (over 250 million naira)
2 Lexus LX (starting price ₦36.6 million each)
Mercedes Benz 4matic S40 (starting price is ₦38 million)
Range Rover ( ₦60 – 80 million NGN)
Rolls Royce Phantom (over  ₦176 million)
Brabus G-wagon (starting price of ₦ 180 million)
Mercedes Benz AMG GLE 53 2021 ( ₦70-90 million)
Mercedes Benz Sprinter ( ₦70-100 million)
Did You Know Obi Cubana Car Garage Is Worth Billions?
JOWI ZAZA CARS
Jowi Zaza has an expensive car garage. His exotic car collection will leave you desirous of a car if you don't have one. Check them out below:
Lamborghini Aventador: ₦ 115 million.
Rolls Royce Cullinan:  ₦ 280 million.
Bentley Continental GT:  nothing less than ₦ 90 million for Jowi Zaza to bring this car home.
Brabus G Wagon:  ₦ 180 million.
Mercedes Benz 4matic:  ₦45 million.
Rolls Royce Phantom:  ₦200 million.
E MONEY CARS
E-Money cars are a sight to behold. He has a fleet of luxurious cars he uses to cruise around for shows, events and business. Check them out below:
Mercedes Benz Sprinter (₦ 80-110 million)
Lexus LX 570 (₦60- 75 million)
A Rolls Royce, (₦200 -350 million)
Maybach 62s,( ₦130-180 million)
A Toyota Land Cruiser Prado (₦85 million)
CONCLUSION: WHO IS RICHEST WITH EXPENSIVE CARS
From the above, it's quite clear whose car collection is more luxurious and expensive. Obi Cubans definitely top the charts, next is Jowi Zaza then finally, E-Money.
Now, before we wrap up, these men keep increasing in their wealth and hence will never stop adding luxurious cars to their collection. Sooner or later, it's possible this order rearranges. Not to worry, we will definitely keep you updated as things unfold.
The post Obi Cubana, Jowi Zaza, E-Money: Who Is Richest With Expensive Cars appeared first on Latest car news, car blog news in Nigeria, car import duties in Nigeria, latest car release.