Nollywood Teen Actresses Who Share Similarities And Name With Big Stars (Photos)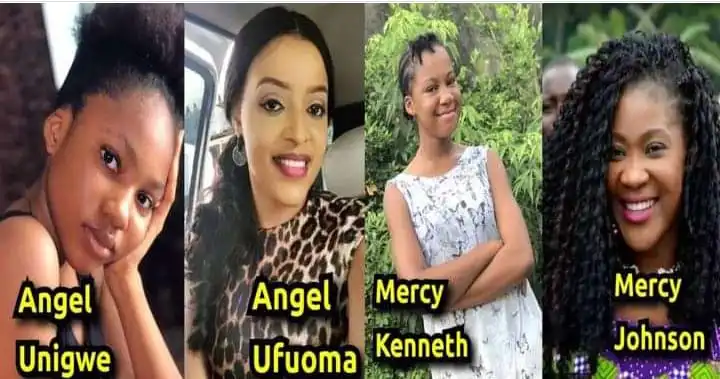 The Nollywood industry has gone a long way in the past years and undoubtedly taken the Nigeria movies to another level of greatness. They have succeed in bring up so many Veteran Nollywood stars and a lot of other child actors/actresses who are gradually coming up.
Some of these upcoming actresses and actors are sincerely intelligent, smart and talented to the extent that they can actually stand and face a camera to play their given roles and interpret these roles perfectly well.
Watching these youngsters act in movies, one can easily depict the fact that there is a bright future for these kids in the Nollywood industries. As a matter of fact, there are some young actresses who have same names and similarities with some of the biggest and famous actresses that are currently in the Nollywood industry. On this note, we will be seeing below, 5 child actresses who actually share same similarities and share same first name with other veteran Nollywood actresses.
1. Sharon Ifedi and Sharon Ooja
Sharon Ifedi and Sharon Ooja are both extremely gorgeous, talented and Beautiful actresses. Actress Sharon Ooja came into lightsome when she featured in the movie series called "Skinny Girl in Transit", while Sharon Ifedi on the other hand plays challenging roles and plays them perfectly well.
Check out more photos these two as both actresses are beautiful and have a great sense of fashion.
2. Chisom Oguike and Chisom Steve
You can bear me witness that Chisom Oguike is one fast growing and upcoming child actresses who started acting at a very tender age. Chisom Steve also started her acting carrier at a young age, precisely when she was 14 years old.
Chisom Oguike is such an influential and friendly person who has got over 50, 000 followers on her Instagram handle. Chisom Steve is a likeable person known for her bubbling which is in a way similar to the personality of Chisom Oguike. Also, both actresses shares same kind of irresistible smile and hails from the east.
3. Mariam Kayode and Mariam Odunola
After Mariam Kayode was featured in a movie called "children of mud", she was the youngest actress to be nominated in 2018 in the Best Actress category for her excellent performance in the Africa Magic Viewers Choice Award (AMVCA).
See below photos of Mariam Kayode at the AMVCA in the year 2018.
Interestingly, the two Mariams are Muslims and are versatile in acting.
4. Angel Unigwe and Angel Ufuoma
Both Angel Unigwe and Angel Ufuoma are very well talented actresses and knows how to interpret their roles well. They both have got a well structured facial looks and are epitome of beauty coupled with their love for decent and stylish dressings.
5. Mercy Kenneth and Mercy Johnson
Finally on my list today is Mercy Kenneth and your favourite veteran actress called; Mercy Johnson. They both are versatile in acting and just like Mercy Johnson, Mercy Kenneth also has the funny expressions kind of thing and can perfectly feature in sorrowful movies.
Mercy Kenneth usually plays the roles of an orphan who is usually maltreated by either her wicked step-mother or aunt as the case may be.
This is the same pattern of acting that Mercy Johnson played when she started acting in the Nollywood. I think Mercy Kenneth might be the perfect match to fill into Mercy Johnson's shoes when the time comes. Or don't you think so too?