Meet The 4 Children of Yoruba Actor, Jide Kosoko Who Are Also Actors (Photos)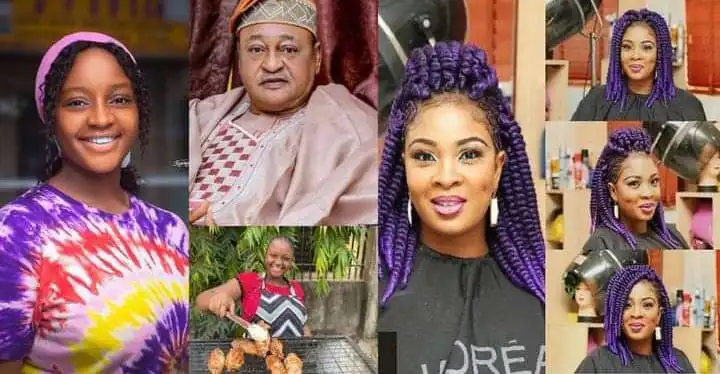 Prince Jide Kosoko is a prominent Nollywood Actor, director, filmmaker, and producer. The legendary actor has been in the entertainment industry for over two decades. The 68-year-old actor is blessed with 12 children.
However, in today's article, I will be sharing with you 4 of his 12 children that picked interest in their father's acting profession. This family seems to have entertainment flowing in their veins.
Let's start with…
1. Temilade Kosoko
Temilade Kosoko is a fast-rising Nollywood actor and a model. The beautiful girl has been in the industry for about 7 years now, although she's not as active as her elder sisters, Bidemide and Shola. Temi is the last daughter of her parent. The 21 years old actress was born on the 17th of April and began to follow her father's profession at a very young age.
Aside from acting, Temi is also a Face model, event planner, social media influencer, and a good dancer.
To add to her credit, Temi was nominated for Best Actress for Theatre Student Awards in 2019.
3. Sola Kosoko
Kosovo Abina Shola was born on the 7th of January, 1980. Sola Kosoko Nollywood actress that also picked interest in her father's profession. The nollywood star has acted in several yoruba and English movies. She's extremely beautiful, very creative, talented, and good at what she does. 
Sola kosoko starred in the movie Pala pala which also featured Yemi sholade and her junior brother Muyiwa Kosoko.
Over the year, the Nollywood actresses have produced and directed over 50 movies which include; Oko Irese, Omo Bishop, Palace, Shadow Party, and many others.
Sola kosoko is happily married to the love of his life, Waheed Abina and the union has produced beautiful children, all girls.
3. Bidemi Kosoko
Bidemi is the daughter of veteran actor, Prince Jide Kosoko. Bidemi Kosoko is from a lineage of talents.
Bidemi Kosoko is a multi-talented actor, a director known for her excellent delivery of scripts. She has been in the industry for over 15 years now. Actress Bidemi is mostly seen in Yoruba movies and sometimes in English-speaking Nigeria movies.
Aside from acting, Bidemi has laid her hands in different businesses. She's hardworking, talented coupled with a high sense of dressing. Her fashion styles have made her favorite among the female folks, where she inspires Millions of her social media followers with amazing styles.
Bidemi and her sister Sola were born of the same mother, but she sadly died in 1993.
Over the year Bidemi has starred and director in over 20 movies; Asiri, My Mum & I, Wicked Wife, Shikemi, Alakada Reloaded, including others too numerous to count here.
4. Muyiwa Kosoko
Ademuyiwa Kosoko is a fast-rising actor and also a photographer. Muyiwa has been in the industry for over 5 years now.
The multi-talented and brainy actor was raised in a family packed and filled with Talented Actors.
Muyiwa is very handsome and talented just like his father. Muyiwa is the brother of actress Temilade, they are both born to the same mother, late actress Henrietta.
Thanks for your time.