Meet Popular Nigerian Billionaires Driving The Most Expensive Rolls Royce Cars (See Pictures)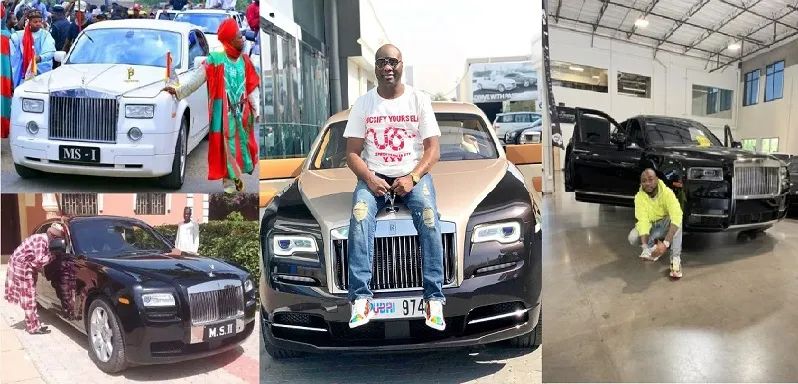 In December 2019, she gifted herself a Rolls Royce Phantom VIII which costs a whopping N162 million for a Christmas gift. She is a professional Disc Jockey and the daughter of Nigerian Billonaire, Femi Otedola.  She is 26 years old and she has several luxury cars to her name.
2. Brown Ideye:
A Nigerian Professional footballer who plays for a Turkish team (Göztepe) as a Striker and also for the Nigerian national team. In 2014, he bought for himself a 2015 Rolls Royce Ghost, costing over N45 Million. He has other expensive cars sitting in his garage and the Rolls Royce is one of many.
3. Otunba Subomi Balogun:
I started out by telling you about someone who is the owner of up to eleven Rolls Royce cars, he is Otunba Subomi Balogun. He is the founder of Nigerian bank, First City Monument Bank (FCMB) and he is also an Ijebu born Prince. He has for himself up to 11 customs built Rolls Royce among his fleet of luxury cars.
4. Gladys Ndubuisi Kanu:
She is the owner of a 2014 Rolls Royce Phantom, which costs N120 million. Gladys Ndubuisi Kanu is the wife of Godwin Ndubuisi Kanu, a former Military Governor of Lagos State and Imo State.
5.Hajia Bola Shagaya:
She is the owner of a Rolls Royce Ghost which costs N95 million. It is reported that she ordered the luxury car to use it to grace her son's wedding. She is a Businesswoman and a Fashion enthusiast, she is also regarded to as one of the richest women in Africa.
6. Alhaji Muhammadu Sanusi:
He was the 14th Emir of Kano, emerging from the Dabo royal family in Kano state. As an Emir in Kano, one is entitled to owning a Rolls Royce, so in September 2016, he ordered some of the cars and the most expensive in the Rolls Royce fleet is the 2016 Rolls Royce Phantom which costs N150 million.
7. Mompha – 2020 Rolls Royce Wraith Eagle VIII
Nigerian Instagram Billionaire  Mompha has taken delivery of the Rolls Royce Wraith Eagle VIII 2020 which he purchased in October 2019. The SKY MAN  Mompha took to his Instagram page to reshare the video days after Hushpuppi Acquires a 126Million Naira Rolls Royce Cullinan 2020, He further said he is the first African to own the luxury car worldwide and also in the United Arab Emirates UAE.
8. Davido – 2021 Rolls Royce Cullinan
We rise by lifting others but don't forget to reward yourself!!! WHO DEY ZUZU!! Just copped my first RR!! God is good! I'm forever grateful to y'all!! ❤️ … oh yea 2021 BTW 😇 Davido rejoices as he acquires a 2021 Rolls Royce Cullinan with a starting price of  ₦163.3 million – $340,350 >>
9. Obi Cubana – Rolls Royce Phantom
Obi Iyiegbu popularly known as Obi Cubana is a Nigerian Based businessman, entertainer, entrepreneur, philanthropist, and a show killer, he is the chairman and the owner of the popular Cabana groups, Obi Cubana was born 12th April 1975, and he is currently 45 Years Old as of this year 2020. Obi Iyiegbu best known as OBI CUBANA is from Oba, a community in Demili-South Local Government Area in Anambra State, Nigeria.
10. E-money – Rolls Royce Phantom
The Five Star Music boss recently acquired two 2019 Rolls Royce Phantom. One for his wife and the other for himself. One of the Roll Royces (the blue one in the picture) is estimated to be worth about N220million.>>
11. Olu Okeowo –  Rolls-Royces
Rumour has it that Sir Olu Okeowo has numbered his 6 Rolls-Royce limousines with customized plates as GIBRALTAR 1,2,3,4,5, and 6. Among these, there may be 4 Rolls Royce Phantoms and 2 Rolls Royce Ghosts. Sir Olutoyin Okeowo is one of Nigeria's silent billionaires, a real estate guru, a Philanthropist, a Knight of the John Wesley Anglican Church, and chairman of Gibraltar construction Nigeria limited .