Meet Nigerian Footballers Who Married Nollywood Actresses (Photos)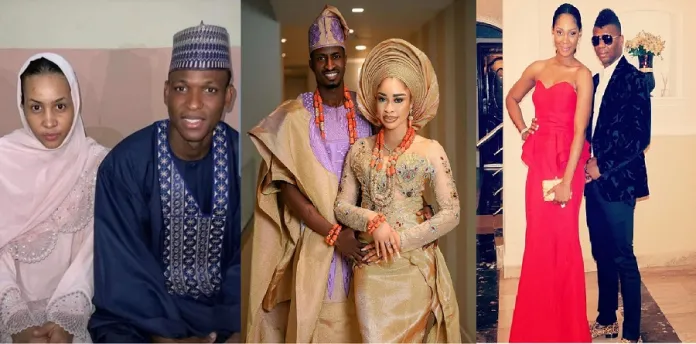 Within the sports world, we've seen well-known players marry actresses from the entertainment industry, demonstrating that love knows no bounds.
We've seen a number of Nigeria's top athletes marry Nollywood actresses over the years, so we've put up a list of three players who are currently married to attractive Nollywood actresses.
1) Kalu Uche and Stephanie Oforka
The 39-year-old Kalu Uche, who played for the Nigerian national team from 2003 to 2012, is the first Eagles player on our list. This Nigerian national team player is currently married to Stephanie Oforka, a beautiful lady.
The stunning Nollywood actress, who is also an ex-beauty queen, model, and actress, catapulted to notoriety after coming in second place in the most attractive woman in Nigeria competition held in the year 2008. The Nollywood actress married Kalu Uche in 2011 and the couple are happily married.
2) Olayinka Peters and Yetunde Barnabas.
Olayinka is a Nigerian footballer who married a well-known Nollywood personality. The Nigerian footballer plays for Slavia Praha in the Czech Republic. Olayinka and Yetunde were married in Lagos on June 19th of last year.
Yetunde is a well-known name in Nollywood entertainment, most known for her role as Bypass over Pepeiye in the Papa Ajasco family television series.
3) Shehu Abdullahi and Naja'atu Muhammad.
Shehu is another outstanding Eagles football player who is married to a Nollywood actress. The Super Eagles player married Naja'atu Muhammad, a stunning and accomplished Nollywood actress.
The adorable couple were married a day before Olayinka and Yetunde Barnabas' wedding ceremony. Shehu married Naja'atu on June 18, 2021, in Kano.