Meet 7 Popular Celebrities With The Cutest Siblings (See Photos)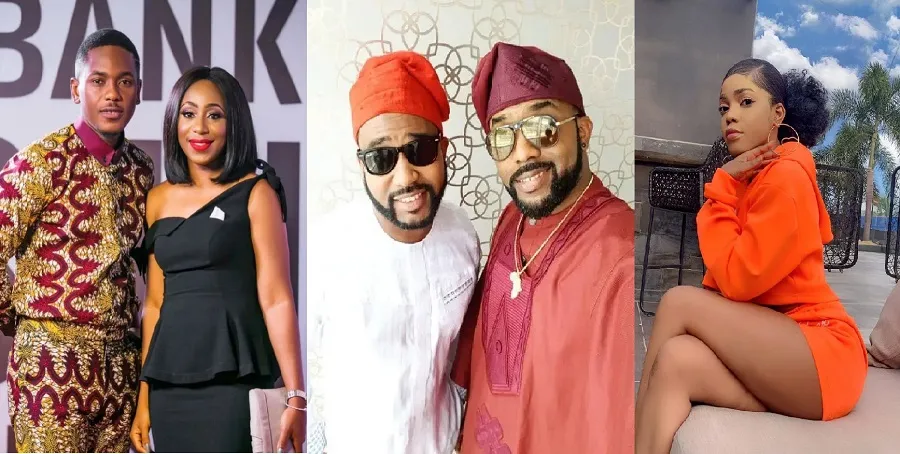 Beauty runs in these families.
I follow a lot of Nigerian celebrity accounts, blogs, forums, etc. Ever so often, I'll see a picture of a celebrity's sibling and be like "Wow! Beauty really runs in this one's family!".
Over time, I realized that I've seen quite a couple and so I played a game with myself. I said, Jide, if you're to whittle it down to just 7 celebrity siblings, which will they be, and thus, this list was born.
1. Waje
Many people don't know this, but Nigerian R&B/pop singer, Waje, has a beautiful younger sister named Amaka Iruobe who also happens to be an actress and has been in TV shows like Tinsel and Lies and Secrets, as well as movies such as First Cut and Apartment 24.
The girl is an undeniable beauty. Here are some more of her pictures. What do you think?
2. Banky W
Banky W has not 1, but 2 very good-looking brothers. However, when pictures of one in particular (the one on the left in the picture above) first surfaced online, people completely LOST IT!
Right now, Funmi Wellington, the brother who people went crazy for has almost 50,000 followers on Instagram and he doesn't even post that many pictures or promote anything really. But it seems like when people saw this new Mr. Wellington, and the OG Mr. Wellington got married, all eyes went straight to him.
What do you think?
3. Enyinna Nwigwe
The Nwigwe family is a family blessed with fine genetics. Enyinna is undoubtedly one of Nigeria's finest actors, and his sister, Ihuoma is also a bombshell!
Many might not know this but Enyinna's sister is actually a fitness instructor and fitness enthusiast. Her Instagram @selfitnessng is dedicated to workout videos and body pics of the beautiful trainer.
What do you think of Ihuoma?
4. Adesua Etomi
Adesua Etomi's elder brother, Tosin Etomi, who walked her down the aisle got people talking.
When pictures and videos of Adesua's wedding hit the internet, a number of people on the internet were very quick to call out how attractive Tosin was. Unfortunately, Adesua was quick to break many people's hearts. She disclosed that not only is her brother married, he is also a father.
Still, I guess it doesn't hurt anybody to look no? What do you think of Tosin? Yay or nay?
5. Timini Egbuson and Dakore Akande
Yeah yeah yeah yeah yeah, I know you've already seen these two before, but how could I possibly compile a list of finest siblings and not include the Egbusons.
Timini is the lady's man of today, playing tumbum tumbum with many Nigerian girls' hearts, and Dakore has been a breathtakingly beautiful woman since she stormed unto the Nollywood scene.
Their family truly has good genes, and so of course I had to post about them both.
6. Kehinde Bankole
You probably don't know this but top Nollywood actress, Kehinde Bankole, is a twin. Yup! She has a twin sister. And her sister is just as beautiful as she is.
Her name is Taiwo Bankole, and she is an event planner. What's better than one fine sister? Twin fine sisters!
What do you think of Taiwo?
7. Yung6ix
Yung6ix's sister caused quite the stare when he posted a Happy Birthday message to his sister, along with a picture of her.
As quickly as the picture hit the internet, just as quickly did the comments start rolling in. Everybody wanted to know who she was, what her handle was, and ever since then, the beautiful young woman has gone on to gain over 193,000 followers on her Instagram.
She is a really pretty girl, not even gonna lie. What do you think?
THAT'S ALL!