Meet 5 Popular Nigerian Celebrities With The Most Expensive Wristwatches And Their Amount (Photos)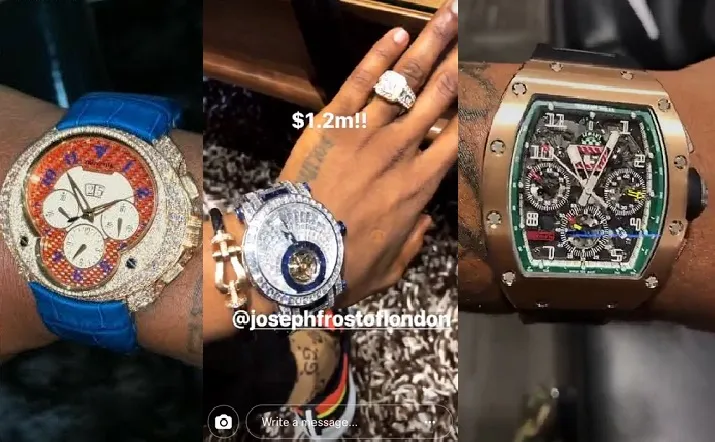 The truth is that wristwatch is one of the most fashionable accessories that makes the body look beautiful and charming.
Nigerian celebrities are not exempted from the trend of people that put on wristwatches.
There are wristwatches that cost millions of naira, depending on the buyer's choice.
Some of the Nigerian celebrities want to look good. They see wristwatches as one of the ways to broaden their fashion sense.
In this article, we are going to elucidate on top five Nigerian celebrities with the most expensive wristwatches.
1. Wizkid
The popular Nigerian singer is the first on the list of top Nigerian celebrities who boast of expensive wristwatches. Wizkid owns wristwatch that worth 436 million naira. The wristwatch is regarded as Frank Muller.
2. Davido
Davido appears second on the list of Nigerian celebrities who owns expensive wristwatch. The name of Davido's wristwatch is Patek Philippe that worths more than 250 million naira.
3. Mompha
Mompha is a world-class Nigerian celebrity. He is one of the richest socialites in Nigeria. His Richard Mille  wristwatch worths more than 118 million naira.
4. Chioma
Davido's baby mama, Chioma is another beautiful Nigerian celebrity that owns wristwatch of 16 million naira worth. The wristwatch was presented to her on valentine day by Davido.
5. Regina Daniels
In Nollywood, Regina Daniels is an household name. She is one of the most beautiful and attractive actress in Nigeria. She is a proud owner of a rolex wristwatch that worth more than twenty four million naira.