Meet 30 Nigerian Celebrities Who Drastically Changed Their Skin Color (Photos)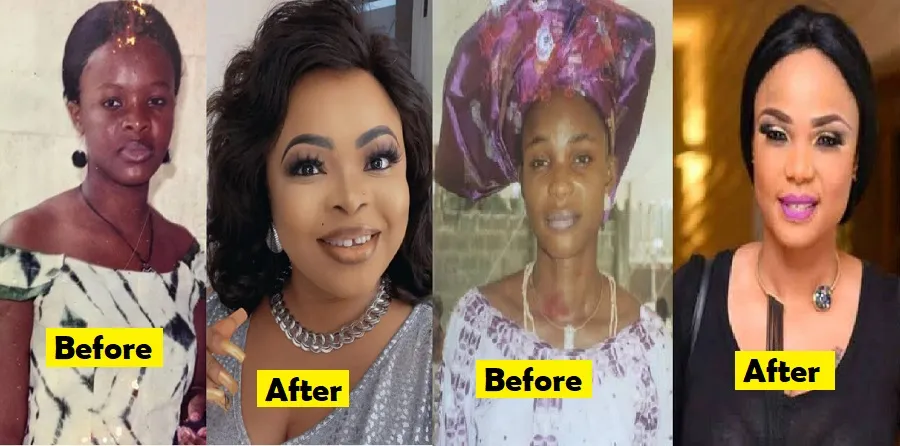 Despite the black is beautiful trend that has been heralded in the media and in different campaigns, it appears that it is not an ideology for some Nigerian celebrities, who continue to have a wonderful time altering their skin color, maybe owing to their rich lifestyle and popularity.
There is a common misconception that only women bleach their skin. Women are the only ones who are self-conscious about their appearance. You may disagree with this concept after reading this article.
Skin toning, brightening, lightening, whitening, and so on are all synonyms for skin bleaching.
Many celebrities have a tendency to become light skinned, which may be due to the fact that as public figures, they may wish to utilize it to look very gorgeous and flamboyant, and one could ask whether there is anything wrong with having and being proud of having dark skin.
According to Information Nigeria, on June 24, 2021, Nollywood actress Charity Nnaji stated on her Instagram page that movie producers are to blame for bleaching in Nollywood.
According to World Health Organisation (WHO), 77% of women in Nigeria use skin-lightening products.
Here are Nigerian celebrities that bleached their skins
Dayo Amusa
Dayo Amusa, a Nollywood actress and movie producer, began her playing career in 2002 and has steadily grown in the movie industry since then.
She is also one of the Nigerian celebrities that have joined and benefitted from the Nigerian Bleaching Cream Association.
Tonto Dikeh
Though Tonto Dikeh has always denied tampering with her skin colour, many have noticed the transformation of her skin colour over the years.
Ice Prince
While bleaching is typically associated with women, Ice Prince was accused of bleaching his skin by a fan. On Instagram, Ice Prince quickly denied bleaching his skin.
Iyabo Ojo
Yourba film actress, director, and producer Iyabo Ojo is popular for this and the mother of two is also a beauty influencer so with this she has to show the customer on how her products work on her skin first.
Bobrisky
Instagram sensation and Nigerian crossdresser Bobrisky who is known as a transgender woman in Nigeria is one of those popular for bleaching and also Bobrisky sells skin toning cream that can transform a dark skin to fair skin.
Toke Makinwa
Toke Makinwa's own bleaching according to her was as a result of her husband. In her book, "On Becoming", she wrote that she started bleaching her skin because she knew that her husband at the time was into lighter skinned women. So in an effort to catch his interest and keep his interest, she started lightening her own skin.
Cynthia Morgan
Nigerian dancehall singer and rapper, Cynthia Morgan, when we came to know about her was light skinned the first time we saw her on the scene.
But when older pictures of Cynthia begun resurfacing online, people were left scratching their heads trying to understand how such an obviously dark-skinned woman became so light-skinned.
Sean Tizzle
Men too do have body insecurities, and some, many actually, invest in skin lightening products just as much as women do.
Afro dancehall singer Sean Tizzle had some discolouration noticeable in his hands which made fans suspected he had bleached his skin. Some of his fans are complaining about his changing skin color. The discolouration noticeable in his hands sold him off.
Halima Abubakar
Nollywood actress openly admitted that she bleached her dark skin and even shared the picture on her instagram page.
Chika Ike
Chika Ike is a Nigerian actress, television personality, producer, businesswoman, philanthropist, and former model. Chika Ike used to have beautiful dark skin but currently has bleached her skin.
Tayo Sobola
With this Yoruba actress you will observed she is among the few celebrities who have owned up to bleaching her skin. The actress agreed in an interview that she was born dark skin and she transformed her skin to a yellow one.
Uche Elendu
Uche Elendu is a Nigerian actress and entrepreneur. She was described as one of the most consistent faces in the Nigerian movie industry from her debut in 2001 up until 2010 when she took a break from the Nigerian entertainment industry.
Foluke Daramola
Curvy Nigerian Yoruba actress Foluke Daramola-Salako is one of the celebrities who lightened her skin from being chocolate to a brighter yellow one and you can see it in the photo of how dark she used to be.
Benson Okonkwo
Nollywood actor Benson Okonkwo Bleaching cream is definitely the greatest you can see it from his elbow and knee as evidence
Rukky Sanda
Rukky Sanda who was born on August 23rd, 1984, is a Nigerian actress and movie producer.
Seeing Rukky Sanda on your TV screen will make you believe she is a light skinned woman from onset. But the truth of the matter is that she bleached her skin from chocolate to fair.
Toyin Lawani
This fashonista has been accused of bleaching and she has carried on as she own nobody any explanation.
Fathia Balogun
The pretty and youthful looking actress went from being fair skin to almost white.
Bisi Ibidapo-Obe
Bisi Ibidapo-Obe (popularly known as Omo logbalogba) was born on January 27th, 1977 in Surulere, Lagos state, Nigeria. She is a Nollywood actress, filmmaker, fashionista, and businesswoman.
Susan Maxwell
The Nollywood actress and beautician claimed in an interview that she decided to bleach because most Nigerian men prefer light skinned ladies, and she wanted to be noticed.
Fredrick Leonard
Frederick Nnaemeka Leonard is a Nigerian actor who won the award for Best Supporting Actor in a movie at the Golden Icons Academy Movie Awards in 2014.
Ayo Adesanya
The mother of one though fair skinned has touch up her skin and she is now fairer.
Lanre Teriba
Gospel singer popularly known as Atorise. A look at his knuckles will tell it all.
Biodun Okeowo
The single mother of two though fair in complexion she can now be taken for a white lady with her new complexion.
Lizzy Anjorin
This Nollywood actress is also being named as one of those who have moved from being fair to white.
Oritse Femi
Popular Nigerian singer Oritse Femi makes the list of Naija celebrities who patronise the skin toning industry. From his before and after photos, it is clear that Oritse Femi's skin ton has changed perhaps with the help of skin whitening cream.
Empress Njamah
Empress Njamah is a Nigerian actress. From the look of things she's in the bleaching cream geng.
Tenny Coco
Nigerian celebrity makeup artist Tenny Coco whose real name is Teniola Aisha Kashaam is embracing her melanin magic as she changed from dark to fair.
Ini Edo
Nollywood actress Ini Edo joined the club not too long ago.
According to World Health Organisation (WHO), 77% of women in Nigeria use skin-lightening products.
In January 2019, the National Agency for Food and Drug Administration and Control (NAFDAC) warned about the dangers of many skin whitening products in the market, saying they can cause skin cancer and kidney failure.
The Agency's Director General, Prof. Mojisola Adeyeye, gave the warning.
"In Nigeria we have a lot of use of dangerous chemicals. One is Glutathione used as an injection. People inject it under their skins, with a promise that they will be lighter in a week or two.
"From Glutathione injection to other chemicals, the reason why we are so concerned about Glutathione is because it can cause skin cancer.
"It can cause kidney dysfunction and failure and this is what young people don't know.
"First, philosophically I don't know why somebody wants to bleach their skin, you should be proud of your colour because, when you cross that threshold of desiring to be lighter, problems are associated with it."
Adeyeye said the agency's Investigation and Enforcement Directorate would continue its surveillance to raid stores of illegal and unregistered whitening chemicals.
The skin bleaching continues unabated as skin lightening cream vendors laugh all the way to the bank.