Meet 11 American Celebrities Rocking Nigerian Outfits (Photos)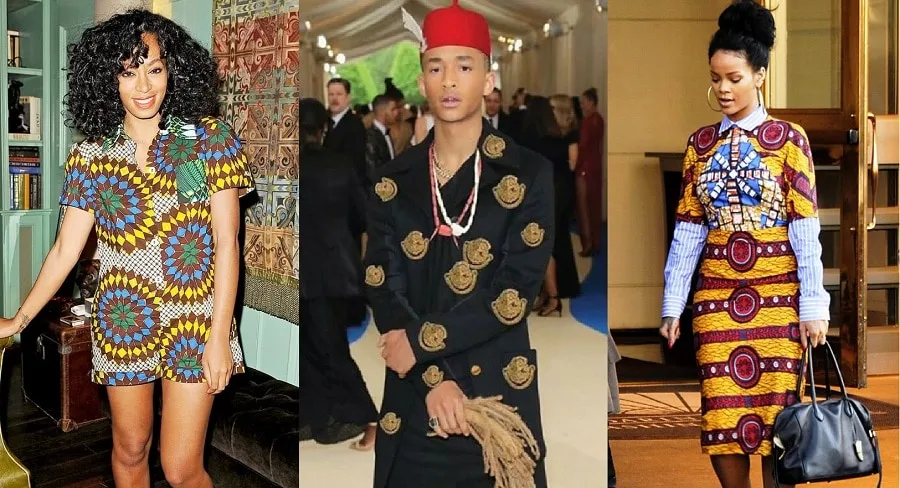 As a Nigerian, I am of course very proud of my culture. I am proud of African culture. I love to see it. I love to wear it. I love to experience it.
In recent times especially, there has been a worldwide cultural shift in the way that Africa is viewed. This is of course most prominent in the reception of Disney's Black Panther. Now more than ever Nigerian and African culture is sought after. From our music to our fashion to our art. It looks like Africa is in demand.
And boy, do we have more than enough to deliver.
The culture has permeated the world so much so that even some top American celebrities decided to feel a little bit of us on their skin by wearing our clothes. Of course the reception to this is divided: some think it's appropriation, some think it's appreciation. But that is not the conversation I plan on having today.
Today, I'm keeping it fun. I want us to look at a couple of pictures of Hollywood celebrities rocking Nigerian outfits, and then we will decide together: Is this is a hit? or is this is a miss?
Are you ready to have some fun? Then, let's go.
1. Beyonce
American singer-songwriter and legend, Beyonce, rocked not one but two Ankara outfits. What do you think? Do you think Queen B killed this look or is this a miss for you?
2. Wale
Nigerian-American rapper Wale on his visit to the white house represented by wearing a Nigerian attire. What do you think? Do you think he represented us well, or do you think this is a miss?
3. Kim Kardashian
Hollywood reality TV royalty, Kim Kardashian, on the red carpet dawned this Ankara dress. What do you think? Hit or miss?
4. Andrew Fleming
UK Diplomat, Andrew Fleming and his wife rocked Nigerian attires ahead of their trip to Vietnam where they went to support the #MadeInNigeria campaign.
5. Jaden Smith
Okay, Jaden Smith didn't come to play with this one. The boy decked out in full Igbo regalia to the red carpet.
6. Rihanna
American singer, Rihanna, looks stunning in this African print gown.
7. Gwen Stefani
American singer, Gwen Stefani, also decided to rock African print.
8. Lady Gaga
The "Just Dance" singer rocked an African print top in this candid picture
9. Solange
American singer, Solange, also hopped on and rocked this Ankara shirt.
10. TD Jakes
Bishop TD Jakes wore this agbada and red Igbo cap to a function.
11. Michelle Obama
Finally, former first lady, Michelle Obama rocked this Ankara print outfit in this candid picture.