Kennedy Okonkwo Net Worth 2023, Age, Family, Cars, House, And Biography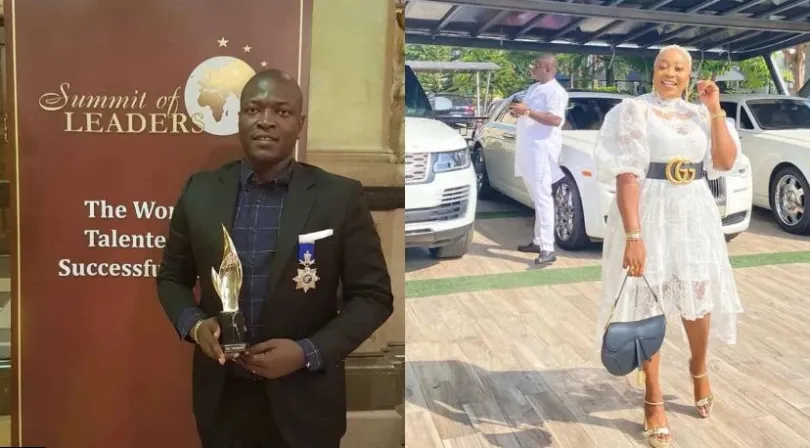 The saying; 'your background does not have to put your back to the ground' accurately describes the story of the popular real estate magnate Kennedy Okonkwo.
From a humble beginning in Lagos Nigeria, Kennedy Okonkwo who lost his father when he was barely 16 years old, has risen through thick and thin to become one of Nigeria's foremost businessmen. Known and respected amongst the people in his society in Lagos, Kennedy Okonkwo has impacted many young lives, given wings to the dreams of young Nigerians and entrepreneurs and provided shelter and feeding to those in need.
Kennedy Okonkwo is a man whose story is worth knowing about, read on to get details of all there is to know about him:
| | |
| --- | --- |
| Real name | Kennedy Onyekachi Okonkwo |
| Date of birth | 12 October 1977 |
| Country of Origin | Federal Republic of Nigeria |
| Source of Wealth | Real estate |
| Net worth | $1mllion – $5million |
Kennedy Okonkwo Biography
Kennedy Onyekachi Okonkwo, born into a family of eight as the fifth child of the family hails from Ojoto, Anambra State in Nigeria, but he has spent much of his years living in Lagos, starting in Alagomeji, Yaba. Kennedy Okonkwo was born on 12th October 1977 into a Christian home.
Kennedy Okonkwo Education
Spurred by his father who is a lover of education, Kennedy Okonkwo successfully scaled through his primary, secondary, graduate and post-graduate studies with outstanding results. He had his primary and secondary school education in Mobolaji High School Lagos, after which he gained admission into the University of Ibadan to study Psychology. He has also bagged a Master's degree in Business Administration from the Lagos State University.
Turning Points
The turning points in Kennedy Okonkwo's life began when he lost his father when he was barely 16 years. He was still in secondary school then, and the tragedy really impacted his lives as he knew what loss really meant. Kennedy Okonkwo's dad greatly influenced his education as his father believed that the greatest gift he could give to his children was education. His father believed that being educated will bring an end to poverty and a critical tool for survival. Unlike the typical case where mothers are foremost concerned about their children's academics, Kennedy's dad was far more interested in his academics as he was intermittently checking up on him in school, helping out with his assignments and most importantly, paying his school fees.
When he lost his father, his mother who was a caterer couldn't meet up with their living expenses, hence they were soon evicted out of their apartment. Not long after, they were soon thrown out of his mother's shop where they took lodging. It was a very sad thing for Kennedy when returning 'home' from school, he was going to meet his family under Ikeja Bridge where they abode.
However, goodwill soon smiled on them, as a pastor David soon came to their rescue. He gave them the Boys quarters at Obafemi Awolowo guest house. These experiences shaped Kennedy's perspective to living, he made a resolve to positively impact the situation of his family. Thanks to Chief Sylvester Okonkwo who sponsored his schooling.
Another major turning point in his life was when he left his paid job as the Strategy Advisor to the MD of his former company, to build his own business.
That bold decision has paid off now, as Kennedy Okonkwo is now the MD/CEO of Nedcomoaks Limited, a property development company that fully specializes in real estate development, provision of architectural and civil designs, project consultancy and management, and a significant proficiency in construction with modern technology. He is the Chairman at Victoria Crest Homes, an housing property that provides affordable housing options to especially the middle class. He is also the founder of the Kennedy Okonkwo Programme For Tech Entrepreneurs.
Failures
Before Kennedy Okonkwo gained admission into the University, he had the fear of failure- he feared he might not succeed. Have you felt this way before? One of the major influences for this fear were the words of Tai Solarin, who had the philosophy of "may your road be rough".
But Kennedy Okonkwo indeed became very successful. He passed his SSCE, WAEC and other exams in flying colors at one sitting. However, he has his fair share of challenges in life on his journey to being a successful businessman. Rather than being discouraged by the challenges that he faced, he saw the challenges as developmental phases, using every single of them to become a better person and strengthen his resilience to truly succeed.
One of the notable failures Kennedy Okonkwo has experienced on his journey to successful entrepreneurship is when he lost an N18million deal.
Societal Impact
Kennedy Okonkwo is a lover of humanity, and he is not ashamed to be called a Nigerian. In fact, he is one of those who believe that Nigeria will be great again. And, he is actively representing this belief with the numerous projects and humanitarian activities he is involved in.
For instance, his company is directly and indirectly responsible for the wellbeing of about 2000 employees. Despite the present economic hardship in Nigeria, Kennedy Okonkwo boasts that he has never owned any of his workers' salaries.
Other notable societal impact work Kennedy Okonkwo has spearheaded includes awarding scholarships to those who can't afford quality education, mentoring entrepreneurs on the best way to build their businesses and avoid pitfalls. Even the widows are not left out of his financial support. Kennedy Okonkwo has been involved in various road construction projects in Lagos, especially the Etiosa Local Government and other road construction projects he is currently doing in his hometown in Anambra state.
Awards And Recognitions
A man of such notable background and impact as Kennedy Okonkwo surely cannot go unrecognized and unrewarded. Kennedy Okonkwo is the recipient of the following awards and recognitions:
Peace Legend Icon of the Year 2019
African Achievers Award – Excellence in Enterprise and Business Innovation 2019
Entrepreneur of the Year – Nigerian Entrepreneurs Award 2018
African Business Personality of the Year 2017
He was also featured in Forbes Africa's Real Estate Supplement November 2018 edition.
Kennedy Okonkwo Marital Status
Kennedy Okonkwo is happily married to Ichechi Okonkwo (@ceooflagos), and they are blessed with three children. His wife, Ichechi Okonkwo is the CEO of Victoria Crest Homes, Dream Estate Lekki Ltd, Laundryking.
Kennedy Okonkwo  Houses
Kennedy Okonkwo lives in Lagos with his family and has houses all over Nigeria
Kennedy Okonkwo Net Worth
Kennedy Okonkwo has an estimated net worth of $1mllion – $5million.
Kennedy Okonkwo Cars
As a real estate mogul and friends to E money, Obi Cubana, and Cubana Chief Priest you should now understand the luxurious cars Kennedy Okonkwo will own, In fact, Kennedy Okonkwo own two Rolls-Royce Phantom,
Nord Tank
Ned Okonkwo is believed to be the first person to purchase Made in Nigeria Nord Tank by Nord Automobile. The Nord Tank offers you the complete package, it is strong, powerful, tough for bad roads, all wheel drive with significant higher ground clearance. Check Nord Motors Price List – Why You Should Buy Nigerian Made Vehicles
Two Rolls-Royce Phantom
Ned Okonkwo has two Rolls-Royce Phantom in his car garage, We believe one of the Rolls-Royce Phantom is for The Wife, The Rolls-Royce Phantom imposes design blends classic Rolls-Royce cues with more modern elements to create stately curb appeal that's second to none. The cabin—especially that of the extended-wheelbase model—is exceptionally spacious and extraordinarily comfortable. The finest leathers, woods, metals, and fabrics are carefully chosen to deliver a palatial ambiance.
Range Rover
The Range Rover is a 4×4 vehicle produced by Land Rover, a marque and sub-brand of Jaguar Land Rover, which is a subsidiary of Tata Motors, The Range Rover is generally considered to be a luxury vehicle.
Conclusion
Kennedy Okonkwo is known for his humility and simple lifestyle. He has stated he has no interest in venturing into politics yet. Though he has become very successful at a young age, compared to his contemporaries, Kennedy Okonkwo believes that a key way anyone can start creating wealth for him/herself is by creating value and being a problem-solver
The post Kennedy Okonkwo Net Worth, Cars, House, And Biography 2022 – Nigeria Real estate mogul appeared first on Latest car news, car blog news in Nigeria, car import duties in Nigeria, latest car release.