Issakaba And 4 Other Movies That Were Acted Based On True Life Stories (Photos)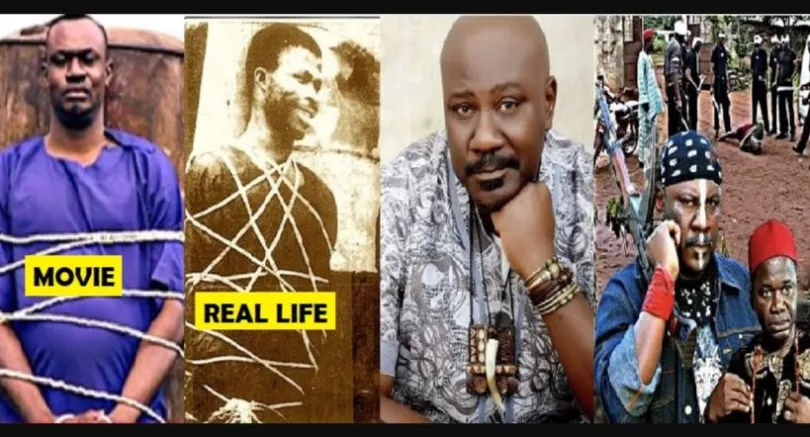 Even though non-fiction movies might not be able to capture the whole events the way it is in reality, it will surely shed light on the key factors of the story.
Let's take a look at 5 of the Nollywood movies that were acted based on true life stories.
1. 93 Days
93 days is a Nollywood movie that was based on the 2014 Ebola outbreak in Nigeria. It is centered on the heroic men and women who made sacrifices and made sure that the Ebola virus was contained in Nigeria.
It is particularly dedicated to a popular Nigerian physician, Ameyo Adadevoh. For the key role she played in ensuring that the virus didn't become a nationwide epidemic.
During the time of the Ebola outbreak, doctors were on strike, and this could have led to a severe health crisis if not for the work of Ameyo Adadevoh.
On the 19th of August 2014, Adadevoh died from the Ebola virus in quarantine.
---
2. Issakaba
The movie, Issakaba, is a 2000 Nollwood movie which is based on true life events. "Issakaba" is an anagram for Bakassi boys: a special vigilante group which was fighting against crimes like armed robbery and murder.
It is also based on the battle against a popular, powerful sorcerer, Eddy Nawgu, who was alleged to be a false prophet who aided robbers, did human sacrifice and was also in possession of illegal firearms.
Just as in the movie, The Bakassi boy failed in many attempts to capture the sorcerer before finally apprehending him.
---
3. Apaye
Apaye is a Nollywood movie that tells the story of Elder Irene Yepayeye Uriah-Dieah, who was a relative of the Former Nigerian president, Goodluck Jonathan in real life.
The story is about mother's love. It shows how Yepayeye struggles to overcome many challenges as a single mother of 6.
Despite the heavy obstacles, she triumphed in ensuring that her children were upright and lived a good life.
---
4. Trials Of Igho
Trials of Igho is a movie based on a true life story. This movie was directed by Chris Eneaji.
It tells the story of a man who was imprisoned for killing a man who slept with his wife. When he came out of jail, he realized that it was the wrong person he killed.
He then decided to go after the right person this time and spend the rest of his life in jail.
It is a tragic story that was acted the way it occurred in reality, which is the reason why the movie never had a happy ending.
---
5. Oyenusi
Oyenusi is a Nollywood movie with Odunlade Adekola as the major cast. It tells the story of an infamous hardened and notorious Nigerian criminal, Ishola Oyenusi, who once terrorized a lot of people.
Oyenusi, who started as a fake doctor, went on to commit crimes like murder, carjacking and Armed Robbery.
He was very powerful as he was spiritually fortified.
He got arrested and jailed several times, but he kept on escaping from jail.
This happened repeatedly until 1971 when he got arrested and was sentenced to death.
He was executed by a firing squad alongside his gang members.