Husband allegedly smashes wife's car over leaving him in South Africa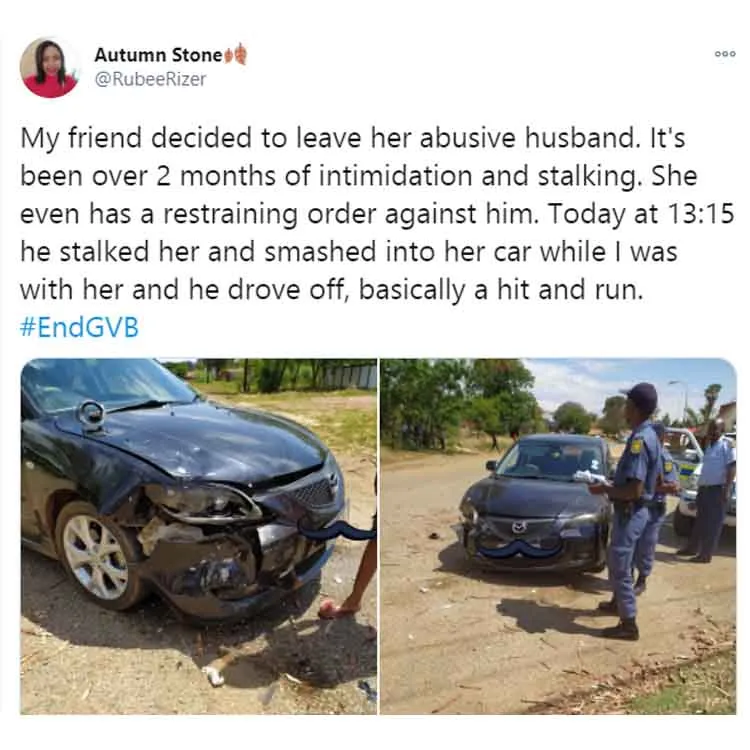 Husband has been accused of smashing his wife's car after she dumped him in South Africa.
An eyewitness who alleged that she was riding with the man's estranged wife, said he smashed her car and drove off. She further revealed that after they visited the police station, they found out that the police did not serve the man the restraining order they obtained.
RubeeRizer tweeted;
My friend decided to leave her abusive husband. It's been over 2 months of intimidation and stalking. She even has a restraining order against him. Today at 13:15 he stalked her and smashed into her car while I was with her and he drove off, basically a hit and run.
To add salt to injury we find out that the police station that she went to get a restraining order at did not actually serve him with the papers. We know how grossly incompetent SAPS is but this is taking a piss on gender based violence against women!
Also Read:
Top 10 Cheapest cars in Nigeria and their prices
Obafemi Martins Show off His N176M Yacht, N87M Bentley Bentayga & N35M G-Wagon
Luxury Car Rental Prices in Lagos and How to Rent any car in Lagos
Top 10 Most Fuel-Efficient Cars In Nigeria
I have not purchased any official car since I became Governor – Sanwo-Olu
Check Out AirCar That Has Transforms From Road Vehicle To Plane
Nigerian Lady Unblocks All Her 'Haters' On Instagram As She Celebrates New Car
How and where to buy cheap cars in Nigeria
17 fastest Police Cars in the World 2020
#EndSars: Tips for a Cordial and Safe Relationship at Police Checkpoints in Nigeria
The post Husband allegedly smashes wife's car over leaving him in South Africa appeared first on Latest car news, car blog news in Nigeria, car import duties in Nigeria, latest car release.