"Get a DNA test conducted on your second child" – Kemi Olunloyo tells Korra Obidi's husband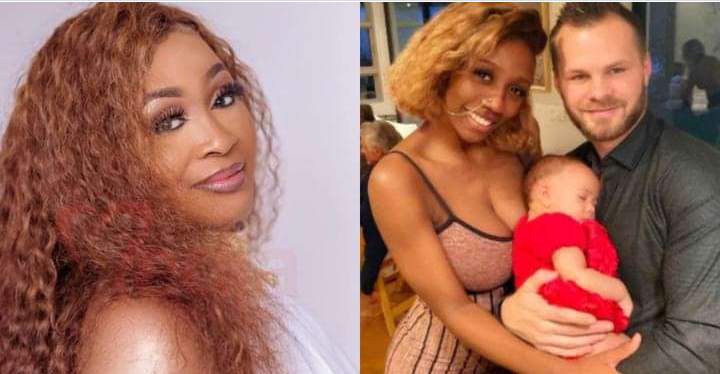 Nigerian investigative journalist Kemi Olunloyo has urged the husband of Nigerian dancer Korra, Justine to conduct a DNA test on their second child after he accused her of cheating.
Most Nigerians have shown great concern over the collapse of the marriage of dancer Korra Obidi and her husband Doctor Justine Dean after they made public the situation of their marriage.
Justine Dean has taken to his page to accuse his wife of consistent cheating a few days after welcoming their second child. Justine Dean stated that he has been trying to make their marriage work since 2018.
He wrote, "I tried of the narcissism, cheating, and lack of accountability. I've been trying since 2018 to save our marriage and if I don't do exactly what she says, she divorces me. I've been a prisoner that has his family used against him if she doesn't get exactly what she wants", he wrote.
Contributing to the development, Kemi Olunloyo has urged Justine to conduct a DNA test on his second child after causing his wife of cheating. She also stated that Korra might be going through post-Partum depression and should be helped.
"The truth is that there is something both Justin & Kora are trying to let out. The last IG live even had their older kid on. Pls, pray for them. Justin alleges cheating. Get a DNA test for the new baby. Kora may be going thru Postpartum depression a mental illness".
Post below….
#KEMITALKS𓃵
THE TRUTH IS THAT THERE IS SOMETHING BOTH JUSTIN & KORA ARE TRYING TO LET OUT. THE LAST IG LIVE EVEN HAD THEIR OLDER KID ON. PLS PRAY FOR THEM. JUSTIN ALLEGES CHEATING. GET A DNA TEST FOR THE NEW BABY. KORA MAY BE GOING THRU POST PARTUM DEPRESSION A MENTAL ILLNESS PIC.TWITTER.COM/UOETYCGLAV

— JOURNALIST DR KEMI OLUNLOYO📡 (@KEMIOLUNLOYO) MARCH 11, 2022
POST PARTUM DEPRESSION IS WHEN MOMS EXPERIENCE POSTPARTUM "BABY BLUES" AFTER CHILDBIRTH, WHICH COMMONLY INCLUDE MOOD SWINGS, CRYING SPELLS, ANXIETY AND DIFFICULTY SLEEPING. BABY BLUES TYPICALLY BEGIN WITHIN THE FIRST TWO TO THREE DAYS AFTER DELIVERY, MAY LAST FOR UP TO TWO WEEKS

— JOURNALIST DR KEMI OLUNLOYO📡 (@KEMIOLUNLOYO) MARCH 11, 2022