Genevieve, Rita Dominic; Other Nigerian Actresses And Their Estimated Net Worth In Billions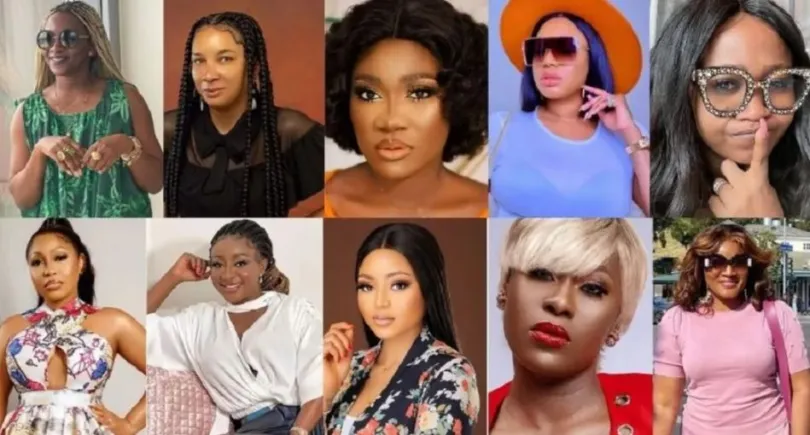 Many of these actresses have carved a niche for themselves both in and outside Nollywood. Some have made it into the Forbes list, while some have hitched deals in Hollywood.
All these achievements and more have earned these thespians, rights to be named top richest English actresses in the Nigeria 2022 with their hard work and strive. Note that this list focuses on actresses in the English sector of Nollywood.
Top Nigerian Actresses And Their Estimated Net Worth In Billions:
1. Genevieve Nnaji $12M
Award-winning actress, Genevieve Nnaji tops the list of the richest actresses in Nigeria.
The 42-year-old actress has signed major endorsement deals with:
Amstel Malta(N40M)

Citron Energy Drink(N45M)

Polo(N75M)

Etisalat(N100M)

Range Rover Evoque: Interestingly, she was given the option of keeping the posh ride worth over N10 million and $50,000 (N8.2 million)
The tipping point for the veteran Nigerian actress was when Genevieve joined the billionaire club after the sale of Lionheart to Netflix.
READ: 10 Nollywood Actresses That Moved From Christianity to Islam
According to reports, she sold it for $3.5 million while still retaining full copyright and ownership of the movie.
In 2021, Genevieve's networth was $9.2M, but according to Forbes, Nnaji is worth $12M as of the time of this article.
---
2. Omotola Jalade-Ekeinde $9.7
Nigerian actress, singer, philanthropist and ex-model Omotola Jalade-Ekeinde is another phenomenon who has appeared in over 300 films, selling millions of video copies. 
The primary source of Omotola's riches emanates from her thriving acting career and endorsement deals with brands such as:
Knorr, owned by Unilever (N25 million)

Scanfrost

BO16 hair range by Ghanaian cosmetics giant, Ghandour ($7.2 million – about 3billion Naira)

P&G
Omotola is married to a pilot at the age of 18 and the union has produced 4 children.
READ: See Funny Photos Of Nigerian Celebrities Performing Daddy Duties: Daddy's Love
OmoSexy drives a Gold colored Rolls Royce phantom worth over ₦85 million amongst others. She will be staring in 2022 feature film titled Singing Sin.
---
3. Ibinabo Fiberesima $8.1m
Ibinabo Fiberesima, Nigerian actress, the first President of the Actors Guild of Nigerian, ex-beauty Queen, and event manager, is the third richest English movie actress in Nigeria.
The beautiful thespian is also one of the pioneer actors in the industry.
Born on January 13, 1971, to a Nigerian father and an Irish mother in Dublin, Ireland; Ibinabo holds a Bachelor of Arts certificate in English Language and Literature, which she obtained from the University of Ibadan.
Currently brand Ambassador for Air Peace and Image Make-Up Nigeria. Ibinabo Fiberesima has also been the National Director of Miss Earth Nigeria Beauty Pageant since 2002.
In 2009, Ibinabo was charged with manslaughter and reckless driving after accidentally killing a certain Dr. Giwa Suraj in 2006. On March 16, 2016, Ibinabo was sacked as President of the Actors Guild of Nigeria and sentenced to a 5-year jail term by a Federal High Court sitting in Lagos.
She was, however, granted bail for ₦2 million and two sureties in like sum on April 7, 2016, by a Court of Appeal in Lagos pending the determination of her appeal at the Supreme Court.
With over 200 movies to her credit, Ibinabo Fiberesima has co-produced a couple of films and is currently estimated to have a networth of $8million, based on statistics.
---
4. Rita Dominic

  

$8m
Multiple award-winning Nollywood actress Rita Dominic was born on 12 July 1975. She is a graduate of Theatre Arts from Port Harcourt. Till today, Rita has remained driven and open to continue delivering value with her skills.
A co-founder of Audrey Silva Company and one of the highest-paid actresses in Nigeria, Rita Dominic is currently a GLO Ambassador and CEO of Rita Dominic Productions.
Rita Dominic starred in her first movie – A Time to Kill, in 1998. Thus far, Rita Dominic has starred in over 100 Nollywood movie productions such as:
Accidental Discharge – 2003

White Waters (This film received 12 nominations at the 2008 African Movie Academy Awards, winning 4 awards, including the awards for Best Cinematography and Best Sound) – 2008

Suru Lere (with Cameo) – 2016

76 – 2016

Mr. and Mrs. Chapter 2 – 2017

The Blindspot – 2018

Bound – 2018

Light in the Dark – 2019

The Big Fat Lie – 2019
Rita Dominic makes a lot of money from her acting career and the plethora of endorsement deals she has hinged.
Some of her deals include:
BK Unique Hair (Canadian luxury hair)

Flat Tummy Tea (herbal weight loss beverage)

Zaron Cosmetics

Keystone Bank

Intra-African Trade Fair (IATF) Goodwill

LG Electronics
Rita Dominic owns a mansion in Lagos believed to be worth over ₦150 million and drives a Mercedes Benz ML 350 4matic worth over ₦30 million. She makes her money through film acting, movie production, brand endorsement and her personal entrepreneur businesses. The veteran actress is worth $8million.
---
5. Mercy Johnson Okojie $7.9m
Mercy Johnson-Okojie is a Nollywood actress who has been in the Nigerian movie industry for more than two decades. She has won several awards and accolades with an estimated net worth of $7.9 million.
Mercy Johnson has become a legend in the Nigerian film industry due to how versatile, consistent, and talented she is.
The Kogi state born star has been involved in not less than 300 movies ever since she ventured into the acting business in Nigeria. She is married to a prince from Edo state with 3 kids.
Reports says she takes at least ₦2 million for a movie role. Little wonder she can afford a massive mansion in Ajah, Lagos, and a Lexus SUV worth over ₦15 million. She also has other cars like a Toyota SUV worth over ₦20 million.
Mercy makes her money from acting, producing, brand endorsement and her personal entrepreneur businesses.
---
6. Mary Remmy-Njoku $7.5m
Mary Remmy-Njoku is a popular Nollywood actress and producer. She is the Director General of ROK Studios. Mary Remmy-Njoku has an estimated net worth of $7.5 million. She and her husband Jason Njoku have both taken the Nollywood business to the next level.
In 2011, Mary Remmy-Njoku started dating Jason Njoku who is the CEO and founder of Iroko TV and ROK TV. They got married on 18th August 2012 in Lagos. That union was the real turning point in Mary Remmy-Njoku's career as she is now the DG of ROK Studios which is a film production studio and TV channel based in Lagos which was acquired by French TV giant CANAL+; the largest international deal to-date for a Nollywood brand.
In August 2013, alongside her business partners Jason Njoku and Bastian Gotter, Mary launched a $2 million investment vehicle for Lagos-based Internet start-ups called Spark.
She makes her money by acting, producing, brand endorsement and her personal entrepreneur businesses.
---
7. Uche Jombo $6.7m
Uche Jombo is a Nollywood actress and producer born 28 December 1979 in Abia State and has been in the movie industry for over two decades. Jombo is without doubt, one of the hottest actresses in Nollywood. She attracts a lot of fans from all over Nigeria and Africa, who want to know how she achieved her huge success.
Uche ventured into the Nigerian movie industry in 1999 in the movie Visa to Hell. As a screenwriter she has written and co-written several movies which include The Celebrity, Games Men Play, Girls in the Hood, A Time to Love and more.
Uche Jombo went on to produce films such as Nollywood Hustlers, Holding Hope and Damage, which deals with the issue of domestic violence.
Uche Jombo is an ambassador for Globacom and is currently married to her Mexican boyfriend.
Her garage is filled with expensive cars like GMC truck worth over ₦30 million and a Lexus SUV worth over ₦25 million.
She makes her money by acting, producing, brand endorsements and her personal entrepreneur businesses.
---
8. Chike Ike $6.2m
Chika 'Nancy' Ike is a talented Nollywood actress, philanthropist and producer with an estimated net worth of $6.2 million. She was born 8 November 1985 in Onitsha. She got married to Tony Eberiri in 2006 and got divorced in 2013.
Chika Ike is one of the industrious actresses in Nigeria. Chika Ike is no doubt one of the richest actresses in Nigeria.
Ike began her film career in 2005 when she played a minor character in the movie Sweet Love. She got her first major role that same year in a movie titled Bless the Child and has since played major roles in over a hundred movies, such as Paradise, Mirror of Beauty, To Love a Stranger, Girls Got Reloaded, Happy Ending, Yes We Will, Anointed Queen and The Prince and The Princess and Small Chops.
In 2007, Mirror of Beauty was shown in Cineworld and Odeon cinemas across the U.K and in 2008 It was selected and screened at the Cannes film festival.
In 2014, She founded her production company, Chika Ike Production and produced her first movie Miss Teacher and her reality TV game show, African Diva Reality TV of which she is the executive producer, host and a member of the judging panel. The first season aired on DStv and the second season aired on AIT.
In 2015, she collaborated with Rok Studios to produce movies like Happy Ending and Stuck on You.
Asides her acting career, Ike also runs her fashion line Fancy Nancy which was launched in 2011 in Abuja.
She established the foundation Help the Child which is aimed at helping poor children. In 2012 she threw a street party where she hosted over 3000 children, feeding them and giving out toys, school bags and writing materials. Every year she organizes a major charity event for the children on the street, provides scholarships, and provides them with school writing materials.
She has ambassadorial deals like other actresses on the list like:
UN Ambassador for Displaced persons

Bullet energy drink
---
9. Ini Edo $6m
People lover, Ini Edo is a Nollywood actress and producer. She was born on 23rd April 1982 in Akwa Ibom. She began her film career in 2000, and has featured in more than 200 movies since her debut.
In 2013, she was a judge for the Miss Black Africa UK Pageant.
In 2014, she was appointed by the United Nations as a United Nations Habitat Youth Envoy. Ini Edo is the 9th richest actress in Nigeria in 2022 with an estimated net worth of $6 million.
Ini was also considered the sexiest actress in Nigeria in 2010. The Akwa Ibom born actress is also a winner of multiple awards including the 2013 NAFCA award.
She has signed endorsements deals with:
Glo (2006-2016)

Noble Hair

Mr Taxi, a transportation company

Persian Couture, a cosmetic brand

Adonko Herbal Drink

Slim Tea

Pedini Nigeria, a luxury kitchen brand

The National Democratic Institute (NDI) as an American NGO
Asides endorsements she owns:
A multi-million naira mansion in Lekki, Lagos – ₦70 million naira

Mercedes Benz G-wagon – ₦32 million

Range Rover SUV – ₦40 million

BMW X5 –

  

₦22 million
She makes her money by acting, producing, brand endorsements and her personal entrepreneur businesses.
Ini Edo is the second Nigerian celebrity to openly admit to welcoming a baby via surrogacy after the ex-beauty queen, Nike Osinowo, did the same in 2013. Nollywood actress, Iniobong Edo welcomed her first child, a daughter, via a surrogacy. Recall she got married in 2008 and got divorced from Philip Ehiagwina in 2014.
---
10. Regina Daniels $5m
Regina Daniels is a famous Nollywood actress, model and producer from Delta State. She started her career as a child actress in 2007. Ever since then she has grown to become one of the most successful actress in Nigeria. Regina Daniels has an estimated net worth of $5 million.
Her first movie was Marriage of Sorrow and in 2010 Regina featured in a Nollywood movie titled Miracle Child. She has been featured in a comedy skit by Ofego on two occasions on his YouTube channel using archive footage.
In January 2019, Regina Daniels was appointed Atiku Abubakar's Youth Campaign Coordinator.
In February 2020, Regina Daniels launched a magazine named after her at a hotel in Abuja.
Getting married to Nigerian billionaire Prince Ned Nwoko aided in her making this list. She has been widely criticized by fans and Nigerians on her marriage to the 59 year old billionaire. On 29 June 2020, she gave birth to a baby boy for Nwoko.
Asides movies, she has signed endorsement deals like:
Mummy Glee, a luxury hair brand

Blemiviv skincare, a skincare company
Regina Daniels owns a :
2016 Mercedes-Benz GLK450 worth over ₦70 million

Lexus RX 330

Mercedes Benz ML 350

Mercedes Benz G-wagon Brabus and more.
Each of these cars is worth not less than ₦40 million. She makes her money by acting, producing, brand endorsements and her personal entrepreneur businesses.