Facts About Nollywood Legend, Pete Edochie As He Celebrates 75th Birthday Today (videos)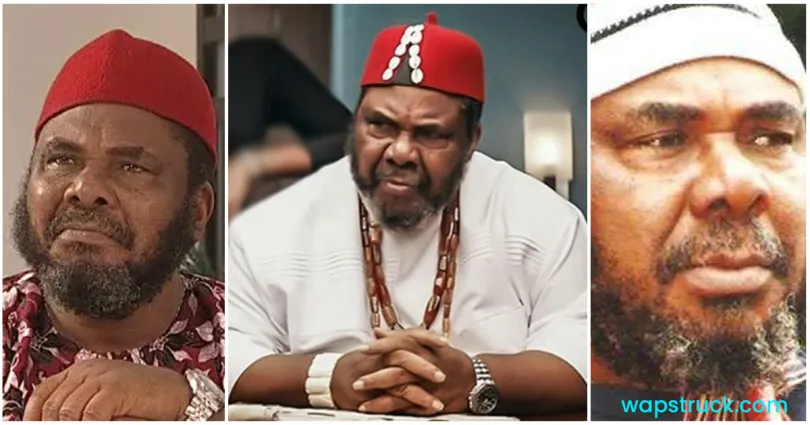 Happy 75th Birthday to Chief Pete Edochie (M.O.N), Nollywood Veteran, Living Legend, Icon and one of Africa's most talented and wisest Thespians!
The Godfather.
The Lion of Africa.
Ebubedike.
Ogadagigi.
Obiagu.
Odogwu.
.
.
HERE ARE A FEW OF HIS QUOTES
"Never open the door for armed robbers, let them break it, it's part of their job."
No matter how dark the room is, a man will always find his way to the woman's b.reast".😁😂
"Kindness is like butter, it works best when you spread it around"
"If people can't stand your success,
Give them a chair"
"When one's goat get missing, the aroma of a neighbour's soup get suspicious"
"He that swallows a coconut must be very proud of his anus"
"A goat does not concern himself with the affairs of horses even if they both eat grass"
"The strength of a Broom is always in it's numbers."
.
.
Long May You Live Sir.
LET'S CELEBRATE HIM AND BRING ON SOME OF HIS FAVOURITE QUOTES.
SEE VIDEOS OF PETE EDOCHIE APPRECIATING GOD BELOW:
Chief Pete Edochie, MON, is a Nigerian Veteran actor, a seasoned administrator and broadcaster, Who has a net worth of $4 million dollars, which is Equivalent to N1.4 billion Naira.
Pete Edochie Net Worth And Biography
He is best known for being a broadcster in NTA and for his role as Okonkwo in an NTA adaptation of Chinua Achebe's all-time best selling novel, Things Fall Apart. He is of Igbo Origin, He's from Anambra State to be precise.
Pete Edochie Profile
Full Name: Chief Pete Edochie
Birth Date: March 7, 1947
Birth Place: Enugu State
Nick Name: Pete Edochie
Religion: Christian
Nationality: Nigerian
Ethnicity: Igbo
Education: N/A
Horoscope: N/A
Father's Name: Updating Soon
Mother's Name: Updating Soon
Siblings: Updating Soon
Age: 73-Year3-Old
Height: 1.95M
Weight: N/A
Shoe Size : N/A
Eye Color : Dark
Body Measurement: N/A
Marital Status: Married
Children: Six Children
Profession: Actor, Broadcaster / Entrepreneur
Stats: Active
Net Worth: $4 Million Dollars
Salary: Updating Soon
Social Media: Instagram, Twitter
Pete Edochie Biography
Chief Pete Edochie is a Catholic, He was born March 7, 1947, in Enugu State, a South Eastern Part of Nigeria. Pete Edochie is Originally from Enugu State.
The Enugu Born actor Pete Edochie, was raised in Zaria, Kaduna State, Northern part of Nigeria, where he began his educational Journey. He completed his primary education at St. Patrick's and St. James Primary School, Zaria. And his secondary school at St. John's College.
After his secondary school education, He worked with Nigerian Railway Cooperation for some time, before he relocated to England to attended the School of Journalism and Television in England.
Pete Edochie Career
He began his career with a National TV as broadcaster in 1967. He started as a junior program assistant and subsequently to the position of director where he acted in different directorial capacities. However, he left the radio station and joined Nollywood because the government decided to politicise the affairs of the radio station.
With enthusiasm, Pete Edochie went on to enroll for Nollywood in the 1980s, Prior to that, he had featured in Things Fall Apart and had won an International Award. The BBC flew into Nigeria to interview him for his role in Things Fall Apart. He is credited with over 180 movies to his name.
Pete Edochie Personal Life
Pete got married to Josephine Edochie at age 22, and the union is blessed with six children. Two of his sons; Linc and Yul Edochie are popular because they are also professional actors in the industry.
Pete Edochie Awards
Veteran Actor Edochie is an award-winning actor. He has received recognition both locally and internationally. His other Awards Includes;
Movie Personality of the Year, City People Magazine, 1999
Best Actor in Africa, Censors' Board, 2001
Best Actor in Nigeria, Censors' Board, 2003
Member of the Order of the Niger, Former President Olusegun Obasanjo, 2003
Special Recognition Award, Best of Nollywood (BON), along with Lanre Hassan (Iya Awero), Former Governor Emmanuel Udaghan, 2013
Lifetime Achievement Award, Africa Movie Academy Awards, 2013
Industry Merit Award, Africa Magic Viewers' Choice Awards, 2014
Life Impact Awards, Times Heroes Awards, 2017
Pete Edochie Net Worth
Pete Edochie is currently one of the richest and the most influential Nollywood actor, with an estimated net worth of $4 million dollars.
Thank you very much for reading this to the end, please do share this piece among friends and love ones online.