Emeka Ike Reveals The Shocking Truth About Why He Stopped Acting (See Here)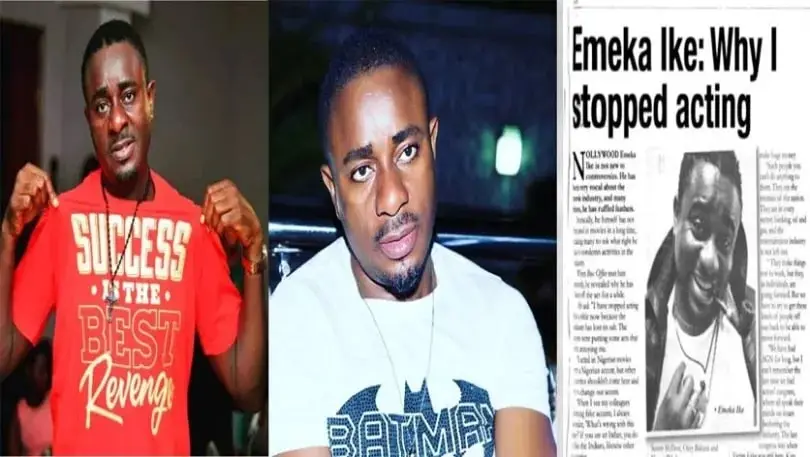 What happened to the beloved actor. Emeka Ike during his long stay in Nollywood was never new to controversy. The outspoken actor was always very vocal about his thoughts on the movie industry and many times, his outspokenness ruffled a lot of feathers.
The beloved actor who graced hundreds of Nollywood sets and acted in big movies such as A Million Tears, After my Heart, and Against My Will all of a sudden saw his acting career come to an abrupt stop.
Speaking in an interview with Box Office, the actor reveealed why he has been absent from the movie industry and what, and who, pushed him out.
Are you ready to hear the shocking allegations? Then let's go!
Emeka Ike speaking to the Box Office about his absence said:
I have stopped acting for a while now because the industry has lost its salt. The actors were putting some acts that were annoying me. I acted in Nigerian movies with a Nigerian accent, but other countries shouldn't come here and want to change our accent. When I see my colleagues forming fake accents, I always wonder, "What's wrong with this one?" If you're an Indian, you do it like the Indians, likewise other countries.
I must tell you, I am too busy for that. So I got myself busy with other better things than living fake Nollywood life.
He further went on to express his dissatisfaction with the various associations and guilds in the movie industry, especially targetting the Actors Guild of Nigeria (AGN). Emeka Ike said:
There are five people who have taken the law of Nigerian movie industry into their hands. They are Emma Ogugua, Murphy Stephen, Sunny McDon, Okey Bakassi and Ifeanyi Dikeh.
As you can imagine, seeing Okey Bakassi's name here is shocking for any Nigerian viewer of Nigerian entertainment. Okey Bakassi is a beloved funny man. To think of him as this power hungry maniac trying to take the laws of the Nigerian movie industry into his hands is very difficult.
Emeka Ike continued:
These five people registered AGN as their personal business. No other individual can come in. The idea is money rules the world. Money is the main reason they are there.
There are some people who rejoice whenever Nigeria is losing in a football match. Some other people make money when Nigeria loses matches in an international stadium. Some people just sit and wait for things to go wrong in Nigeria, that's when they make huge money. Such people you can't do anything to them. They are the enemies of the nation. They are in every sector: banking, oil and gas, and the entertainment industry is not left out.
They make things not to work, but they as individuals are going forward. But we have to try to get these kinds of people off our back to be able to move forward.
We have had AGN for long, but I can't remember the last time we had actors' congress, where all speak their minds on issues bothering the industry. The last congress was when Vivian Ejike was still there, Kate Henshaw too was still very much in the business.
When Emeka Ike was then asked what could be done to fix the situation, he said:
How do you rule a set of people that do not see or know themselves? All the money you are collecting, how do you account for it? You, the press, should investigate this and tell the whole world the truth than to dramatise Emeka Ike for being too outspoken.
Well, clearly after reading through this interview, it is clear that Emeka Ike did not leave the Nigerian movie industry on good terms. It is heartbreaking to know that such a beloved and talented actor harbored all this hatred and resentment behind the scenes towards the industry, but it seems that the actor is doing well today. In fact, as of 2019, he was contesting to be on the Federal House of Representatives.
We wish him all the best in his future endeavors.