EMBARRASSING MOMENTS: 5 Popular Nigerian Celebrities Who Fell On Stage While Preforming (VIDEO)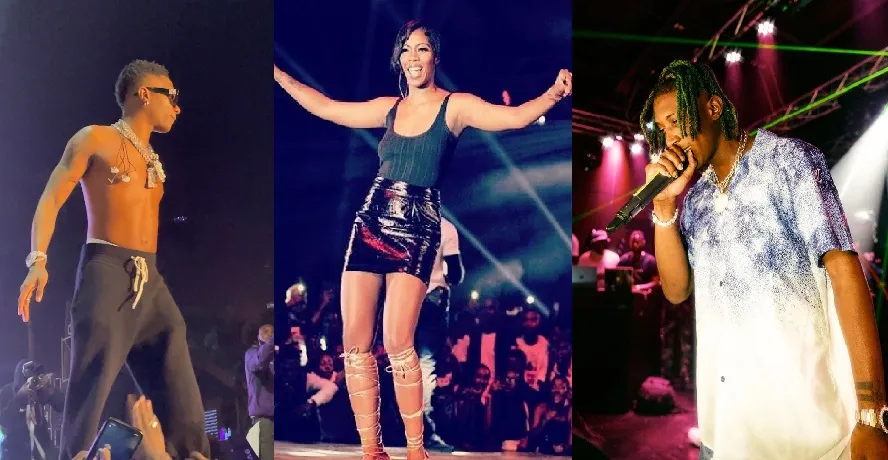 Accident happens even to celebrities, this incident normally leads to embarrassing moments that leaves a trail in history.
Over the years, there have been a couple of embarrassing moments were celebrities fall off stage. Here are a list of top five celebrities who fell off stage;
1. Burna Boy
Oluwa Burna as he is fondly called had his own moment in the 2012 Headies Award were the star fell off stage while trying to perform.
2. Davido
OBO has had similar experience in 2018, March 3rd, were the artist had a concert in Amahoro Stadium, Kigali, Rwanda, he fell of the stage.
Although the star took it with good fate and even made a joke about it on his Instagram page.
3. Bella Shmurda
The Cash App corona fell on Sunday January 3rd, in Oyo state were he was suppose to perform.
The artist was heard insulting the people that came to watch him perform as he almost fall off stage. It was said the artist was actually drunk.
4. Tiwa Savage
The Nigerian queen bee fell on stage when a fan had ran up to her in excitement which led to her falling on her bu..t.t.
5. Wizkid
Big Wiz has had his own embarrassing moment as a fan who wanted to have physical contact with Wizkid mounted the stage.
Unfortunately, as the bouncers attempted to whisk the guy off stage, he latched on tightly to Wizkid's leg, causing the singer to fall on stage.