Did You Know Obi Cubana Car Garage Is Worth Billions? (See Photos)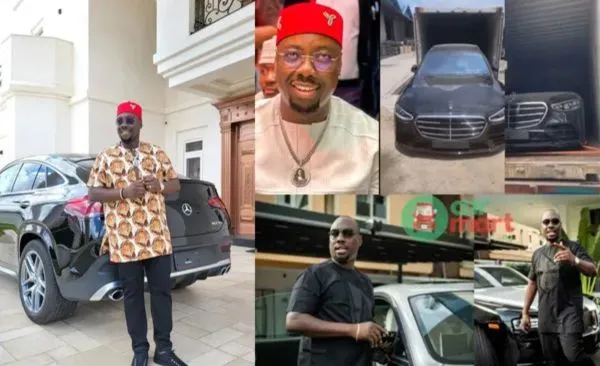 Some men are living the kind of life many young and old Nigerians are dreaming to live. To ride expensive cars, live in state-of-the-art mansions, and generally live a comfortable life is a desire inherent in every man. I mean, who doesn't like something good? However, some people seem to assume living this kind of lifestyle is not possible, especially in a country like Nigeria where the majority is complaining of economic hardship. If you think like this too, then what I'm about to share with you will change your perspective! Do you know that Obi Cubana's garage is worth billions?
Read that again. I said billions..not millions. Just one man, a fellow Nigerian has a car garage that if valued, is worth billions of naira. In this article, I will show you the luxurious list of cars owned by this wealthy Nigeria, Obi Cubana.
Who Is Obi Cubana
Obi Cubana fondly calls himself 'God's Favorite son'. Obi Cubana, real name Obi Iyiegbu, is a well-known Nigerian entrepreneur, CEO of the Cubana Group, and a show promoter. Obi Cubana was born on 12th April 1975, and he is currently 46 Years Old as of this year 2021. Obinna Iyiegbu best known as Obi Cubana is from Oba, a community in Idemili-South Local Government Area in Anambra State, Nigeria.
Obi Cubana has made tremendous wealth in millions as a successful serial businessman. He sits as the Chairman and owner of various businesses, particularly in real estate. He owns a collection of Nigeria's most opulent and extravagant hotels.
He is the CEO of Cubana Group. Cubana Group's businesses and establishment includes;
Ibiza Club,
 Pablo Club at Victoria Island in Lagos,
Rolex Hotels, Lagos
Opium Cabana, Owerri
Crave Cubana Club in Abuja,
Montana Club in GRA Ikeja Lagos
Gustavo Club, located in Enugu state.
Puzzo Eatery, Abuja
Liquor Empire – Abuja,
Caledonia Suite and Cubana Signature in Abuja
In July 2021, Obi Cubana lavishly did his Mother's burial with lots of Nigerian top celebrities present including KCee, Davido, Cubana High Priest, Kanayo O. Kanayo, Jowi Zaza and lot's more.
Obi Cubana Net Worth
With such an array of thriving businesses coupled with numerous awards under his belt, Obi Cubana has gathered for himself a mind-blowing net worth of $96 million.
Obi Cubana Cars
Don't forget I said earlier that Obi Cubana's garage is worth billions. Let's check out his expensive car lists:
2022 Mercedes Benz Maybach S580 (over 250 million naira)
Just a few weeks after his detention by the Economic and Financial Crimes Commission ( EFCC); Obi Cubana decided to give himself a treat by buying a brand new 2022 Mercedes Benz Maybach S580 guard 4matic bulletproof worth over 250 million naira. Friends and fans like Man Like Chico and many others took to their Instagram pages to celebrate him.
2 Lexus Lx (starting price ₦36.6 million each)
Obi Cubana has two of these cars- one for himself, the other for his wife. This family-sized SUV is mostly used by couples during vacations. Under the hood is a 5.7-litre V8 generating 403 lb-ft of torque and 383hp. Reports also have it that Obi Cubana gave a Lexus as a gift to one of his employees. The starting price of this car is ₦36.6 million.
Mercedes Benz 4matic S40 (starting price is ₦38 million)
The starting price of the 4MATIC S40 is ₦38 million. This all-wheel-drive vehicle is Obi Cubana's favourite because it's simple to ride. He's often seen riding this car. The S40 is simple to drive and promises total comfort.
Range Rover ( over ₦40 million NGN)
The Range Rover is a classic car that boasts good Performance coupled with luxury. This vehicle costing over ₦40 million is often seen with Obi Cubana's wife. But once in a while, Obi Cubana too cruises around with it.
Rolls Royce Phantom (over  ₦176 million)
Owning a Rolls Royce Phantom gives you a taste of royalty. The exterior and interior of the vehicle are made from high-quality materials. It costs over ₦176 million. A silky 563-hp twin-turbo V-12 coupled with an eight-speed automatic and rear-wheel drive delivers massive power to the Phantom.
Brabus G-Wagon (starting price of ₦ 180 million)
Obi Cubana cruises this Brabus G-Wagon whenever he is in Lagos, Brabus automakers specialize in the exclusive refinement of Mercedes-Benz and smart automobiles as well as in building exclusive high-performance cars. Very few Nigerians can afford a Brabus G Wagon. But certainly, a wealthy man like Obi Cubana can. This exquisite Brabus G Wagon has a starting price of ₦ 180 million.
Mercedes Benz Amg Gle 53 2021 ( ₦50-85 million)
Recently, Obi Cubana made news headlines as he bought his beloved wife a brand new Mercedes Benz GLE. Standard features in the GLE include Power-adjustable, heated front seats, Keyless entry and push-button start, a power liftgate, Sunroof, Simulated leather upholstery (MB-Tex), 12.3-inch infotainment touchscreen, 12.3-inch digital instrument panel etc.
Mercedes Benz Sprinter ( ₦70-100 million)
Mercedes Benz Sprinter Vans are often the vehicle of choice for many wealthy people who need larger than usual average vehicles for their travel needs, luxury or business engagements. A man like Obi Cubana definitely needs a vehicle like the Sprinter for his show business. His Sprinter is customized with top-notch luxury to fit his needs.
CONCLUSION
There you have it! Right now I know you believe what I said early that the Cubana group boss owns vehicles worth billions of naira, Obi is rich, possibly he might be getting a Private jet soon, Stay updated on Carmart Blog as we will keep on digging into his lifestyle.