Davido, Kate Henshaw, Other Celebrities Who Have Publicly Complained About Recent 'Hardship' In The Country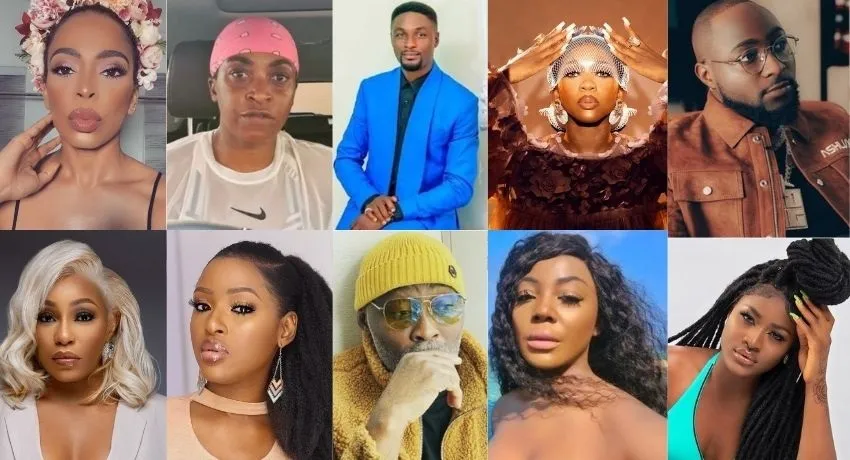 In the midst of the gruelling living conditions in Nigeria like the dwindling or non-existent power supply, increasing cost of diesel and fuel, high cost of living, increase in cost of goods and services, kidnapping, amongst other issues; celebrities have publicly complained.
These backbreaking conditions are not limited to only the poor as even the rich and famous have at one point or the other expressed their displeasure, with some sharing their experience.
WN brings you some of the bitter complaints of Nigerian celebrities who have been vocal about the increasing 'hardship' in the country.

1. Davido
Nigerian singer, Davido took to his Twitter account to ask Nigerians to pray for Nigeria. In the early hours of today, Wednesday, March 16 while lamenting about the huge amount he paid to clear his Lamborghini, Davido tweeted:
"U don't even wanna know how much I just payed to clear my lambo… Pray for nigeria … Jesus."
In another post on Wednesday afternoon, the DMW boss while lamenting how hard the country is, announced a N20 million giveaway for businesses in Nigeria.
In a bid to alleviate the suffering of some Nigerians the Champion Sound crooner revealed that N20M would be shared among 20 people while urging the masses to send in their business or start-up ideas.
2. Kate Henshaw
Like many Nigerians, Nollywood actress and fitness enthusiast, Kate Henshaw while lamenting fuel scarcity in the country said that no one cares.
She averred that the President who is the petroleum minister has jetted out to take care of himself. She acknowledged that fuel scarcity has lingered in the country for over a month, and also went on to list some of the excuses given by the government.
Henshaw stated that it is time Nigerians take their destiny into their hands as things are really bad in the country. She also pointed out that while there's no "petrol outside, there's also no electricity inside."
The actress further asked Nigerians to get their PVC and not listen to people who say votes don't count. According to her, if votes don't count, politicians won't pay people to vote for them or steal PVCs to get votes.
3. Ifu Ennada
Reality TV star, Ifu Ennada is also one of the celebrities who have lamented the hardship in Nigeria. In a recent Instagram post, she said that "Thunder will fire" any celebrity that collects money to campaign for "Useless candidates", come 2023.
The seemingly upset BBN star who complained bitterly said she is "tired of suffering in her own country." She wrote:
"Lots of you go on vacation to exotic countries
countries that have a good working system. I'm sure if you're non-Nigerian, Nigeria will be the last place you'd want to vacation because of how everything is m*ssed up. Yet every election season, some people – especially Celebrities manage to sell their destinies in exchange for temporary financial comfort. You all need to do better.
To those who are always on the fence during elections and never vote, this is not the time to be neutral.
Cost of diesel has gone crazy, there's no fuel, electricity has always been paralysed from day one.
How will the poor survive?
How will businesses survive?
I am tired of suffering in my own country. Something has to change."
4. Adeniyi Johnson
Nollywood actor, Adeniyi Johnson complained about the scarcity of fuel in Nigeria and how it is difficult to people.
Asides fuel scarcity, Niyi Johnson had in January lamented about the high rate of kidnappings that was becoming rampant along the ever-busy Lagos-Ibadan expressway.
He took to his Instagram stories to share his experience regarding the expressway, saying it was unsafe to ply. He stated that generally, insecurity has affected a lot of businesses including his and then urged Nigerians to ensure they vote right come 2023 and also keep praying for Nigeria.
5. TBoss
Former big brother Naija housemate, TBoss believes that the world needs more therapists and psychiatrists than motivational, inspirational speakers and pastors.
The major reason behind the thought is unknown but can't be far-fetched due to the happenings around the world and especially in Nigeria.
This is not the first time TBoss will express concern about the state of the country. Recall that last year, she when the price is gas kept on increasing, TBoss was among those who complained about it.
6. Alex Unusual
The rising cost of living in Nigeria made former Big Brother Naija housemate Alex Asogwa, better known as 'Alex Unusual' to cry out. 25-year-old Alex said she is feeling frustrated and wondered how Nigerians who cannot afford three square meals are copying if she is feeling the pains so much. She complained that many commodities were getting more expensive by the day.
7. Waje and Chinonso Arubayi
Songstress Waje and Nollywood actress, Chinonso Arubayi may seemingly have nothing in common, but when it comes to their needs, like many Nigerians, they are quite similar.
Both ladies might have made a joke out of their difficult situation but the fact still remains they have also felt the backlash of not having easy access to fuel.
Nigerian singer, Aituaje Iruobe, known professionally as Waje, revealed on social media that she is ready to marry any man that sends fuel to her. Waje who once claimed "marriage is not that important" revealed that gallons of fuel will be on her engagement list, and she's ready to get married to any man who can afford it.
In a different but similar post, Nigerian actress, TV personality and beauty entrepreneur, Chinonso Arubayi informed intending suitors that she now accepts fuel instead of flowers and chocolates.
9. Rita Dominic
Nollywood actress Rita Dominic has in a counterattack lashed out at people who attack Nigerians for complaining about the state of the nation.
In a post she shared on Twitter, Rita acknowledged poor electricity, lack of quality education and clean water. She tweeted:
"What's happening? Someone complains about electricity or water or education, similar looking accounts will rush to the tweet to insult them. Is that the new strategy to win election?."
10. RMD
In February, veteran Nollywood actor, Richard Mofe-Damijo aka RMD has empathized with small business owner who are groaning under the burden of poor electricity supply as well as fuel scarcity in the country. He wrote:
"These past couple of days have been draining. In between the scarcity of fuel, hike in diesel price and almost non existent power supply, I can't help but feel so sorry for small businesses who can barely survive and need these basic necessities to thrive