Dangote, Obi Okeke Top Owners Of Bugatti Cost Over billions of Naira (Photos)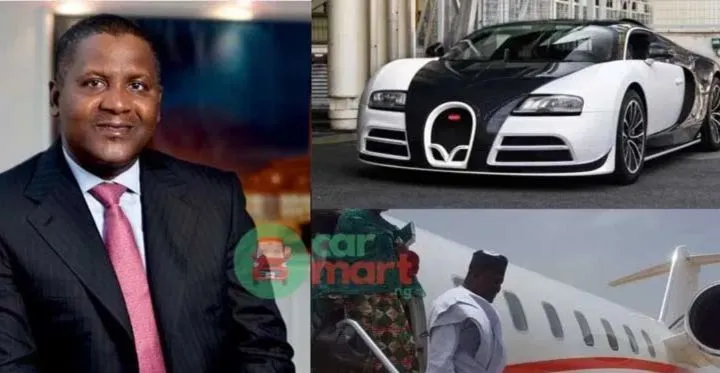 In the world of cars, the Bugatti is super-classic, super-fast, super-exotic and of course…super-expensive too. Very few are able to afford a Bugatti, especially in Nigeria where many barely live above the poverty line. The interesting thing is you might not know who these few really are. This is why you need to read this article, as Carmart Nigeria brings you the top owners of Bugatti in Nigeria.
Top Owners Of Bugatti Cost Over billions of Naira:
Aliko Dangote
The elite business magnate who has consistently ranked as the richest man in Africa hails from Kano State, Nigeria. Aliko Dangote was born on 10th April 1957 to a wealthy Muslim family. Aliko's business venture started when he was 8. The start of Dangote Group dates back to a small trading unit from 1977. Now the business has become a conglomerate, handling the welfare of thousands of people. Aliko Dangote has been awarded several accolades including; the "Grand Commander Of the Order of the Niger" (GCON) by former President Goodluck Jonathan in November 2011. When it comes to the richest man in Nigeria and Africa, the name that immediately comes to mind is Aliko Dangote. According to Bloomberg, Aliko Dangote's current net worth is estimated at $ 16.4 billion.
With a massive net worth like this, Aliko Dangote has a Bugatti Veyron packed in his garage which he uses for his official trips. This Bugatti Veyron cost him nothing less than $2,000,000 to bring home. The Bugatti Veyron can reach up to 431km/h and accelerate up to 100km/h in just 2.5s. The exquisite car is a prestigious car and also comes with quality material, up-to-date infotainment and smart ergonomics.
Dino Melaye
Once a member of the House of Representatives, Dino Melaye is a politician, lawmaker and a former senator of Nigeria. Serving as a senator, Dino Melaye represented the Kogi West Senatorial District under the People's Democratic Party. Senator Dino Melaye is one of few senators who has stirred controversy in Nigeria with his attitudes and words. He is often referred to as the 'singing senator'.
Dino Melaye is a wealthy man with a net worth of $800 million. Reports have it that he also has a Bugatti Veyron. As said earlier, the Bugatti Veyron is a powerful car with the kind of speed that you only experience in the aeroplane. You should easily agree with me that the Bugatti Veyron is simply a speed-god!
Jamil Abubakar
Jamil Abubakar is the son of former Nigerian Inspector General of Police and is married to Fatima Dangote daughter of Nigerian Billionaire Aliko Dangote. Born on January 29, 1986, Jamil Abubakar is a Nigerian, IT expert, a professional Pilot, who works with Azman Air Services. He completed his aviation training at Epic Aviation in New Smyrna FL, United States (Private Pilot License, Instrument License and Commercial Pilot License), Aerostar in Orlando FL, United States (Type Rating Boeing 737-NG (600-900, BBJ)), SIM Aero in Paris, France (Type Rating Fokker 100) and BMA Aviation in Atlanta GA, United States.
Jamil Abubakar is a wealthy young man who sits on the board of directors of various oil and gas companies. He drives a Bugatti Veyron 16.4 SuperSport Worth over $2.4M.
Kola Aluko
Kola Aluko is yet another wealthy man in Nigeria who is able to afford a Bugatti. Born to Chief Akanni Aluko, from Ilesha, Osun State, and Mrs Aluko, pharmacist, Kola Aluko is the founder of Fossil Resources, an oil trading company. He was born on October 20th, 1969 in Lagos, Nigeria.
Kola Aluko is an astute businessman and is very successful. He was CEO of Exoro Energy until its merger with Seven Energy, a leading independent oil exploration company. He is also the Deputy CEO and a large shareholder of Seven Energy and co-CEO of Atlantic Energy. He is also a member of the advisory board of Vistajet, a private jet charter company founded by Thomas Flohr.
Being a man of affluence, Kola Aluko was once ranked by Forbes Africa as one of the 40th richest Africans, as well as included in the top ten list of Successful African Entrepreneurs to Follow on Twitter. Currently, his network is estimated at $1 billion.
For a wealthy man like Kola Aluko, buying luxury cars is quite easy. The quiet, wealthy businessman is a lover of race cars and luxury cars. He owns a couple of Bugattis, one of which is the Bugatti Veyron Grand Sport cost around a £2m or ₦930m Year of the Dragon limited edition manufactured to mark the Chinese year of the dragon.
Obi Okeke
A Nigerian man, Obi Okeke, popularly referred to as Doctor Bugatti, purchased Arnold Schwarzenegger's Bugatti Veyron for $2.5 million (1.2 billion NGN)., According to TMZ, the Bugatti dealer has intentions to resell the vehicle.
The Bugatti Veyron 2015 model goes 0-60 mph in 2.5 secs and has only had about 1,000 miles on it. Okeke was the one who sold a similar whip to heavyweight champion, Floyd Mayweather, and he seems to be on the lookout for a buyer for his new ride.
"When you're in the business for as long as I've been, you meet a lot of people," Okeke said in 2015, according to the Business Insider. "When I came here, people knew about me. I've been very fortunate to build a deep client database for finding cars."
The post Dangote, Dino Top Owners Of Bugatti Cost Over billions of Naira appeared first on Latest car news, car blog news in Nigeria, car import duties in Nigeria, latest car release.