Checkout Nollywood's 5 Shortest Marriages Ever (See Photos)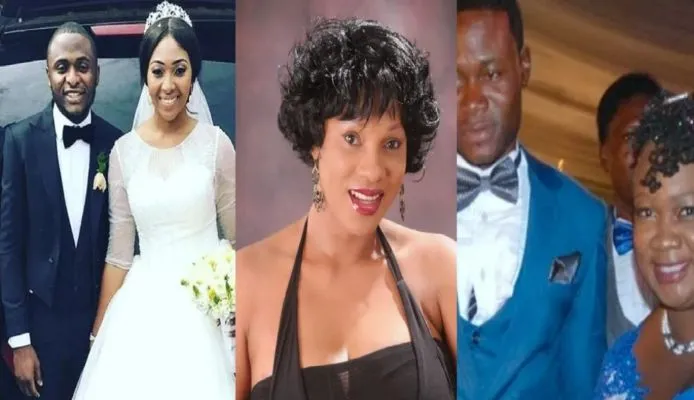 Nollywood failed marriages; Some of these couples probably should have thought twice before saying "I do."
In Nigeria today, most marriage vows make mention of "'til death do us part," and most people take that seriously. However after all the merriment of their wedding ceremony, the love they once shared suddenly dies. Naij Mobile presents you some Nollywood couples who probably should have thought twice before saying "I do"—they were parted before their first anniversary.
Nollywood Failed Marriages
5. Lilian Esoro and Ubi Franklin
Married: 11 months
What went wrong?
Beautiful actress, Lilian Esoro and Ubi Franklin splitting came as a surprise to many fans. According to reports, Ubi Franklin never showed up in any of Lilian's filming location and this was often a thing of worry for the actress. Rumors has it that Lilian never loved Ubi and always accused him of adultery. Their union produced a child before they went their separate ways.
4. Stella Damasus and Emeke Nzeribe
Married: 7 months
What went wrong?
After losing her first husband, Jaiye Aboderin to the cold hands of death in 2005. Stella, opened her heart to love again by marrying Emeka Nzeribe in 2007 which turned out to be a big mistake. After the divorce, she revealed she was physically and her verbally abused by Emeka. On the other side, Emeka accused Stella of being a cheater and liar. At the moment, Stella is now happily married to Daniel Ademinokan.
3. Chiege Alisigwe and Tony Ebe
Married : 3 months
What went wrong?
The ever beautiful and talented actress, Chiege Alisigwe was once married to Tony Ebbe, a senior police officer in 2002. Unfortunately, things went from lovey-dovey to loveless so fast. Rumors has it that Tony Ebe was the jealous type who tried to stop Chiege from acting. Although she was selective with the kind of movies she featured in, Tony insisted she quit. His jealousy led to a quick divorce.
2. Comedienne Princess and Adeshola Jeremiah
Married: 7 months
What went wrong?
Nigeria's popular comedienne, Oluwadamilola Adekoya, better known as Princess, joined the league of Nollywood failed marriages when she announced that her marriage to movie producer/director Adeshola Jeremiah had crashed. Their union lasted 7 months. According to Princess, the marriage crashed due to irreconcilable differences which they could not work out.
1.Uche Ogbodo and Arthur Akpo
Married: 1 month
What went wrong?
Now, this is an interesting couple! Barely a month into their secret wedding in 2013, Uche shocked her fans when she announced that her marriage to Arthur Akpo, had crashed. According to Uche the marriage crashed based on lies and deceit on the part of Akpo However, the brief marriage produced a baby girl.